There was excitement and emotion to spare Saturday, as Appalachian State (8-4, 7-1 Sun Belt) hosted Louisiana (6-6, 4-4 Sun Belt) on senior night. The Mountaineers started slowly, but quickly heated up to give a dominant 63-14 performance over the Ragin' Cajuns.
"It is really fitting for them to finish their careers here at Kidd Brewer Stadium with a Sun Belt Championship," coach Scott Satterfield said.
Despite an early touchdown by Louisiana's junior quarterback Jordan Davis, who threw to redshirt-senior Devin Scott (his first career reception for a touchdown), the Ragin' Cajuns would not score again until the fourth quarter. Thanks to the Mountaineers' defense, Louisana remained scoreless for over 40 minutes of game time.
Senior linebacker Eric Boggs posted nine tackles, one sack and an interception to lead the defense that forced three turnovers. Sophomore Clifton Duck recorded his fifth interception of the season, cementing an outstanding defensive performance on an important evening.
"These are my brothers. When one man goes down, another takes their place. That's the kind of program we're building," senior linebacker Devan Stringer said. "I wouldn't trade my time here with these guys for anything."
Senior quarterback Taylor Lamb threw 17-22 for 242 yards and four touchdowns, on top of 87 rushing yards and a touchdown. Freshman receiver Thomas Hennigan also had a big day with four touchdowns of his own, tying the school record for receiving touchdowns in a game.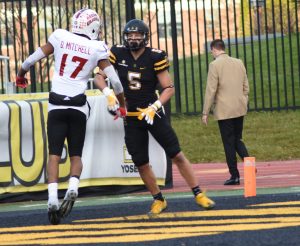 "It means a lot to me to be able to come out and send off all our seniors with a big win like this. It's all we've been thinking about this week," Hennigan said.
Junior running back Jalin Moore rushed for 110 yards and two touchdowns, while true freshman Daetrich Harrington got a score of his own to pair with his career-high 118 yards. App's offense racked up over 600 yards total of offense, 357 of which came from the ground.
"I am so proud of the way these guys came out and played," Satterfield said.
With their huge win tonight against the Ragin' Cajuns, App State has won a share of a second Sun Belt Conference championship. They also await the announcement of their third straight bowl game in three years of eligibility, an accomplishment nobody saw coming four short years ago.  
The Mountaineers must wait until Sunday to find out their bowl destination this year. With momentum from a successful senior night, App State's senior class will look to end their historical campaign in Boone with a third straight bowl win.  
Story By: Garrett Wold, Intern Sports Reporter
Photos By: Lindsay Vaughn, Senior Photographer