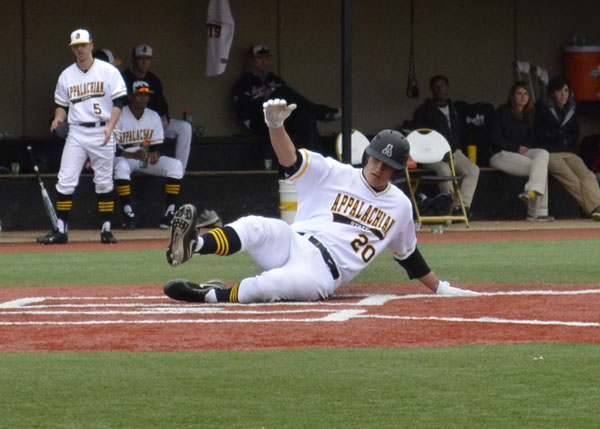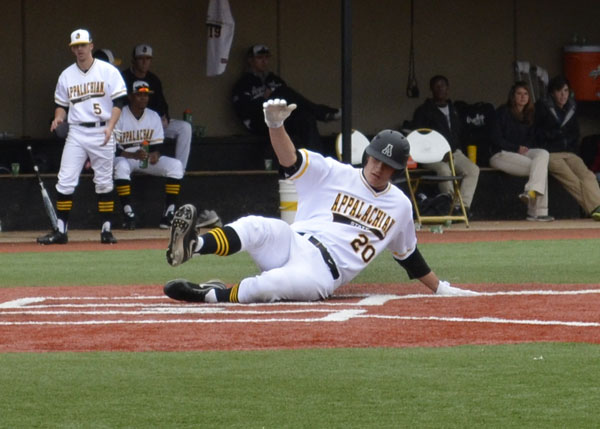 The Appalachian State baseball team overpowered the Butler Bulldogs in a dramatic home series by winning two out of three games this weekend at Beaver Field.
The Mountaineers (4-1) split the doubleheader with the Bulldogs (2-4) on Saturday, winning the first game 6-2 and losing the second game 7-12.
The first game featured sophomore pitcher Jamie Nunn, who earned Southern Conference Pitcher and Student-Athlete of the Week awards last week.
Nunn gave up only two runs on five hits over seven innings against a Butler lineup that averages almost nine runs a game. He also struck out six batters and didn't give up any walks, according to goasu.com.
"Jamie's been phenomenal so far this season, giving us a win today and against N.C. State in the season opener," head coach Billy Jones said.
App State struggled offensively throughout the first game until the sixth inning when they scored four runs, highlighted by sophomore Alex Leach's three-run homerun. The home run broke a 2-2 tie and was Leach's first home run of the season.
The second game Saturday was the first loss of the season for the Mountaineers. They gave up 12 runs on 17 hits, and also committed five errors that led to five unearned runs for the Bulldogs, according to goasu.com.
"Butler really handed it to us the second game, they can flat-out hit the ball and we just didn't pitch well enough and play defense well enough to win," Jones said.
The two teams played the rubber match Sunday afternoon to decide the winner of the series. App State won 8-5 and put on a power-hitting clinic as nine of their 10 hits went for extra bases.
Leach and sophomore outfielder Brandon Burris led the Mountaineers, both going 3-4 with two doubles and a homerun.
App State held a 3-0 lead after three innings, but the Bulldogs exploded for five runs at the top of the fourth inning to make it 5-3.
The Mountaineers scored a run in the fifth inning to bring the score to 5-4, and then capped the game off by scoring four runs in the bottom of the seventh inning to make the game 8-5.
Senior relief pitchers Tyler Moore and Rob Marcello finished off the eighth and ninth innings and did not allow the Bulldogs to score, giving junior starting pitcher Sam Agnew-Wieland the win.
Agnew-Wieland is now 2-0 on the season.
"We just tried to stay focused and play with as much intensity as we did in our first win against Butler, and I think we did a good job of that," freshman outfielder Jaylin Davis said after the series-clinching victory.
The Mountaineers will kick off a 10-game road trip when they travel to face High Point Tuesday. The game is scheduled for 4 p.m.
Story: MATTHEW SMITH, Intern Sports Reporter
Photo: ANEISY CARDO, Staff Photographer