App State women's soccer double-OT clincher
Almost a year after falling to rival South Alabama (12-5-1, 7-3 Sun Belt) in penalty kicks in the Sun Belt Conference Tournament semi-finals, App State (9-7-2, 4-4-2 Sun Belt) women's soccer defeated the Jaguars 4-3 in double overtime on Senior Day at home to clinch a Sun Belt Conference Tournament spot in their final regular season game.
Hoping for a vengeance all season after a sudden end to their season last year, senior forward Jane Cline scored the game winning goal in double overtime with 15 seconds remaining, clinching a tournament berth and one of the biggest wins in App State women's soccer history.
"I don't even know how to describe the feeling. When Jane [Cline] scored the last goal I think I just started crying," redshirt sophomore Erin Settle said. "The dog pile was the best feeling and it is one of the best feelings I have ever had in my entire life after just fighting to get into the tournament."
Playing in front of App's largest home crowd of the season, South Alabama quieted the fans just 55 seconds in the game scoring a goal to take a 1-0 lead.
Just two minutes later, Cline got the electric crowd back on their feet with a breakaway pass to tie the game at one-a-piece.
"For some reason our team plays better when we are behind and I don't know why," head coach Sarah Strickland said. "I don't like it, but it makes us say 'that is not how it will go today'."
App State picked up a penalty in the eighth minute giving the Jaguars a penalty-kick opportunity, which gave them a 2-1 lead. It was just the beginning of an aggressive game that consisted of six yellow cards, four on South Alabama.
"It is not typical to have such an aggressive game with [South Alabama]," Strickland said. "I think there were some tough challenges in the beginning and I'm not sure they established control in the beginning and they were trying to win the [conference] championship title and we were trying to get in the tournament and the players were doing anything they can to take control."
With seven Mountaineer seniors being honored for Senior Day, it was freshman forward Maggie Hanusek who scored a game-tying goal in the 26th minute to tie the game 2-2 and was the first goal of her career.
"I have been waiting for that goal all season," Hanusek said. "Especially in the South Alabama game, it will be one of the memories I will keep in my heart forever."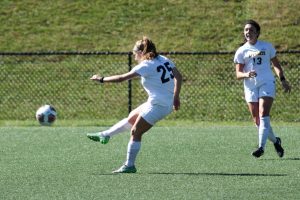 Entering halftime in a tie game, the Mountaineers had 45 minutes to finish their revenge on the Jaguars, and a saying from senior forward Jenn Bass that has been used all season gave the Mountaineers the boost they needed.
"Jenn [Bass] told us in the huddle that you play for the little girl that fell in love with soccer at a young age," Settle said. "We went out there and busted our butts off and we made it happen."
Cline, who moved to second all-time in goals [11] scored in a season, took notice of the Jaguars tiring, and App continued to give their all.
"That was the second time we were down a goal in the game and we never let up and knew we could come back," Cline said. "They were exhausted in the second half so we knew we had to take advantage of that and win."
Fittingly, it was Bass who assisted Settle for the lead-taking goal in the 64th minute to take a 3-2 lead.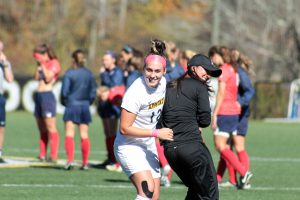 "I did the runs like we practiced," Settle said. "We do whatever we can get to get the ball in the back of the net and I was determined. I didn't care what happened. I would have broken my nose to get the ball in."
Just like the Mountaineers, South Alabama didn't give up, and scored on a Purfield free kick with 1:30 remaining in regulation to tie it up 3-3.
"I think Sarah's [Strickland] talk was go out there and keep playing like you are but keep the intensity up," Settle said. "That is what we are good at. We always fight and keep it 100 percent and there is never a dull moment."
After a scoreless first overtime with each team taking one shot, App entered the second overtime leading the shot count 19-18.
In the second overtime, a déjà vu type scenario from last year's game against the Jaguars, App put an end to it with 15 seconds remaining when two seniors, Jackie Nieradka assisted Cline to score the game winning goal and tournament clinching win.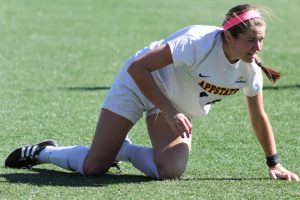 "It was pretty surreal," Cline said. "After last year this is all I wanted to beat this team after we lost to them in PK's and it is a great feeling to beat them in overtime in the last minute."
App State got their revenge on South Alabama, and it a double overtime win to clinch the Sun Belt tournament over them made it that much sweeter.
"Senior day is hard and it is a hard thing to know this is the last time they get to play at home," Strickland said. "It's an emotional day and we try to minimize the emotion and we tried to play loose but I think the girls just played so well. I thought we held it together so well."
App State finishes as the fourth seed in the Sun Belt conference tournament that begins on Nov. 2 in Alabama and will face off against UL Lafayette, who they beat on Friday at 4 p.m. on ESPN 3.
Story By: Jason Huber, Sports Editor
Photos By: Emory Kumpe, Photographer