AP&P votes on program prioritization
The Academic Policies and Procedures Committee of Appalachian State University voted on program prioritization regarding the elimination of nine academic programs during a special session Wednesday.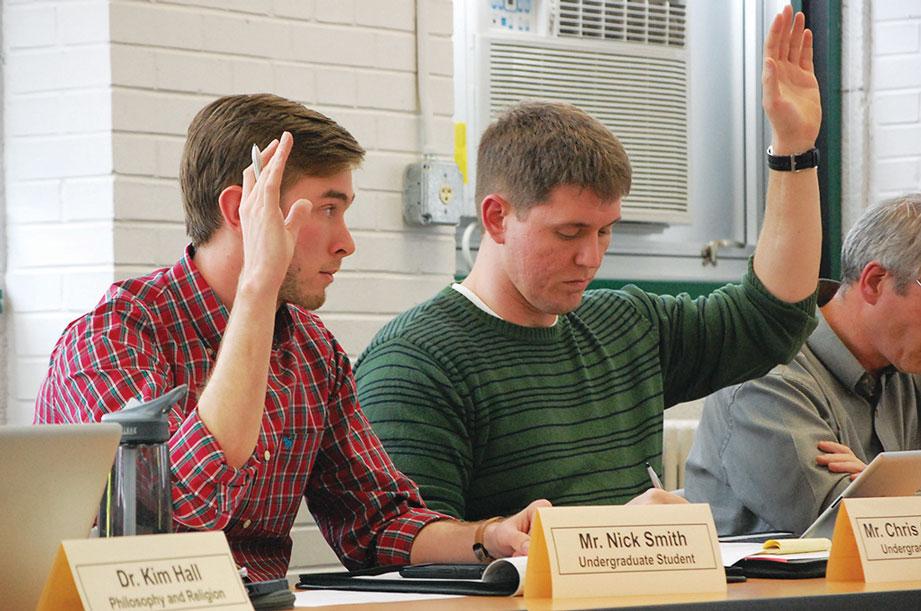 Each program potentially up for elimination was allowed a five-minute presentation from a program designee. The AP&P voted and recommended that three programs be eliminated, three programs consolidated and three programs kept individually.
The three recommended for elimination include the Master of Music in Music Education, Master of Arts in History and Education and Master of Arts in Gerontology programs.
The programs recommended for consolidation were the three undergraduate programs of Business Education, Family and Consumer Sciences and Secondary Education and Technology Education.
Department Chairwoman of Family and Consumer Science and Secondary Education Ellen Carpenter spoke for  the programs being consolidated, requesting a two-year minimum to produce a consolidated model for the programs. The committee accepted the request, amending it into the proposal.
"We request a two-year minimum to look at this program and put it together into a Career Technology program," Carpenter said. "Career Technology programs are an important part of the educational picture in North Carolina. We firmly believe that Appalachian should not be closing more doors in an area of service to the state."
The three programs that AP&P voted to keep individually at Appalachian were the Master of Arts in Child Development: Birth through Kindergarten, the Master of Arts in Romance Languages, and the Master of Sciences in Criminal Justice and Criminology.
Languages, Literatures and Cultures Department Chair James Fogelquist requested a two-year moratorium for Romance Languages. AP&P agreed with his request and amended it to the proposal.
"I think the campus has made an enormous focus to things pertaining to globalization and internationalization, and anyone that assumes that language is not at the core of such an initiative simply does not understand what globalization involves," Fogelquist said.
Program Director of Government and Justice Studies Ken Mullen requested that the Criminal Justice and Criminology program has time to continue to build and grow, due to it being a fairly new program at Appalachian.
All nine programs that are up for potential elimination were cited for having an insufficient demand at the university, according to the Prioritization Final Report published Dec. 16, 2013.
The recommendations and amendments made to the proposals from the Dean's Council by AP&P will be directed to Provost Lori Gonzalez.
Vice Provost for Undergraduate Education Michael Mayfield opened the meeting with discussion of the program prioritization process.
"This is of course a time where political and economic discussions have pushed us into discussions that few of us anticipated when we came to work at Appalachian State," Mayfield said. "These are not easy conversations for anyone involved in the Program Prioritization process."
The committee allotted time for two presenters, Department of Anthropology professor Gregory Reck and Appalachian alumna Amanda Moore, to speak about program prioritization.
"For us to ignore this process is to ignore our own written policies and procedures," Reck said.
Appalachian's program prioritization process began in December 2011, when it completed a required biannual "low productivity review," consistent with University of North Carolina instruction and accrediting body standards, according to the Prioritization Final Report.
Each academic program was then reviewed and faculty in each completed a detailed report including qualitative and quantitative outcomes during the 2012-13 academic year.
AP&P's areas of responsibility include a major role in the curriculum, as well as academic policies, graduation requirements and hearing appeals concerning academic matters, according to app.appstate.edu.
The committee consists of 14 faculty members, three undergraduate students and one graduate student. The students serve as a liaison between the AP&P Committee and the Student Government Association.
Story: Gerrit Van Genderen, News Reporter
Photo: Cara Croom, Intern Photographer