Appalachian beats the Chants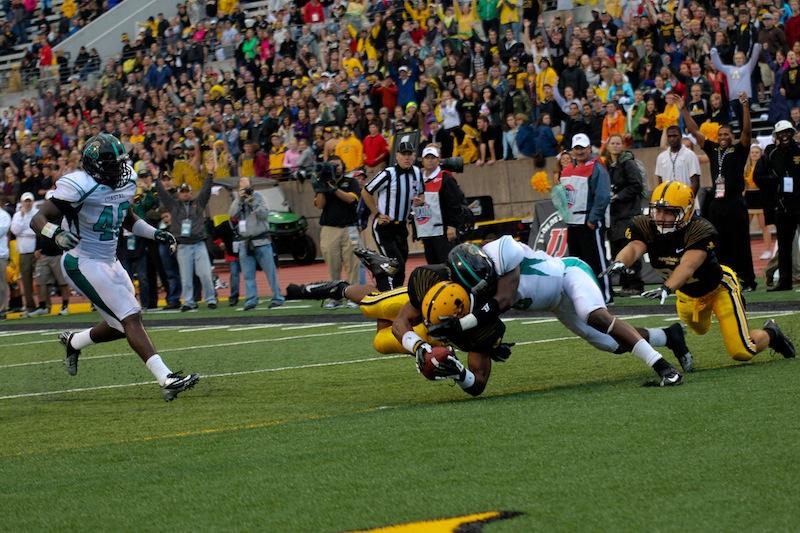 Appalachian beat Coastal Carolina, 55-14 Saturday.
This is the third time the teams have met. Appalachian now has a 3-0 advantage over the Chants.
"It's pretty easy to start giving all these reasons and all that stuff, but we played good today," head coach Jerry Moore said. "It'd be hard for anyone to beat us today."
A key part of the offense was senior running back Steven Miller, who rushed a career high of 202-yards. Miller became the first player to top the 200-yard rushing plateau since former ASU player DeAndre Presley in 2010 with 264 yards.
"We knew we had to come out and run the ball," Miller said. "Our offensive line has been so successful these past few weeks that the holes were just wide open."
Wide receiver Sean Price also tied a school record with his third consecutive game of over 100 yards receiving, making him the first freshman to put up multiple 100-yard games.
Quarterback Jamal Jackson was able to connect with Price for a 69-yard touchdown on App's second drive, the longest pass play of the season.
"When you have a balanced spread attack, it's hard for the defense to focus on one aspect of our game plan," Jackson said. "When we're balanced like this, it doesn't matter how many rush yards we have, it's going to be tough to beat us."
But despite ASU's win, one of the most memorable plays in the game didn't come from App.

Coastal Carolina's Tre Henderson was running free to the end zone on a punt return, but was chased down by ASU senior punter Sam Martin.
"That might have been for me one of the biggest plays in the whole game," Moore said. "No one, not even his mother, would have questioned pulling up. But that just shows you what maybe this football team can be."
Appalachian will play Elon Saturday. Kickoff is at 3:30 p.m.
Story: JORDAN DAVIS, Intern Sports Reporter
Photo: PAUL HECKERT, Senior Photographer