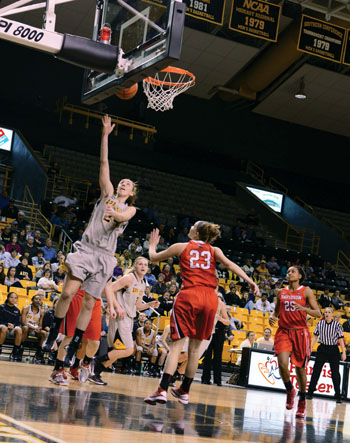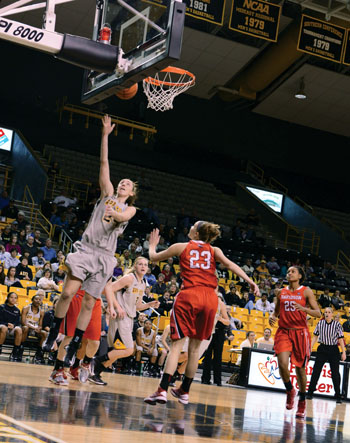 The Appalachian State University women's basketball team struggled to stay undefeated at home, as they took a loss to Southern Conference rival Davidson at the Holmes Convocation Center Saturday, 56-49.
Appalachian (14-6, 8-4 SoCon) started the game off with a 3-0 lead, however this would be their only lead of the game.
The game was active from the very beginning with both teams playing a physical, face-paced game, but the Wildcats (14-8, 11-1) were unable to connect on their shots.
Davidson's defense, however, came out determined and was able to hold Appalachian to a 28.6 field-goal percentage in the first half.
"It shouldn't have been a game, we shouldn't have been in the situation to have to make it close," said forward Anna Freeman. "We didn't rebound like we should have and we made too many turnovers."
After losing the lead early in the first half, the Mountaineers were determined to keep the game close and fought to head into halftime only five points behind (25-20).
Heading into the second half of the game, the Mountaineers got into foul trouble due to the continued physical pace of the first half.
Raven Gary eventually fouled out with 24 seconds remaining in the game.
A series of fouls allowed the Wildcats to head to the free-throw line, where they clinched the victory.
"We fouled at the end," sophomore forward Maryah Sydnor said. "[Davidson's] last field goal was at 7:42 in the second half but because we fouled, they got eight more points from the free-throw line. That shouldn't have even happened."
Sydnor led the Black and Gold with 18 points and grabbed eight rebounds, while Freeman posted 15 points. Kelsey Sharkey pulled in 12 rebounds.
"Davidson out rebounded us on the offensive board, so we really have to grind it out because Furman's just going to do the same," Sydnor said. "We really need to commit to that rebounding aspect."
App State returns to action Monday when they take on Furman at home. Tipoff is scheduled for 5:30 p.m.
Story: KAITLYN THRUSTON, Senior Sports Reporter
Photo: COURTNEY ROSKOS, Photo Editor