Appalachian holds annual fiddler's convention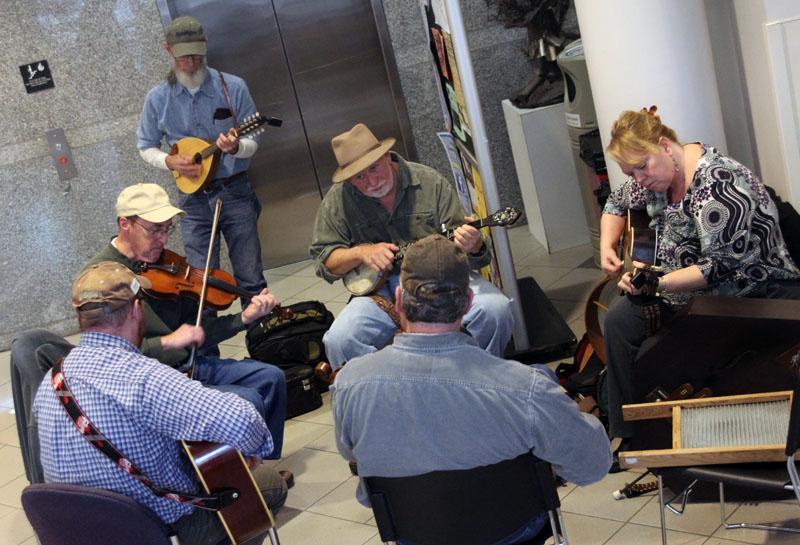 The Appalachian Heritage Council of APPS hosted Appalachian State University's fifth annual Old-Time Fiddler's Convention in Plemmons Student Union on Saturday.
The event included educational workshops, a luthier's gathering of various instrument manufacturers, a hand-made market featuring local crafters and competitions for both children and adults in a variety of instruments.
The convention began at 10 a.m. and took up most of the student union. Multiple locations included the hand-made market on the first floor, the luthier's gathering in the Blue Ridge Ballroom, competitions in the Solarium and Whitewater Café and open, inclusive jam sessions throughout the union.
"We have 600 plus people that travel from all over the southeast region to come to our event," said Chairperson of the Heritage Council Josie Hoggard. "From those young enough to compete in the youth competitions to ASU students and to those young at heart, our fiddler's convention draws people from across the spectrum."
There were youth and adult competitions in guitar, banjo and fiddle with additional adult competitions in mandolin, folk song, dance, full band and mountain dulcimers, which was a new addition to this year's event.
The luthier's gathering included products made by specialized manufacturers from the area, such as Herb Key, Bob Kogut, Lyle Reedy, Chris Testerman and companies Pisgah Banjo and Cedar Mountain Banjos.
This was the convention's second annual handmade market, which lasted from 11 a.m. to 4 p.m. in the first floor of the student union in the international hallway.
The market was expanded from last year, including on-campus vendors such as the ASU Knitting Club and local craftsmen selling handmade jewelry, pottery, stationary, paintings, woodcrafts and stick dulcimers.
The convention ended at 8 p.m. with a concert by acclaimed Appalachian musician and multi-instrumentalist Dirk Powell in the Parkway Ballroom.
The concert lasted until 10:30 p.m., making the full duration of the convention just over 12 hours long.
Story: COLIN MOORE, A&E Reporter
Photo: PAUL HECKERT, Photo Editor