Every winter, hundreds of thousands of visitors flock to the mountains of North Carolina to hit the slopes. Skiing, and later snowboarding, has been a winter pastime in the state since the early 1960s, when the first ski resorts opened in North Carolina. Now, it is a major part of the tourism industry here; in the 2014-2015 season, the North Carolina ski industry had a total economic impact of $197.2 million, according to a report by the North Carolina Ski Areas Association.
Appalachian Ski Mountain, the closest ski resort to Appalachian State's campus, has a special impact on the industry and App State students. Originally called Blowing Rock Ski Lodge, it opened in the winter of 1962-1963, making it the first ski area in northwestern North Carolina and the second oldest overall in the state. In 1968, the ski area was bought by Grady Moretz and became Appalachian Ski Mountain.
Appalachian Ski Mountain puts an emphasis on "family-friendly fun," so it makes sense that the ski area has been family-owned and operated since Moretz purchased the mountain. The Moretz family and the staff they employ are busy year-round, not only during the winter season, but also in the few months before the ski area opens. It takes a lot to prepare Appalachian Ski Mountain for ski season: hiring new employees, doing maintenance on ski lifts and snow guns, repairing damage to drainage areas, organizing and checking over rental gear, preparing the ski shop and, of course, making snow.
Brad Moretz, Grady Moretz's son and the current president of Appalachian Ski Mountain, personally interviews every job applicant himself, even those who have worked previous seasons and are re-applying. Over 300 people work at Appalachian Ski Mountain, ranging from ski patrol members and lift operators to people working inside at rental gear and ticket counters and in the ski shop.
"Around 60 percent of our staff come back to work here each year," Brad Moretz said.
Appalachian State students have the opportunity to learn to ski or snowboard at Appalachian Ski Mountain through P.E. classes, taught by instructors at the French Swiss Ski College. French Swiss, led by Jim Cottrell, has taught over 1 million people to ski or snowboard since it began in the late '60s, and offers lessons to all visitors of Appalachian Ski Mountain, whether they are first-time skiers or want to improve their skills.
In addition to being able to take skiing and snowboarding classes at Appalachian Ski Mountain, the ski area also offers discounts several times a season to Appalachian State students.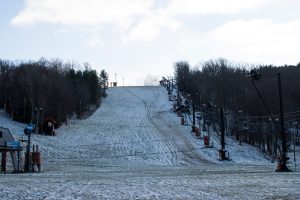 One obvious obstacle to skiing in the South is the shortage of natural snowfall. Even though the mountains do receive snow several times each winter, it is not frequent enough or a large enough amount to keep the ski slopes covered. Luckily, making snow has been a successful solution, and most ski resorts in the eastern U.S. would not be able to stay open without the snowmaking capability.
Appalachian Ski Mountain has a projected opening date each year, but it is heavily weather-dependent. This year, the projected opening date was originally Nov. 17, a Friday, but lack of snowmaking weather pushed that date back. A cold spell came through the mountains that weekend and on Nov. 19 around 5 p.m., the snow guns were turned on, and the first night of snowmaking for the season began.
Dozens of snow guns allow Appalachian Ski Mountain to cover its slopes with machine-made snow. This manufactured snow is simply water taken from reservoirs around the mountain— a few ponds as well as streams and runoff from the mountain— combined with cold air. Air compressors in the compressor building behind the lodge operate the snow guns. A snowmaking crew of about eight or nine people stay at Appalachian Ski Mountain all night to make snow, go out to check the snow guns every few hours or so, and stay warm in the lodge in between.
Cameron Hitchens, a member of the snowmaking crew, watched his footprints in the snow when he went outside during the first night of snowmaking this season.
"We check our footprints when we're out here to see how wet or dry the snow is," Hitchens said. "If the print is really detailed and you can see the tread of your boots and everything perfectly, then the snow is really wet, and if there's not much detail at all, then it's dry. We kind of want to find a good balance."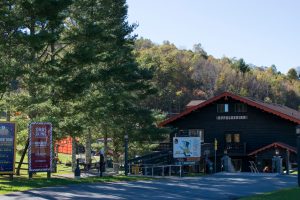 Conditions have to be just right in order to make snow; temperatures must be in the 20s or colder in order to make enough snow and have the right amount of moisture in the air. Hitchens said that they go by wet bulb temperature to determine when they can make snow. Wet bulb temperature takes into account the actual air temperature and the humidity. The highest temperature they can make snow is 28 degrees wet bulb, Hitchens said. At one point earlier in the night on Nov. 19, it was 26.7 degrees wet bulb at the top of the mountain.
Unfortunately for Appalachian Ski Mountain, Nov. 19 has been the only night they were able to make snow so far this season. The ski area was supposed to open on Thanksgiving day, after another night of snowmaking the Wednesday before Thanksgiving, but Wednesday night's temperatures were not cold enough.
Now, Appalachian Ski Mountain is waiting for the next round of snowmaking weather so they can officially open their slopes for the winter, allowing High Country visitors and residents alike to enjoy another ski season.
Story and Photos by: Adrienne Fouts, A&E Editor
Featured Photo Caption: A view of some of the ski lifts and slopes from the bottom of the mountain on Nov. 19, after a light snow had fallen and shortly before the first night of snowmaking began for the 2017-18 season.