Appalachian soccer gains international experience
App State men's soccer recently had two players representing the Mountaineers in the CONCACAF under 20 World Cup in late February, with junior Raheem Somersall and incoming freshman, Zeiko Harris, both being given a rare opportunity to represent their home countries.
In early February, Somersall and Harris were selected to represent their home countries, St. Kitts and Nevis, and Bermuda respectively. The exclusive nature of their selection, and the opportunity to play internationally generated a lot of excitement for the players.
"I was extremely excited to be named a member of this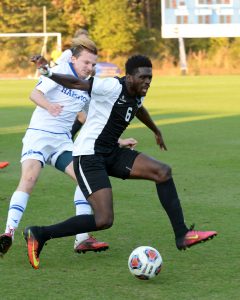 team, and to be able to continue my international youth career at a higher level is truly a blessing for me," Somersall said.
Somersall, who plays midfield for Appalachian State, represented his home country of Saint Kitts and Nevis. Harris, who will likely play center back for the Mountaineers, played for his native Bermuda.
While they both represented different nations, they had similar experiences leading up to the group stage of World Cup qualifiers. Both started with two weeks of training with their national U-20 team, before entering into match play.
During the two weeks leading up to the competition from Feb. 17-24, players from various countries with different playing styles had to try and mesh all of their talent together, to form one team that was capable of competing with countries that were in some cases more than ten times their size.
"I was one of four players to be playing abroad [on Saint Kitts and Nevis], two from England, while myself and another player are playing in the U.S.," Somersall said. "I think that the best part of playing on the International level is that I learn different styles of play, and am able to play against some of the best young players across the Panam region."
Once play began, the two teams faced some of the best young players from across the Pan-American region, and had to fight an uphill battle in difficult groups as St. Kitts and Nevis was grouped with the United States, the eventual U-20 CONCACAF champion. Bermuda was selected in the same group as Costa Rica, whose national team advanced to the quarter finals of the 2014 World Cup.
Harris's Bermuda and Somersall's St. Kitts and Nevis ultimately finished with a combined 0-1-5, and were eliminated during the group stage.
However, despite their team's struggles, Appalachian State head coach Jason O'Keefe said he saw their international experience as a valuable one and was happy to see some of his players compete while representing their countries.
"I see many benefits to players getting a chance to play for their country and against other international teams. It gives them great pride and confidence," O'Keefe said. "They are representing something much bigger than themselves. To be able to compete at that level and then come back to the college game, they play at a different level, and bring the things they have learned from those experiences."
While Somersall and Harris may be done representing their countries for the time being, they will still be representing the Mountaineers in the fall, and O'Keefe believes the experiences will help them help make the Mountaineers a better team.
"They will come in having played games against top CONCACAF teams in hostile environments, so when we play our games, they should not be rattled by anything," O'Keefe said. "For Rah [Somersall] it will be important as he continues to develop in his leadership role in the team, and for Zeiko, he should use those experiences to help him transition to the college game and really help elevate his game and our program."
Somersall hopes that he still has more to gain from playing at the international level, and that one day he can represent his country at the highest levels of world soccer.
"My goals at the international level are to represent my country at every stage possible, both in youth and senior team. Now that I've played with the youth team at the U-15's & U-20's, the next step for me is to earn a call up to the senior team," Somersall said. "I would also like to help the team qualify for a Gold Cup and/or a FIFA World Cup, which is a spot in the future to create history."
While it's unknown as to whether Somersall or Harris will play in a World Cup or represent their senior national team in the future, one thing is certain: these Mountaineers expect to benefit from their World Cup Qualifier experience.
Story By: Colt Jensen, Sports Reporter 
Photos: Courtesy of App State Athletics and Sun Belt Conference