Thousands marched on downtown Raleigh for the North Carolina NAACP's 11th annual Moral March. Among them were Appalachian students and Watauga residents bussed down by the Watauga NAACP Chapter.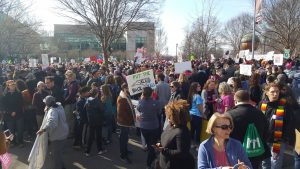 Todd Carter, Watauga County NAACP president, said the county was well represented at the Moral March, with 40 students and close to 150 people overall.
"I was emboldened to be marching side by side with community members ages 14 to 84," Carter said via email. "The unconstitutional tyranny being inflicted upon us in Raleigh and D.C. must not go unchallenged. As Rev. Barber extolled from the stage, 'Bowing down is not an option, we must stand up and stand together.'"
Nick Colebaugh, a Watauga NAACP intern, said via email that he will never forget his experience standing in solidarity with other students and protesters.
"It gave me a sense of pride for standing up against political injustices," Colebaugh said via email. "Reverend Barber's words served as a call for everyone to make themselves heard and to stand up, not down, when our rights are being threatened."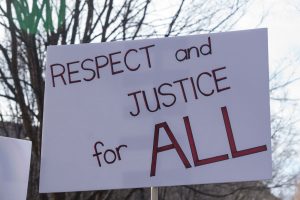 The News and Observer reported that organizers of the event did not have a precise headcount, but said there were more in attendance than for any previous year.
Speakers articulated a vision of resistance against Republican domination in Washington and Raleigh, with healthcare and immigration being recurring themes. Calls for repeal of the controversial HB2, also known as the "bathroom bill," were also prominent.
Rev. William Barber, president of the North Carolina NAACP, said in his address to the marchers that a dangerous extremism has taken over our government and that it must be resisted.
"Bowing down is not an option," Barber said. "Standing down is not an option. The guy in the White House is a mortal, not a god."
Story by: Sammy Hanf, News Editor
Photos by: Carl Blankenship, Editor-in-Chief