Going off to college is a huge stepping stone for everyone and is often an emotional roller coaster. This could not be more true for Appalachian State women's basketball sophomore guard Nicola Mathews. She traveled over 10,000 miles from Australia to Boone.
While in Australia, Mathews did not disappoint, leading her team to three state titles in four seasons while also competing in the Australian National High School Championships twice. She impressed in both tournaments, finishing 11th in scoring and first in free throw percentage in 2013.
However, in 2015 she came back even better, finishing in the top five in points per game, free throw percentage, 3-pointers made and steals. Mathews also dominated at the club ball level leading the Sturt Sabers to the South Australian conference basketball championship in three straight seasons and two South Australian state tournament championships.
Mathews was also named Division 1 most valuable player twice and was awarded the Neil Glidden trophy for being the club player with the most potential. This great success led to her commitment to the University of Central Florida where she had a very solid first season. As a freshman, she averaged 11.9 points per game and shot 87 percent from the free throw line. She continued this regular season success into the conference tournament, elevating her game to a new level, averaging 15.7 points per game and had career highs with a 25-point game and a game in which she dished out 11 assists.
"I think it's definitely my teammates right now," Mathews said. "We all get along really well and spending lots of time with them makes it easier and helps me think less about being homesick."
But none of this came without struggles; throughout her first year in the states thousands of miles away from her friends and family, Mathews was hit heavy with homesickness. This was arguably her biggest struggle and obstacle she has faced in her career so far. But through these struggles there was always one thing that was able to keep her composed and that was her teammates.
"I was more concerned she was going to go back to Australia," head coach Angel Elderkin said. "She was only in her first year out of junior college so sometimes they don't usually go out after their first year so that was the kind of concerns we had."
Mathews' teammates went out of their way to comfort her and really became her family away from home. Mathews said she is grateful to have such great teammates as she knows she always has someone to talk to when she needs support.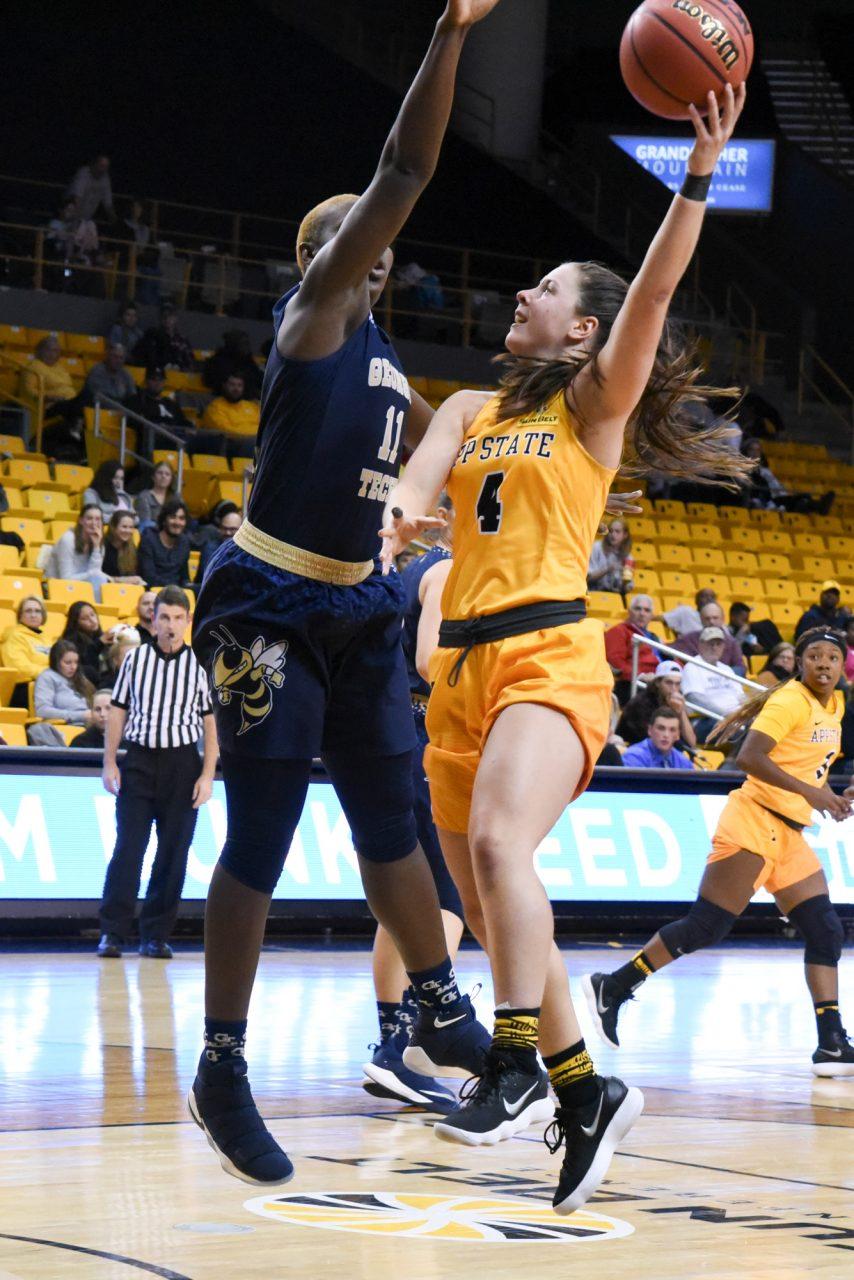 "Coach Angel expressed interest and when I came to my visit, I really liked her as a person," Mathews said. "I got good vibes from this place, it was a really nice area and the teammates I stayed with were very nice and treated me as a family member."
During recruitment, coaches are on edge waiting for recruits to make their decisions on where they will play. This was true for Mathews, but not as expected. Elderkin and the rest of Appalachian State's coaching staff were worried they might not land Mathews, not due to another school, but to her home country. With it being her first year away from home, it is unpredictable what will happen in the mind of a young player. But luckily after her first year at Central Florida, Mathews was on the move yet again as she transferred to Appalachian State where she is playing guard for the Mountaineers. Mathews will likely see a steady amount of playing time, especially with the loss of star player senior guard Madi Story for the season due to a torn ACL.
"Madi is an irreplaceable player because of her energy and leadership but I think everyone just has to step up and do their job and do it for Madi and make her proud," Mathews said.
Through the team's first six games, Mathews has showed promise as a solid player and will now have her chance to really show what she can do with the recent injury to Story. Mathews said that there is no way to replace a player like Story because of all the emotion and leadership she brings to the table. However, Mathews also said she is embracing the chance to be a leader. Mathews said that the team just needs to rally around Story, come together and do their jobs.
"I think the biggest thing she (Mathews) brings to our team is that she's the best person on the court to get the ball to Plummer. She knows how to get it to her and always puts her in a position to score which will be big for us down the stretch," Elderkin said.
Looking to find her offensive game to start the season, Mathews scored a career-high 12 points and 31 minutes in the team's first victory of the season over College of Charleston.
Starting three games already, Elderkin said she loves the way Mathews plays. She values Mathews ability to get the ball inside to sophomore center Bayley Plummer. When Mathews does this, she is utilizing her physical and mental gifts which gives the Mountaineers an upper hand on both ends of the court. This is a great asset for Mathews because when the shots are not falling she can always turn to her mental side and be a productive player.
Just beginning her college career, Mathews will experience a lot in the U.S. and with App State basketball before deciding whether to head back to Australia. Either way, it appears Appalachian State has acquired a player with a ton of promise and potential that has a chance to be a special player for the Mountaineers.
Story By: Chase Frick, Intern Sports Reporter
Photos By: Halle Keighton, Photo Editor