The Cultural Awareness and Student Engagement council presented their annual Tunnel of Oppression event on Monday in a collaboration with 12 other campus organizations.
The Tunnel of Oppression featured a series of interactive exhibits discussing social issues faced by students on campus.
The event's organizer, Ana Dell, said that orchestrating and holding Tunnel of Oppression was important in bringing awareness to all social issues, and especially those that are overlooked such as mental health, persons with physical disabilities and anti-Semitism.
Dell is a junior music industry studies major and the chairperson of Cultural Awareness and Student Engagement, one of the eight student councils of the Appalachian Popular Programming Society.
"I wanted to take part in this event because immigration and (Immigration and Customs Enforcement) was a heavy topic when we were talking about it," Dell said.
Dell also recruited her sorority Chi Upsilon Sigma, Appalachian's Latinx House, to help with or be a part of the event.
In addition to Chi Upsilon Sigma and Hillel, a total of 10 student clubs participated in the tunnel, including AHO Women's Rugby, Native American Student Association, Peace and Genocide Education, Autism Speaks, Support Bloom Recover, Active Minds, and Accessibility Council.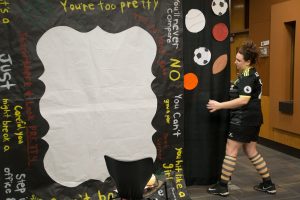 Before the event, volunteers taped black-out paper over the windows of Blue Ridge Ballroom, across from Greenbriar Theater in the Plemmons Student Union.
Event organizers also interviewed individual students prior to the event. Photos and quotes of Appalachian students were displayed to show tunnel viewers that oppression and discrimination exist everywhere, even in one's own home.
As the event began, the ballroom lights were turned off and voices fell hushed as the tunnel became real. Each group of students were brought into the room and greeted by their guide, flashlight in hand.
Groups walked between interactive exhibits to catch small glimpses into the experiences of marginalized classmates.
The women's rugby team adorned their room with words and stereotypes women face. A video projection depicted testimonials from the players. Accounts spoke of workplace practices where women are not promoted and ballet instructors told hopeful dancers that they are "too big."
But in person, the players invited attendees to write words of strength and kindness and to use these words to cover up the messages of animosity.
Hillel, a group for students of Jewish faith and those that want to learn about Judaism, had the next room, where walls plastered with anti-Semitic media clippings and illustrations, pictures and articles showed victims that were killed for being Jewish. A male student dressed as Hitler yelled for the "Christ-killers" to step forward before explaining that there are individuals that deny the occurrence of the Holocaust.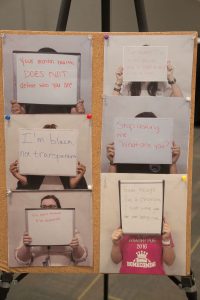 "An 8-year-old boy wrote on his paper that he was not proud to be Jewish because people at his school tell him to get back in an oven," Maddie Lippy said of a child she taught at her temple.
Lippy is a senior nutrition major and member of Appalachian State University's chapter of Hillel.
Another member recounted that Appalachian has been the site of anti-Semitism in recent years. Stickers with anti-Jewish rhetoric have been posted around campus during Jewish holidays. The words "Hitler did nothing wrong" were etched into the mud on a student's vehicle.
Native American students played a video showing tribal practices of their indigenous ancestors and living families. The students stepped towards guests and said "Wow, I've never met an Indian before!" "You're mixed, so you're not actually Indian, right?" and "If you're a real Indian, do you get an Indian card?"
A young woman read a self-written poem that told the history of her people, which described  thousands of native people killed and not legally recognized by the government.
Another room, presented by Peace and Genocide Education, listed the groups subjugated or killed by Nazis. They said people didn't advocate for those being persecuted because they were not of that group. The students said that whatever groups were currently being persecuted, any other group could later be victimized. Televised images transitioned from images of concentration camps to pictures of white nationalists flying the Nazi swastika.
The next room, presented by Autism Speaks, did not have any people telling their experiences. Rather, the walls had words like "stupid" and "weird" written on paper, as well as a poster board presenting statistics and facts about people with autism.
The next room was also uninhabited, although a speaker played testimonies from young women in recovery from eating disorders. Support Bloom Recover, Appalachian State's club dedicated to sharing experiences among students with eating disorders, presented magazine cut-outs of stereotypically "beautiful" women, while the audio talked about "hearing your parents whisper their concern one room over," and other common phrases those with eating disorders hear.
The students of Active Minds spoke of how their diagnoses of depression, anxiety and Tourette's syndrome followed them daily as others began seeing the stigma of mental illness instead of the person.
In the last performed presentation, members of the Accessibility Council asked participants to walk forward along a line. Before the first person could take two steps, a young woman screamed, "Start over. You're doing it wrong," and, "Are you trying to embarrass me?"
The students told the crowd that people with physical disabilities are often reprimanded by their families because they cannot look or do what is "normal."
As they stepped out of the tunnel and into the light, groups were led to debriefing rooms where students were led in discussions about how the experience affected them and ways in which they could help combat discrimination.
Organizers said that while this was the first Tunnel of Oppression in recent years, they hope to return to presenting it annually.
Story by: Dylan Austin, News Reporter
Photos by: Halle Keighton, Photo Editor
Featured Photo Caption: Headlines hung up in the Blue Ridge Ballroom for the Tunnel of Oppression.