Back to Boone fashion essentials
Finding affordable, stylish clothes within walking distance of campus doesn't have to be as difficult as it sounds.
King Street is the home of a host of locally owned shops and restaurants of Boone. Among these shops are two locally owned clothing stores that promise their customers unique clothing and a shopping adventure.
The first is Lucky Penny, a boutique located on King Street that sells clothes, shoes, handbags, quilts, cards and gift items.
Jennele Vaquera, owner of Lucky Penny, said that the store is a destination for women wanting a different mix of clothing, accessories and home goods. With the summer coming to an end, Vaquera said that Lucky Penny is starting to receive new fall items.
"Currently, my favorite items in the shop are the new fall shoes by Chinese Laundry," Vaquera said. "We have already been selling a lot of bodysuits [for the fall], all different styles and fabrics."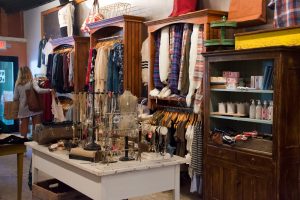 Julianne Blaylock, a junior English and French major, said she likes shopping at Lucky Penny because it has a "boho-type feel and style."
"It's very aesthetically pleasing and the fashion is on point," Blaylock said. "I think it's important to support local businesses. It keeps money in the local economy."
Vaquera said Lucky Penny loves when students return to Boone for the school year.
"It's always exciting to see our returning customers and to see new faces," Vaquera said.
Another incentive to stop by soon is that all summer inventory is currently on sale, and for art crawl they will be open until 9 p.m. on Sept. 2, hosting a local artist.
Vaquera said that Lucky Penny is committed to offering their customers unique products and a pleasant customer service experience.
"We have a wonderful clientele and our community support is outstanding," Vaquera said.
The second store is Anna Bananas, a secondhand store created and owned by Appalachian State alumna Anna Roseman.
"Some people call it 'kitschy,' or 'campy,' one could use the word 'crazy,' but for sure it's fun," Roseman said. "We are serious about creating great style, making customers happy, serving our community, and throwing a shopping party every day."
Roseman's vision for the store has always been to provide the community with quality and current fashion that anyone can afford in a fun and cheerful environment.
Roseman said that Anna Bananas provides the latest in fashion for people of all sizes, starting in junior sizes, and that Anna Bananas carries a large variety of trendy pieces, from the most unique finds to the most classic styles.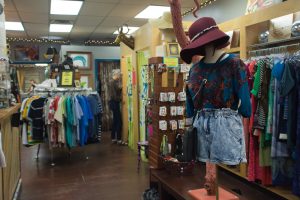 "Not only do we sell clothing, but also accessories– shoes, belts, purses, jewelry, watches, scarves, etc," Roseman said. "We have expanded into lingerie, active wear, plus sizes, lots more men's clothing and great vintage when we find it."
Roseman said she adores this time of year when students return to school because of the "incredible positive energy." She said that it is beautiful to watch the new students explore the town, find their own styles and hear about their dreams.
"My most favorite part of having this business is being able to meet so many wonderful people," Roseman said. "Getting to know my customers, hearing their stories and their dreams and watching them develop from my little corner of the world. It's inspiring."
Anna Bananas buys previously owned clothing from locals and sells them. They are currently accepting fall items and are putting out new clothing every day of the week. The best time to bring in clothes to sell is on Mondays from 10 a.m. to 5 p.m., Roseman said.
Roseman said that Anna Bananas is known for its "dance for your discount," which is an all day every day deal.
"Give us any sort of dance move for any length of time and you'll get 10 percent off any full priced items," Roseman said. "Every single time a person chooses to dance, they smile. No joke, we've seen everything from pre-planned routines, to the worm, to older couples slow dancing, to dances on the counter."
In addition to the "dance for your discount," every item stays on Anna Bananas' floor for a total of 90 days. Roseman said that after 30 days, it's discounted by 25% and marked with a green dot. After 60 days, it is discounted again by 50% and indicated with a red "X." After the item has been there for 90 days, it gets marked down and put on the $1, $3 and $5 rack.
"You can seriously walk out of the store with an entire outfit for a couple of bucks," Roseman said.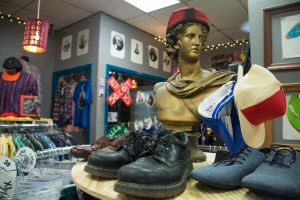 Adam Lucas, a senior graphic design major, models for Anna Bananas, said that Anna Bananas provides unique clothing styles at affordable prices and is sure to have something for everyone.
"We're seeing a lot of '90s influence, actually several decades, but always with a modern twist," Roseman said. "We're loving all of the variations to denim: distressed, cut-off, skinny, wide leg and flare. Slip dresses, floral dresses, overalls, velvet, just so many unique ways to express personal style."
Roseman wants each person to walk through Anna Bananas' door and feel the love and experience a shopping adventure. She said that every day is a shopping party at Anna Bananas and everyone is invited.
Story by: Rachel Brunner, A&E Reporter
Photos by: Monique Rivera