Baseball takes series against UALR
Game 1
Appalachian State baseball could not capitalize on their opportunities in the first game of the three game weekend series at home against Arkansas Little Rock, falling 9-3.
Despite recording 11 hits to the Trojans' 12, the Mountaineers were unable to capitalize on early inning chances to get men home while on base.
App State would get themselves on base through the first two innings but were unable to score before falling into a 2-0 hole in the third inning after the Trojans got on the board first with a sacrifice fly from the nation's leading hitter, Ryan Scott, who entered the game with a .500 average.
It seemed the Mountaineers would do some of their own damage in the bottom of the third when freshman shortstop Will Herman led the inning off with a single. Freshman outfielder Tanner Mann-Fix would get on base before junior infielder Matt Vernon hit a single to the infield but Herman was called out on a fielder's choice.
Sophomore outfielder Tyler Stroup grounded into an inning ending double play.
"It's just timely hitting. We hit the ball really well," freshman infielder Beau Myers said. "We just couldn't come through when we needed it."
The Mountaineers came out in the fourth inning still swinging hard and after an error by Little Rock to get senior designated hitter Grayson Atwood and junior infielder Brian Bauk on second third with no outs, Myers would hit an RBI shot to drive in Atwood to trail 2-1.
This would be all the damage App State would be able to find though in the fourth inning despite having two on with no outs.
"We knew we needed to get our timely hits. We put our self in good positions with timely hits but we didn't execute," coach Billy Jones said.
Still in striking distance only trailing 3-1 through the next three innings, the Mountaineers put some hits up but would fail to get on the board.
Starting pitcher Bobby Hampton found himself with two men on base in the seventh inning to finish his day, having pitched six innings with four earned runs and six strikeouts against 28 batters.
"I felt great. The first inning was a little shaky but after that I settled down," Hampton said. "I gave up some untimely hits for them, but after I settled down I got comfortable on the mound and felt good."
Little Rock took advantage of the Mountaineers bullpen through the next two innings and expanded their lead 9-1 heading to the bottom of the eighth.
Myers hit another RBI for the Mountaineers in the bottom of the eighth and App State would score a couple more runs to make it 9-3 but ultimately fell, taking the first loss of the weekend series.
"It's all about the hit at the right time," Jones said. "The amount of hits doesn't matter to me, it's about getting the hits in the right situations. We had opportunities but we failed to do that."
Game 2
The Mountaineers evened up their three-game series with the University of Arkansas-Little Rock Trojans on Saturday after winning in walk-off fashion.
Appalachian's leader in batting average, center fielder Tanner Mann-Fix, had the App's first hit of the game but his team failed to score until the fourth inning with first baseman Connor Leonard's RBI single.
Mann-Fix continued to progress the offense with a RBI double that hugged the left field line, and then to tie the game 3-3, left fielder Tyler Stroup hit a sacrifice fly to drive in Mann-Fix.
The sixth inning would be the last for Gorham, who started the game, after throwing 100 pitches. 
Submarine relief pitcher Stephen Schoch came in and immediately allowed a RBI single to Little Rock's centerfielder Zach Owens. Then the second throwing error by App's shortstop Will Herman scored in another two runs to extend the Trojan's lead to 6-3.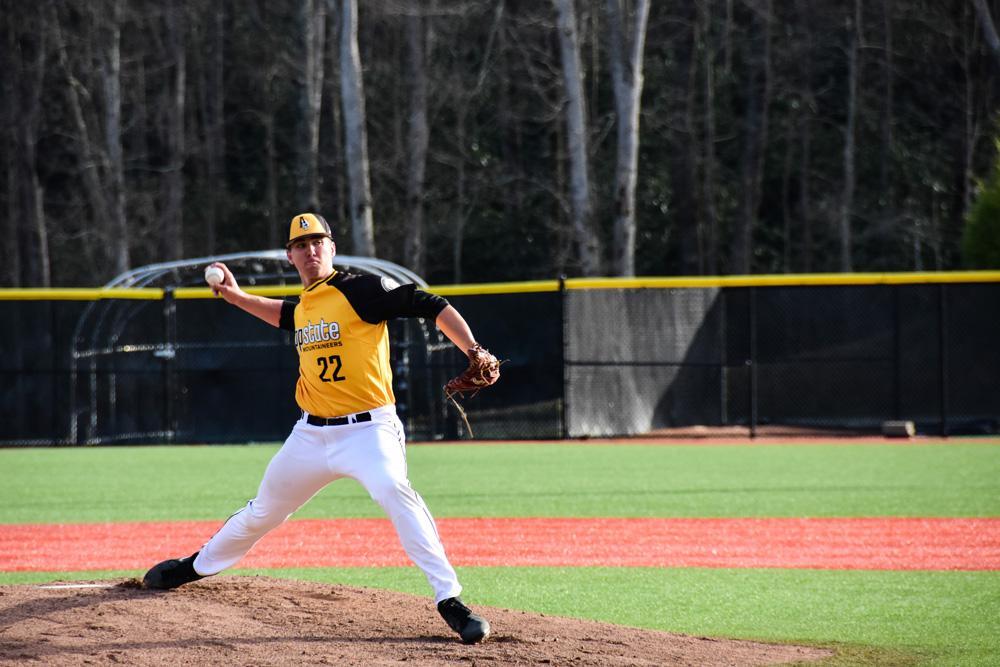 The Apps could not answer back and Little Rock went on to score another run in the seventh off a RBI single by the Trojan's third baseman Kyle Kirk.
The Mountaineers offense came alive again in the bottom of the seventh after a fielding error by rightfielder Dalton Thomas scores in Herman, then Stroup's up the middle single scored in Vernon and Seagle to decrease the Trojan lead to one run.
Appalachian went on to tie the ball game in the bottom of the eighth after back-to-back hit by pitches scored in Vernon.
"We were fortunate to get hit by a couple pitches and get a couple of hits here and there to get it close to get us a chance late," head coach Billy Jones said.
Game 3
Appalachian State defeated Little Rock in walk-off fashion for the second consecutive game, good for the series win against the Trojans.
After a hitless first inning, Little Rock started adding hits to the scoreboard with a double by Little Rock's designated hitter Matt McDowell, which was fielded in time by Mountaineer left fielder Tyler Stroup to keep first baseman Nik Gifford from scoring in the Trojan's first run. McDowell scored the game's first run of Trojan shortstop Zach Baker's RBI single.
App looked to score in the bottom of the fourth but ended up stranding Leonard and designated hitter Parker Henderson who both had their second consecutive hits of the day.
The fifth inning didn't last long with Mountaineer pitcher Colin Schmid going three-up-three-down and retiring 10 of the last 11 batters.
"He threw strike one and commanded. He went out there and he wasn't thinking too much, I thought he was in complete control. He felt he could've gone further and I think he could have," Jones said while discussing Schmid's performance.
The Mountaineer offense matched Schmid's dominance by loading the bases with two hit by pitches and a sac fly by Bauk that scored Vernon.
Myers was the first batter that Little Rock's new pitcher Reed Willenborg faced and Myers became the second victim to wear a wild Little Rock pitch. Myers flipped his bat in anger and walked slowly all the way to first.
Schmid showed signs of weakness in the sixth as he allowed a RBI, but the defense backed him as Mann-Fix ends the inning robbing McDowell's potential two-run homer.
After walking two batters, Willenborg is replaced by lefthanded pitcher Eric Garcia who striked out Mann-Fix and causes the Apps to strand two on base. Mann-Fix, who was the Mountaineers leader in batting average coming into the game, went 0-4.
Reed Howell took Schmid's place on the mound after 93 pitches and continued where he left off by retiring the side.
App stranded two more runners as Bauk is walked by Garcia, and Leonard is walked by Garcia's replacement, Keenan Wingfield.
Howell loaded the bases with zero outs in the eighth forcing Jones to put in Bauk to try and save Schmid's win.
After a strikeout on Gifford looking, who had hit a home run in the last game of the series, Bauk failed to keep Schmid's outing intact as a wild pitch and a RBI by McDowell scored two runs for Little Rock to tie the game.
Drake Zupcic, who replaced Bauk in right, ended the inning keeping another run from scoring throwing out catcher Cameron Knight at home.
Winfield is taken out after walking Herman and missing the tag while fielding Seagle's first baseline bunt. 
Lefty Dylan Slayton came in to face lefty Mann-Fix who laid down a sac bunt that wasn't fielded in time to get the lead runner at third.
Slayton loaded the bases before being replaced by Preston Obering. Obering allowed App to score on his first pitch. Vernon has a two RBI hit and Bauk later hit a sac fly to build a three-run lead by the end of the inning.
Looking to end the game, Bauk allows two men on but manages to get two outs. Then, right fielder Dalton Thomas crushes a three-run homerun to deep left field to tie the game.
"I've never thrown a worse pitch in my career," Bauk said postgame.
The Mountaineers started off the bottom of the ninth with catcher Chandler Seagle drawing a walk and Mann-Fix flying out to center for the first out. Next to bat was Vernon, who supplied magic for the Mountaineers for the second consecutive game, hitting a walkoff RBI double to deep left-center, winning the game 8-7.
"There was a different feeling than usual coming into the dugout, but I'm pretty sure everyone on our team thought we were going to come back," Vernon said. 
Appalachian looks to add more wins to their record this Tuesday against Campbell in Holly Springs, North Carolina.
Story by Angelo Errico and Jason Huber, sports reporters
Featured Image: Freshman catcher Trader Flora stares intensely at the game while waiting for his time to return to the field. App vs. North Carolina Central on March 30. 12-1 (W). Photo by Hannah Smith.