Bassett-Smith ready to leave her mark on App State basketball
Athleticism has never been a problem for the Bassett-Smith family. Since App State women's basketball senior forward Ashley Bassett-Smith was just a kid, she grew up in a household where playing sports was the norm, no matter what sport.
Raised in Ohio, Bassett-Smith's father, James, played professional rugby in Australia, and her mother Terri, played volleyball for Arizona State University.
"When my sister and I were little, our parents let us try every sport," Bassett-Smith said. "Whether it was karate or dance, I was always the tallest one. As I started to grow up, my two sports were basketball and volleyball."
Switching over to basketball when she began high school, Bassett-Smith's father saw the talent in her game, and that is when she signed up to play AAU basketball. Bassett-Smith's younger sister of two years, Morgan, followed in her footsteps.
Attending and playing for three different high schools, and playing for two different colleges, Bassett-Smith found her home at Appalachian State after transferring from University of Tennessee-Martin her freshman year in 2012.
"When I visited Boone in the summer when I was transferring, I kind of just felt it, and liked the atmosphere," Bassett-Smith said. "It is a different setting then I ever had in Ohio, and I liked the traditions that they had here, and they had a really good exercise science program here, which would help me academically."
Now in her final season as a senior, Bassett-Smith moved to third on the Mountaineers all-time blocks list this season with 137 career blocks, has become one of the most prevalent leaders on the team, and will leave her name engraved in App State history.
Transferring was a difficult decision at first for Bassett-Smith. Just a year removed from sitting out a year, Bassett-Smith had to make the decision whether she would sit out for the second time in three years.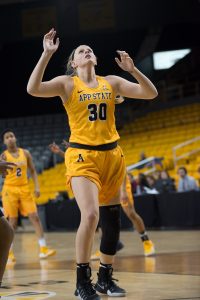 In the fall of 2011, Bassett-Smith was a rising senior, and Morgan would be a sophomore. Both sisters transferred from Olentangy Orange to Pickerington High School North. However, after never having the opportunity to play on the court together, Bassett-Smith was ruled ineligible to play her final high school season due to the transfer.
"It was really hard mentally and emotionally not being able to play the game," Bassett-Smith said.
Morgan regained eligibility to play her senior season at Pickerington, and is now a junior playing for University of New Hampshire.
"We are best friends," Bassett-Smith said about her sister. "We talk every night, we have matching tattoos, and we are just very close. She got to learn from me my first two years in college, and I could just help her out."
Recruited by a handful of schools, including App State, Bassett-Smith decided UT-Martin would be the best fit. Bassett-Smith appeared in 17 games at UT-Martin, averaging only five minutes per game, but showed her defensive potential recording eight blocks on the season.
Listed at 6 feet 2 inches tall, Bassett-Smith was not the tallest player on the court, but wanted her defensive presence and post ability to continue improving.
"I have always had a midrange jump shot in high school, and I was a defensive player, but knew I wouldn't be the tallest player," Bassett-Smith said. "But I wanted to continue my game. I wanted to get my defense capable of guarding bigger or taller girls. I wanted to be a physical player on the block. I shot a lot of fade ways and turns in high school, but I wanted to dribble, get contact and finish on contact. I wanted to be a low block post player rather than just a 15-foot mid-foot stretch shooter."
With the transfer to App State under then head coach Darcie Vincent, Bassett-Smith stayed positive as she sat out for the second time in three years, but she said it only gave her more time in the weight room and on the court to continue improving.
But in 2014, the Mountaineers hired Angel Elderkin as the new head coach, meaning Bassett-Smith once again had to prove herself on the court.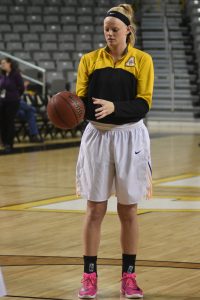 "I felt that I kind of had to prove myself because she [Elderkin] didn't have any game footage of me from the year prior, and I had to show her who I was in practice," Bassett-Smith recalled. "I did feel really comfortable with her, and she was a coach who could really see me working hard. I didn't get a ton of playing time my first season, but I watched what people were doing and tried to be a efficient as I could be in limited minutes and do as much as I can in that time."
Elderkin took notice of the eagerness that Bassett-Smith had, and saw the leadership and winning mentality that is sometimes hard to learn.
"She had come in from UT Martin, which historically is a good mid major program, so she understood what it takes to build a championship culture and how your socks should match," Elderkin said. "What you see from transfers when they sit out a year is that they are really eager to play, and now they are coming to practice to get playing time instead of coming as a scout player."
Needing to work her way up the depth chart behind other forwards/centers such as senior Maryah Sydnor, junior KeKe Cooper and sophomore Mia Marshall, Bassett-Smith took advantage of the time to learn from her teammates and build strong relationships.
"It was kind of every night whoever was giving us production was the player who got the most minutes," Elderkin said. "Ashley has a very good skill set in terms of her ability to shoot the basketball, face up and score on the low block. Originally, we thought she was more of a face up, but this year she really established herself on the low block and she has really grown to embrace the physicality of this league and really dominate."
Bassett-Smith recorded 53 blocks as a redshirt sophomore to place in the top 10 all-time in Mountaineers history in just her first year.
Last season, Bassett-Smith appeared in all 30 games, starting one and ranked second team behind Cooper with 37 blocks, and averaged 5.7 points per game.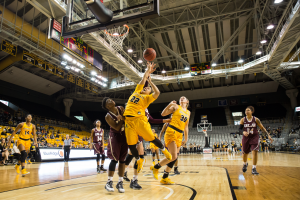 "We had a good defensive presence with her being a post player and so defensive minded with blocks," senior guard Joi Jones said. "Just having her make people second guess coming into the paint was a great luxury."
While continuing to improve her overall game, blocks became the signature piece of Bassett-Smith's game. On Feb. 9, Bassett-Smith surpassed Cooper for third all-time in App State blocks.
Still ranked behind Anna Freeman (265) and Valorie Whiteside (195) in blocks, Bassett-Smith knew she had the chance to pass Cooper this year.
"I had really good games early on, and after that I knew it would be the thing I do this year [Passing Cooper]," Bassett-Smith said. "Once I got my 100th block, I was pretty excited. After my 100th it just has kind of happened, because the next person is far ahead, but it's really cool to leave a mark on App State history."
Finally given the chance to be a full-time starter this season, Bassett-Smith has not disappointed, averaging a career high 7.1 points per game and 5.1 rebounds including scoring a career high 19 points twice this season.
"She started off the year with a lot of scoring and production, has been more productive in rebounding and she has really grown in every aspect of the game," Elderkin said. "Her first year she would joke about not being able to finish the strength and conditioning program, and this year she led that program and was more vocal, and she has really grown with that."
Bassett-Smith was honored on Saturday with Jones, Marshall, senior forward Bria Carter and guard Jasmine Ogunjimi. This senior class has proven to excel in their leadership roles with a young team.
"It's starting to set in. We are excited to not end it on senior night and possibly have more games to play and that's our goal," Jones said. "We have really stepped up and grown as leaders, and it is good to see the growth from Ashley and with her helping me as a fellow leader."
Expected to graduate in May and attend graduate school, Bassett-Smith will take her experience to look forward to yet another chapter in her life.
"There is no doubt in my mind that in whatever field she decides to pursue, she will be an expert just based on her work ethic, communication skills and knowledge," Elderkin said. "She is very very bright, and very talented."
Story By: Jason Huber, Sports Editor