Beasley Media Complex dedicated Thursday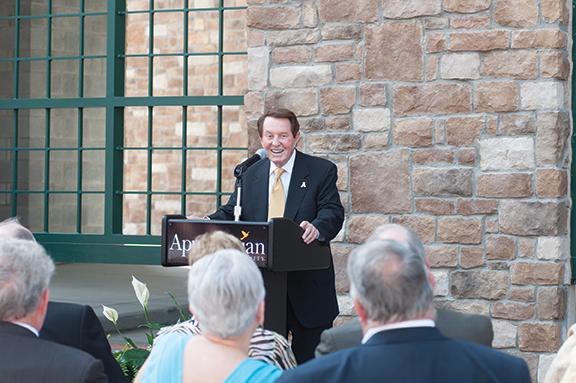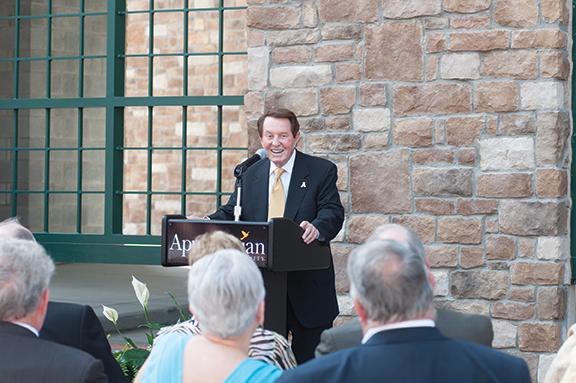 The George G. Beasley Media Complex, located on the corner of Depot and Rivers streets, was dedicated Thursday afternoon.
The grand opening of the reconstructed media complex was held in the building's courtyard to honor its dedication to Appalachian alumnus George Beasley, who is also the CEO and founder of the Beasley Broadcast Group.
Beasley and his wife, Ann Beasley, made Appalachian State University's new media complex possible with their contribution to the $4.5 million project.
Although the ceremony for the day was held in his honor, Beasley said the building is about the many hundreds of students that will be using the media complex.
"I not only envision Appalachian as being one of the top schools in communications anywhere in North Carolina at this point, I think that over the next few years it will evolve, in my opinion, becoming the premiere school of broadcast communications in the southeast and maybe the top five all over America," Beasley said.
The 18,000 square-foot building, designed to be LEED-certified, will now become the new home for broadcast studios such as 90.5 WASU, Appalachian's student-run and award-winning radio station, said Dean of the College of Fine and Applied Arts Glenda Treadway.
The Beasley complex will also house new classrooms and labs for students and faculty in the Department of Communication and the College of Fine and Applied Arts, Treadway said.
"This facility will provide a higher quality platform from which we can continue to serve the campus and the local community," Treadway said.
Treadway and Chancellor Kenneth Peacock presented Beasley and his wife with a rendering of the media complex as a reminder of the legacy they will leave at Appalachian State.
"George is a giant in the broadcasting industry," Peacock said, "We are proud of [his] 44 radio stations and 11 markets."
Beasley's company earned notoriety for procuring and improving underperforming radio stations, making Beasley one of the top 40 most powerful people in radio.
Story: MICHELLE PIERCE, Intern News Reporter
Photo: JUSTIN PERRY, Photo Editor