Becoming Predictable
Doing something repetitive, it becomes predictable to others. It's like living with someone. If you're with them enough, you begin to figure out their habits. If you're watching an App State football game, nine times out of 10 they're going to run the ball.
Already establishing themselves as an exceptional run-first offense, having finished sixth in the country for rushing offense in 2015, it's the passing game that is struggling, specifically with junior quarterback Taylor Lamb at the helm.  
Why? Because Lamb's not comfortable enough to throw the ball downfield.

Just look at the Miami game for proof.  The Mountaineers were supposed to put up a fight. Instead, they got routed 45-10 and failed to get anything going on offense, especially through the air.
Lamb struggled against Tennessee as well, going 15-23 for 108 yards with an interception and a touchdown. A missed extra point and poor clock management notwithstanding, he failed to make an accurate pass during overtime to wide receiver Shaedon Meadors in the corner of the end zone, thus costing the Mountaineers their biggest upset since Michigan.

But just two weeks later, the Mountaineers looked lost against Miami, and "the U" was more ready than expected.  
Stacking the box, Miami seemed to know Lamb's arm wasn't dependable enough and that Marcus Cox, an elite college running back, was their only dependable weapon.
Miami made sure to take advantage of that.
Why did head coach Scott Satterfield not take a gamble to throw the ball deep? If you become less predictable, you become harder to stop. Miami head coach Mark Richt even said his entire team watched the App State-Tennessee game. If it almost worked against the Volunteers, it wasn't going to work against Miami.
"How can anybody who knows football take this team lightly?" Richt said before their game against App. "We don't even have to say that to our guys. They've seen the film. They watched them play against Tennessee."
When the Mountaineers took on conference opponent Georgia State two weeks ago, they were 19-point favorites according to ESPN, yet struggled all game long and only won by 14.
The Mountaineers didn't score a point in the first half, an inexcusable performance for an offense that's supposed to be as potent as Apps'. For a team that won their first ever bowl game in school history last year, fans expected more from the Sun Belt conference's 2015 leader in total offense.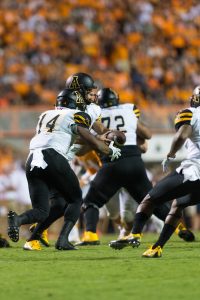 They could have and should have won by more, no matter how selfish that sounds coming from a team that went 11-2 a year ago.

App State has an impactful run game, no matter if Cox, sophomore running back Jalin Moore, or freshman Darrynton Evans are in the backfield, but they need to take more advantage of the rushing offense to use the play-action pass.  

In the first play against Old Dominion in week two, Lamb went play-action 40 yards to wide receiver Jaquil Capel to put them in field goal range. If they use the play-action to their advantage it opens up the running and passing games, and keeps opposing defenses on their toes. Thus setting up our versatile running backs to go off and take advantage of hesitant defenses.
However, it seems like Lamb would rather take a hit than chuck the ball downfield.  He's been sacked six times through five games, which is on pace to go over his 11 last season. Four interceptions and only six touchdowns through five games, is nothing to overlook considering he is way behind his 31 touchdown and nine interception pace from last season.
Capel, Lamb's favored wideout target, is more than capable of making downfield catches and has the speed to beat defenders as well. Meadors, who entered the season as the projected number one target, has seemed nonexistent. Both only have a combined 10 receptions on the season, which is the equivalent of tight end Barrett Burns who should be an exclusive short yardage and red zone threat, not one of the team's leading receivers.
Meadors is far too talented to be getting the ball as little as he does. He has the speed to beat corners and streak down the field on the play fake. Burns is sizeable enough to be a deadly option on the play action inside the red zone.
Despite Capel and Meadors being the go-to wideouts, neither are consistent either. Last year, wide receiver graduate Malachi Jones had the athletic ability to jump for the ball when necessary. Simms McElfresh, another wide receiver graduate, had the ability to get open at any moment, and came through in clutch situations.
Besides the consistency, what the receiving corps lacks is experience, a nationally renowned star and a passer who can lead them to their true identities.  
Wide receivers Mock Adams, Deltron Hopkins and Jaylan Barbour still have time to become that No. 1 receiver, but they're not dropping jaws just yet. Thanks to McElfresh and Jones last year, they were able to cover Lamb's shortcomings as a passer.   
It's not like this problem is being overstated for Lamb. He's currently sitting 10th in the Sun Belt in passing yards with 827 yards, the lowest for any quarterback with over 100 passing attempts.
Lamb has taken a step back this year. He led the Sun Belt conference in touchdown passes last year, something that looks unlikely to happen this year if things don't get turned around fast. He needs to gain some chemistry with his receivers and the play calling needs to change to see results.
If the Mountaineers want to be successful running the ball then calling more play action passes and going vertical with the routes will make the offense more dynamic and harder to predict.

Matt Krombach is an Electronic Media/Broadcasting major and is from Apex, North Carolina