"I kind of built the business based on the movie Fight Club," said Don Cox, the founder, owner, original bald guy and self-described "grunt" of Bald Guy Brew coffee roasting company. "I work weird hours. I'm kind of hard to find."
Bald Guy Brew started in the parking lot at the Watauga County Farmer's Market nine years ago.
In the beginning, Cox roasted his beans out of a biofuel-powered van — one of the first of its kind in North Carolina. In 2011, he opened up a shop off  of Highway 105 Bypass in Boone, and currently three shops in the High Country — one in Blowing Rock, one in Boone and the main roasting shop in Valle Crucis — use the name Bald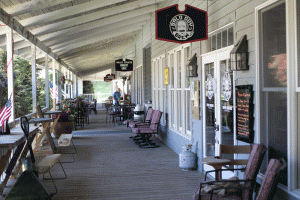 Guy Brew, but Cox maintains that it is not a franchise.
"When you franchise, you owe me money even if you don't sell anything," Cox said.
Instead he lends his name to coffee shops that exclusively sell Bald Guy Brew beans.
"We're throwing our brand behind their business," he said.
Cox is partly so hard to find because he's often not in the country. He's busy hanging out with coffee growers in remote corners of the world. He's bilingual and travels to Costa Rica at least once each year and also tries to venture to Africa and Mexico whenever possible. The latter of which is where he and his wife lived for three years.
Over winter break, he leads an Appalachian State University trip to Costa Rica with professor Ken Corley's supply chain management class.
"We take students to meet my friends and we walk around coffee farms," he said. "We look at the cooperatives, the micro mills — we're in the bowels of the coffee growing business."
Cox does all this because he is passionate about fair trade —real fair trade.
"Coffee, if you're not familiar with it, is traded on the New York Stock Exchange, and it's the second largest commodity next to oil," Cox said.
When he buys beans to roast in his shop, Cox has a checklist he goes through to make sure he's buying top quality, much like a sommelier does for wine.
First, he looks for beans that can cook well, that will make coffee that tastes good.
Then, he said, he needs some level of traceability, "So I can get back to the person who grew it."
Third, he needs to know the farmer will be paid a decent wage for his work.
Finally, he looks for environmental practices that match the values of his company. In particular, he tries to only buy shade-grown coffee because the process reduces the need for chemicals.
"We try to be honest with what we buy," he said. "We know where the coffee came from; we know they're upcycling, recycling, multi-purposing."
Cox's checklist pretty closely matches the one put out by Fair Trade USA, the main company that provides fair-trade certification to farms, for an annual fee usually costing thousands of dollars. Though it would probably make the selection process easier on him, Cox does not require that the coffee he buys be certified fair trade.
"Fair trade is a bust for [the farmers] because they have to pay for the certification," Cox said. Many of the farms he works with are too small and poor to take on that cost.
Within the next few years, Cox wants to open a couple research and development farms in Costa Rica. He wants to help farmers raise their coffee IQ, he says, and market themselves to roasters like him.
"The goal is to empower coffee growers, not exploit them," he said. "We're just trying to do right by people."
Story: Emma Speckman, Intern A&E Reporter
Photo: Sarah Weiffenbach, Intern Photographer