Beloved Mountaineer Dexter Jackson starts training academy in Boone
The name Dexter Jackson is one that will live on in Boone forever. A former App State wide receiver, Jackson helped lead the Mountaineers football team to the famous upset against Michigan in 2007 and three straight National Championships.
Jackson's speedy 4.27 40-yard dash in the 2008 NFL Combine helped contribute to the 68-yard touchdown pass that put the Mountaineers up early 7-0 against the Wolverines. Along with another touchdown that day, Jackson's presence on the offense helped create what is looked at now as one of the most historic Mountaineer football teams ever.
After a historic season with the Mountaineers, Jackson left Boone a semester early to prepare for the NFL draft. His 40-yard dash time was the fastest among all receivers that year and increased his draft stock. He was selected 58th overall in the second round by the Tampa Bay Buccaneers.
Jackson made his run through the NFL playing with the Buccaneers, Panthers and Jets from 2009-2012. After his NFL career, Jackson went back home to finish out his final semester with an internship at the DeKalb County district attorney's office. There he worked as an investigator for three more years before his return to Boone with the High Country Grizzlies in December of 2016.
In 2015, Jackson got the idea to use his experience and help train younger athletes, specifically where his story began, back in Boone.
Jackson's company, Speed to Victory Academy, is designed to help younger athletes all the way up to the college level train and prepare themselves for the next level, whatever that next step may be.
The idea stemmed from Jackson's experience leaving the High Country and being thrown into training for the NFL draft.
"When I went pro, I didn't have any former ASU alum to say, 'Hey Dexter when you go to the NFL, this is how you prepare'," Jackson said. "I want to help prepare them mentally, physically, spiritually and also just make them the best person they can be after football."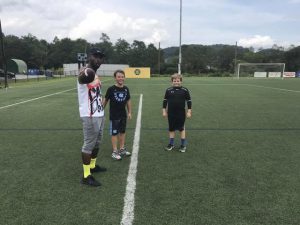 Another familiar name in the High Country is App State alum and former football player Tommy Sofield Sr. Just seven years after graduating from App in 1976, Sofield started U.S. Chemical Storage, a company that makes safe storage facilities for hazardous and chemical materials. After working alongside well known agencies like the FBI, NASA, Department of Homeland Security and more, Sofield turned the company over to Baird Capital and their portfolio company Justrite.
Sofield is also known for leading the way for the $50 million Sofield Indoor Practice Facility on campus.
When Jackson returned to Boone, he sought out Sofield to turn this idea into a reality.
"He thought it would be a great fit for our kids in the local area," Sofield said. "It just so happened that one of my buildings had come available space-wise."
That 14,000-square-foot building Jackson plans to use as their indoor training facility. Jackson said that in Boone when it rains or snows, there's nowhere to train. With this facility, he plans to put in turf, batting cages and areas for strength training and conditioning. As of now, Jackson and Sofield are still waiting on a permit from the city to be able work in the facility.
Currently, Jackson is training young athletes on the Ted Mackorell Soccer Complex fields.
Although Sofield has an extensive background in the business world, he made it clear that this is not just another investment.
"For our community as a whole to have somebody of Dexter's caliber to be able to do these things, he understands their needs," Sofield said.
These needs go above and beyond the average skills and conditioning workouts some might be used to. Jackson is dedicated to getting young athletes the training and preparation they need and that he feels like he missed out on.
"My goal is to treat these youth athletes as if they're on scholarship at ASU," Jackson said. "I want to get them new hold cold tubs, trainers and to get top notch coaches to coach them until it's too late."
Jackson said that coming down from the mountain already puts an athlete at a disadvantage. Athletes in places like Charlotte already have those facilities and trainers that can put them in a position to succeed. Jackson hopes to create those same opportunities with the Speed to Victory Academy.
Jackson himself is not far from being everything a young athlete needs. He is certified in CPR, a certified personal trainer and is working on becoming certified in strength and conditioning, which he plans to have done by January 2018. His wife, Carey Jackson, is also a certified nutritionist and personal trainer.
"I didn't have a mentor, so I want to be able to mentor to not only these youth kids but also guys like Taylor Lamb, [Eric] Boggs and Jalin Moore who might want to come out [to the NFL]," Jackson said.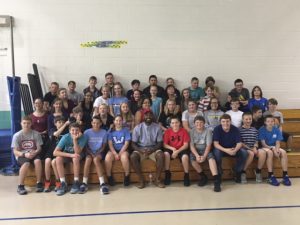 Jackson wants to teach older athletes that the next level is more than what they have dreamed about.
"It's a job, yes it's a game, but it's still a job," Jackson said. "I didn't have coaches and trainers pushing me how I wanna push these kids. I want to give them hope."
The Speed to Victory Academy is open to specifically, "every kid that's into athletics." Sofield's grandson, 9-year-old Cooper Sofield, has been working with Jackson to improve early on and be the best that he can be.
"My grandson's experience has been very well received by him. He's been challenged by Dexter and is seeing great results on his agility and speed," Sofield said. "You can see Dexter getting more out of him and he's enjoying the challenge and the pursuit of excellence that Dexter expects. He has great respect for Dexter and is excited each day that he's able to train with him."
There are scholarships that Speed to Victory offers for kids who may be unable to afford high quality training like this. More information can be found at www.speedtovictoryacademy.com.
Story By: Noah Gerringer, Sports Reporter
Photos Courtesy of Dexter Jackson