App State men's basketball finished the regular season with a record of 14-17 overall and 9-9 in conference play, with a win against Coastal Carolina University on Senior Day. With the win, they finished fifth in the Sun Belt Conference.
The Mountaineers finished their best season under head coach Jim Fox, who is now 45-78 with the Mountaineers.
"[I am] obviously very pleased with our group. It's been a season that we've really taken a giant step forward for our program you know, and I couldn't be happier," Fox said.
The Mountaineers and Fox used the last two games to gain some valuable lessons and prepare for the upcoming Sun Belt tournament.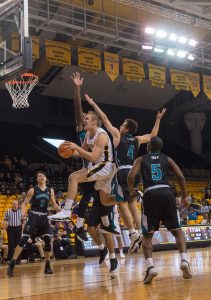 Senior forwards Griffin Kinney and Craig Hinton both said that ever since the Arkansas State game, they have been treating games like tournament games because in a tournament game, "a bad five minutes can be the end of our career here."
The Sun Belt tournament, which took place March 7-11 in New Orleans, Louisiana, featured App State as the No. 5 seed. They faced the No. 12 seed University of Arkansas at Little Rock in the first round of the tournament.
"You can't in any way be content with where we are. We have to go home, watch film and meet tomorrow and get better and get ready to play," Fox said after Senior Day.
App beat Little Rock 93-64 in the first round of the tournament. Sophomore guard O'Showen Williams scored a career-high 22 points and freshman guard Justin Forrest scored 19.
App moved to the second round against the No. 4 seed UT Arlington and lost 84-68 finishing the season 15-18.
Kinny had 22 and Forrest had 17 to lead the Mountaineers in scoring. Georgia State later beat UT Arlington in the Sun Belt championship game and will be a No. 15 seed in the NCAA tournament.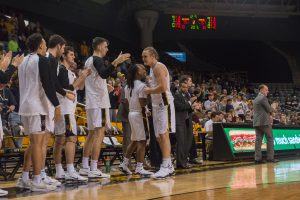 "I want to thank my team & my staff for giving it everything they had this year. The excitement of Selection Sunday only reinforces our commitment 2 changing history for this basketball program. I am excited for the future. Our name will be announced on Selection Sunday soon," Fox said Sunday night on twitter.
Junior guard Ronshad Shabazz ended fifth in the Sun Belt in scoring at 18.5 points per game and sophomore forward Isaac Johnson finished tied for third in the conference with 8.4 rebounds per game.
"I've been apart of four different teams and just this team right here is definitely the most talented team I've been apart of and the closest as well off the court," Kinney said on Senior Day.
Story By: Moss Brennan, In Depth Editor
Photos By: Lynette Files, Intern Photographer