Every Monday and Wednesday from 7:30 p.m. to 9:30 p.m., you can swing down to the Varsity Gymnasium and Lindy Hop back in time with the Appalachian Swing Dance Club. The student-run club brings the flavor of Harlem Lindy Hop and the West Coast swing to the mountains.
Lily Shaw, a senior sociology and Spanish major, said that the nature of the dances are meant to bring people together. Shaw grew up playing soccer and said she was never able to feel a sense of community in the sport, something that she was able to find in dance, particularly in Lindy Hop.
Shaw, who said she found an immediate love for the art, has been to over 30 competitions, has danced swing in Costa Rica and has even studied swing in Sweden. From her time in Costa Rica, Shaw remembers being being able to promptly find a Lindy Hop community.
"When I went there, I knew a fair amount of Spanish, but even the times when my words failed me and I didn't know what to say, it didn't really matter because we were just there to dance. It's just about this place of sharing what you love," Shaw said.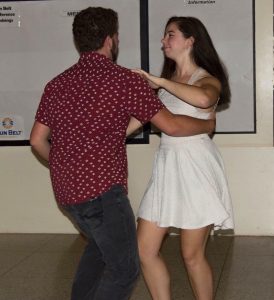 The same can be said for the swing club community here at Appalachian. Elizabeth Bowen, president of the club, said she believes that the expressive nature of dance tends to bring people together, letting normal inhibitions melt away.
"Some people have problems expressing themselves," Bowen said. "I'm not very good at communicating well, so I enjoy dancing as a form of expressing myself. Even in terms of my mood, if I'm feeling goofy, sad, happy, excited, there are so many ways to express yourself with your style. Sometimes people get tired of a persona that they have adopted for themselves, so dance gives them a platform to try out something new, a different character if you will."
Bowen said swing dance is known as being similar to having a conversation with your partner.
"I like thinking of it as a language," Bowen said. "When you dive into partner dancing, you'll find that it is a conversation with someone you may not know, or maybe you're friends and you get to express different things through that form of communication."
However, like a conversation, things can either go very well or one can have a "word fumble," as Bowen likes to call it.
Asher Daniels, a senior broadcasting major, has been involved with the club for three years and said he still remembers the first and only time he has ever dropped a dance partner.
"I'm a huge fan of doing dips," Daniels said. "The only time I've ever dropped a follow was actually doing dips on the beach. The sand had caught me. It was a really awkward spin. I couldn't get my footing. It's something I pride myself in, a lot of people trust me about it, but I have failed before."
In addition to learning swing as a skill, Daniels first saw the opportunity as a great way to meet people, particularly girls.
"Initially, it was my freshman year. I had just broken up with my girlfriend, so I thought, what better way to meet girls than to go dancing?" Daniels said.
Tristan Watson, a senior economics major, has been dancing for 3 1/2 years and teaching dance for two. Watson was initially inspired by his brother to pick up dancing.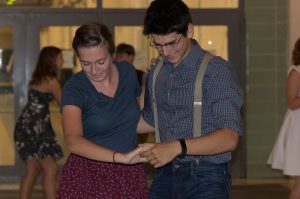 "My brother was the man in high school. He did salsa, tango, bachata, he did anything. He had girls lining up with him to dance," Watson said. "It's definitely more than that though. I joined to meet people. These people are my friends too."
Traditionally, in the 1920s and the 1930s when swing and Lindy Hop were just emerging, men were typically leads, and women were follows. Today, Watson said, swing breaks stereotypes, and traditional gender roles do not apply.
"Historically, men led and women followed, but the truth is, no one really cares about that anymore," Watson said. "We have a lot of women that lead, especially because there are so many more girls than guys."
Despite the reception that the Appalachian Swing Dance Club has received in recent years, Watson is still begging for men to join.
"Just come and show up. That's all you have to do," Watson said. "The same happened with me. It's really hard to break that feeling of 'everyone's looking at me. I have no idea what I'm doing.' The day that I stopped leaving because I felt awkward was the day that I started getting really good, really quick."
Story by: Savannah Nguyen, A&E Reporter
Photos courtesy of Elizabeth Bowen
Featured Photo Caption: Nate Patterson and Caroline Church dance Lindy Hop during a one of the clubs themed events. The club puts on other dances in addition to the Lindy Hop like the West Coast Swing and the Blues.