Thirty-five years since App State men's basketball upset the Duke Blue Devils 75-70 at Cameron Indoor Stadium and 29 years since the two teams have faced each other, the Mountaineers (2-3) were no match this time for the No.6 Blue Devils (6-1) losing 93-58 as Duke won their 129th consecutive non-conference home game.
Falling to 2-45 against North Carolina ACC opponents and losing their third ACC game in the last three seasons, App State fell behind when the Blue Devils jumped out to a quick 12-2 lead and never looking back.
Taking at one point, a 40-point lead in the second half, all five Blue Devil starters scored in double digits.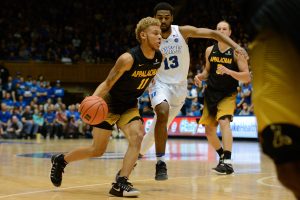 Outrebounded 45-30, giving up 16-second chance points and allowing 42 points inside the paint, the Blue Devils were just too much to handle.
"We made mistakes from the very beginning and they got going and made some shots and it goes quick," head coach Jim Fox said. "You try to do everything to get your guys going and it just didn't happen tonight
Blue Devils preseason all-American and National Player of The Year Grayson Allen started off hot behind the arc hitting back-to-back three pointers in the opening minute to electrify the "Cameron Crazies" before junior forward Griffin Kinney put the Apps on the board first with two early layups.
Allen scored all 21 of his points in the first half going 4/6 from the three point line before injuring his toe in the second half.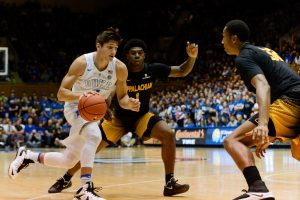 Trying to find some type of momentum builder, the Mountaineers pulled within six after Duke's early run working Kinney and redshirt sophomore center Jake Wilson in the post.
"We wanted to make a point of coming into the game and getting the ball into the inside and kicking it back," junior forward Griffin Kinney said. "A lot of good things will happen when we do that and that is a point coach drilled into us coming into the game."
Duke saw enough after the Mountaineers slight run and would begin to pull away even as the Mountaineers shot 50% through the game's first 12 minutes and stayed within 10 points.
Without star freshmen Harry Giles, Jayson Tatum and Marques Bolden, the Blue Devils were still able to show their depth and strength forcing the Mountaineers to commit 12 fouls to shoot 13/13 from the free throw line in the first half and 21/25 in the game to take a 55-34 halftime lead.
"They attacked the middle and that is the one thing coach said don't do," freshman guard Kelvin Robinson said. "When they get in the middle that breaks down our defense to dish the ball, get shot fakes and get us in foul trouble. Coach told us not to do that and it made us pay."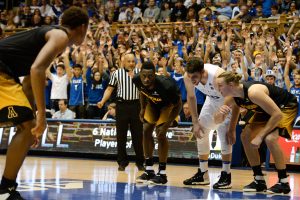 App entered the second half still unable to find momentum committing three turnovers in the first few minutes of the half as Duke went on a 12-0 run before the Mountaineers scored any second half points.
"We knew they would bring pressure, and offensively their defense against our offense we just played way too fast," Fox said. "When we started missing some shots our offense got stagnant especially in the second half."
Despite leading the team with six turnovers in the game, Kinney again ended the scoring drought again as he scored 11 points on the night on 5/8 shooting from the field.
"We got intimidated by their size and speed and we got overwhelmed in the moment," Kinney said. "Offensive rebounding is all effort and there was no game plan about who wants it more and they wanted it more today."
The Mountaineers committed 18 turnovers on the day, the most in any game this season and were outrebounded for the first time this season.
Watching the Blue Devil's lead increase, Robinson gave the Apps some positive reinforcement scoring 11 straight of his 12 points and going 3/3 from the three-point line to trim the lead to 32.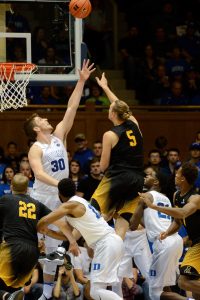 "I try not to come out in second half and score all my points, I want to do that in the first half but a lot of teams take their foot off the gas and that is a good time for the team that is down to come get a few points and get that lead," Robinson said.
Robinson and Kinney were the only two Mountaineers to score in double digits and the Mountaineers got too caught up into Duke's fast paced rhythm.
"We preached being patient and something they wanted to do is speed you up," Kinney said. "Being in the post with your back to the basket, it is easy to get ahead of yourselves but we just have to slow down."
Losing their eighth game in nine matches all-time to the Blue Devils, Fox says the reason they put together this strong of a schedule for such a young team was to learn more about themselves as conference play approaches.
"They are an outstanding team. We came in here with a young team to learn a lot about ourselves and I think we did," Fox said. "We learned that a perceived strength of ours was going on the glass and that was a clear weakness tonight."
Even with Sun Belt conference play a little while away, this game will stick with the team.
"This team is better than anyone in the Sun Belt and if we can play teams like this out of conference, it will prepare us for anyone," Kinney said.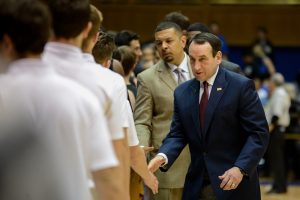 The Mountaineers now have little time to recover when they travel to Charlotte on Monday to take on the 49ers that they lost to last season.
Story By: Jason Huber, Sports Editor
Photos By: Dallas Linger