Jason Wright, Julien Passajou and David Vertrees are artists living and working in Boone. Together, they curate the community art zine "Heads." It is a group effort with artists featured from across the United States and abroad.
Wright, a senior graphic design major, and Vertrees, a senior studio art major, met in a printmaking class. They have been deeply involved with the art department on campus; Vertrees currently oversees the wood shop and Wright is the risograph printer technician.
At a previous exhibition in the Looking Glass Gallery, Wright met Passajou, whose intrigue in Wright's work led to the collaboration. Wright, Passajou and Vertrees have curated three editions of Heads magazine.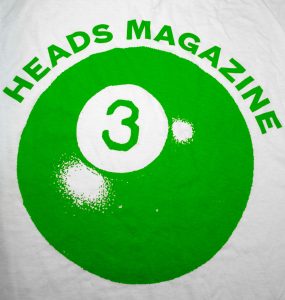 One of the highlights of the project has been the corresponding release parties. Heads No. 2 debuted at Espresso News in Boone, and Heads No. 3 at the VALET Gallery in Richmond, Virginia. Musical performances liven up the events and bring artists of many stripes together in one place. Acting as a platform for underrepresented artists has been motivating for the team.
"[By having] someone behind the table giving out zines, friends who are playing music for everyone and friends who are in the audience observing and enjoying everything, it's exciting because it gives many people an opportunity or platform to be involved," Passajou said.
They emphasized the ideal of widening and deepening the scene in Boone. At the release parties, contributors and friends mingle and forge connections that translate into the next zine, or other collaborations. Branching out is important, with contributors encouraged to spread the zine and invite like-minded individuals to submit pieces.
"The purpose of the publication is to form this community and make these connections, and these release events allow those connections to actually be made, by the people that turned out and come to support it. It's been really humbling and awesome to see how excited people have been about that," Vertrees said.
They've approached the curation of the zine in a novel way with a focus on accessibility. People who enjoy drawing, for instance, are meant to feel comfortable contributing to a publication that includes artists with ample exhibition experience.
"One thing we always ask for is people's stuff they don't normally show, stuff that is not in their most comfortable medium, and that evens the playing field between people who never show artwork or people that have artwork in galleries all around the world," Wright said.
This theme of open involvement and accessibility translates to their release events as well. They take strides to make the events interesting and inviting, differentiating them from a more sterile and transactional museum experience. As a gallery curator himself, Wright seeks to create a "multi-sensory experience," that holds viewers' attention longer.
"For the general public, that's not like super knowledgeable about art or super in the art world, you come, you walk around, you leave and as a curator, it has been really important to me that that isn't the experience, that the art world is inviting, that the art world is something the average person is going to want to be a part of," Wright said.
Heads continues upon earlier examples of zine culture. The passion of DIY, music and skate subculture coalesce. Passajou is a member of the band Modern Apologies and is active in the skate scene. While screen printing a shirt in the studio, Vertrees listens to music through an electric guitar amplifier.
"A lot of local music, regionally and in North Carolina has been very inspiring and I'm from this town and music has kind of been a bridge to a lot of different creative outlets," Passajou said.
Espresso News has played an important role in the creation of Heads. For Wright, connections made at the coffee shop were crucial in getting to know people and establishing his portfolio. Passajou began working there and the three were given the support to do what they wanted in the building. Vertrees now works there as well.
"It seemed like the perfect place to throw a celebration and a party in a different context for such a familiar space for so many people," Passajou said.
With their serious interest in printmaking, the materials and process of producing the zine are important. Using a risograph printer, Heads is printed in a monochromatic format and released in a limited batch. For Wright, it's important that Heads be an "art-object."
"In the post digital age, it's important to have something that you want to keep because if you're just going to throw it away, you might as well consume it on the internet," Wright said.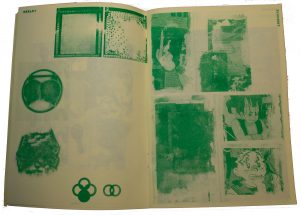 Heads is published by UDLI, which Wright and Vertrees oversee. They publish one-off zines and other artistic creations like screen printed shirts. UDLI was selected to show work at the upcoming New York Art Book Fair. They were the only press selected from North Carolina and one of only a few representing the south.  
"It's important for me in everything I do to show that the south has good people here, there's weirdos here in the south that are making good things and are important," Wright said.
His connections and friendships have been built over time through goodwill and correspondence, sending and receiving art through the mail for years and forming a community of people that create art for its own sake.  
"I think a lot of people in this day and age want immediate gratification, whether it be Instagram likes or money at exhibitions or something, but there's a lot of fun with just giving someone a package," Wright said.
The community that Heads has fostered and the scenes that they've drawn from will change with time. The skating community has recently been altered, as Boone's DIY skate park has come to an end with Appalachian State's purchase of the land it occupies.
"That's a community that was made, and that skateboarding and that art and creating is going to make that will never disperse, even when we're discouraged, which is something that is very inspiring," Passajou said.
Heads No. 4 will be released at the New York Art Book Fair, hosted at MoMA PS1 in Long Island City, New York from Sept. 22-24.
Story and Photos By: Patrick McCabe, Intern A&E Reporter