Boone Film Festival, a two-day event in September, supports local nonprofits and gives filmmakers the opportunity to share their work with others.
The festival began as an idea to showcase local and regional stories on film. Co-founders and executive board members Jason Berry, Bill Ireland and Russ Hiatt were inspired by Banff Mountain Film Festival, which comes to Boone every year during its world tour. The three of them wondered if they could do the same thing, but with a focus on the Appalachian community.
"There's a lot of cool things that happen in the region," Berry said. "And someone needs to champion that. There's a lot of stories to be told."
The first Boone Film Festival took place in April 2016. It was held in a 400- seat venue and tickets sold out in 10 days. There were 32 submissions and every film category was filled.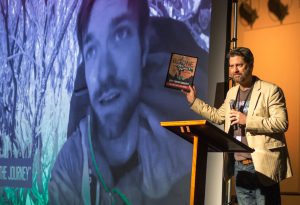 Now, the festival's executive board is looking ahead and sees future potential for the festival to become a weeklong event, spread out across several locations.
"We really see the potential for this to be another reason for people to come to Boone," Ireland said. "For being such a small town, it's an incredibly active outdoor community."
In Berry's words, Boone Film Festival is "by the community, for the community." It's completely volunteer-based and 100 percent of proceeds are donated to local nonprofit organizations. This year's benefactor is Mountain Alliance, a program that provides leadership and service project opportunities to local students.
Joni Horine, another board member, said that this year's film entries are dynamic and diverse and that their film culture is phenomenal, even international. Horine also said that she enjoys having a female voice in the group and in the event. She has been involved since the beginning and helped run the festival in 2016.
The 2017 Boone Film Festival will take place Thursday through Saturday, beginning with a screening of the youth category films in Watauga High School's Ross Auditorium at 6 p.m. Tickets are $3 for those under 18, and $5 for all others.
On Saturday, the Appalachian culture, environment and adventure category films will be shown at the Schaefer Center for the Performing Arts, beginning at noon. Tickets are $10 for those under 18, $15 for all others and $50 for a VIP package.
For more information and a detailed schedule, visit Boone Film Festival's 2017 Events page.
Video Link: Boone Film Festival Trailer 2017
Story By: Macon Atkinson, Intern A&E Reporter
Photos courtesy of Jason Berry