In 2016, Terrence Upshaw went into the football season with hopes of proving himself a star running back for Appalachian State.
The senior running back out of Duluth, Georgia rushed the ball 193 times for 1,115 yards in his first two years with the Mountaineers, which are more than decent numbers for a guy who actually wanted to play safety.
"I wanted to play safety in college but it did not go as well as I thought," Upshaw said. "I loved safety more than running back because you don't get hit as much."
Expectations for making an impact on the 2016 team came to a halt as Upshaw was told that he was academically ineligible and was not allowed to play the season. While this news hurt the running back, he kept working on his craft to help himself and help the team.
"I played scout team running back and so I took that serious because being over there, I helped the defense out, and every time the defense shut somebody out, I felt like I had an impact on it," Upshaw said.
With Upshaw's return, he has been splitting carries with 2016 Sun Belt offensive player of the year, junior running back Jalin Moore. The two are good friends, but when it comes to being on the field, they battle and push each other hard.
"We push each other all the time, every practice," Upshaw said.
Upshaw finds motivation in the movie "300." He believes that if there is any movie that someone should watch and take to heart, it should be that one.
Having a year to think about what he should do and how he could improve, it could have been easy for Upshaw to transfer and start somewhere new. But for him, transferring was not even close to being an option. The reason he stayed was because of the promise he made with his teammates.
"When we all came, being myself, Marcus (Cox), Taylor (Lamb) and Brandon (Pinckney), we just made a promise that we were not leaving, no matter what we went through," Upshaw said.
With a year to press the refresh button, the running back became a better football player. He studied the plays constantly so he could get a better grasp on what he needed to do and he became more knowledgeable with the whole scheme of the offense.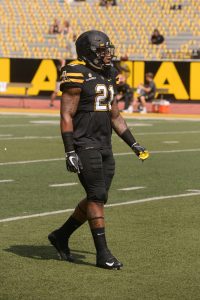 "He is more in tune to the whole picture and what is going on in the offense," running backs coach Stu Holt said. "I think whenever you go through some adversity like he did and wasn't able to play, it is a big wake up call."
Becoming a reliable weapon for the Mountaineers this year, Upshaw has played well and been a consistent player for the Appalachian State offense in their first few games of the 2017 campaign. Upshaw made his fifth start of his career and first since 2015 against Wake Forest on Saturday where he rushed for 86 yards on 15 attempts.
"His reliability is huge," Holt said.
Upshaw leads the team in rushing yards with 252 on 46 attempts and he has rushed for two touchdowns with 5.6 yards per carry.
Not only does Upshaw produce on the field, but gets along well with his teammates, whether they are on the offensive or defensive side of the ball. He is quite the jokester off the field according to teammates, but when he steps on the field he is a whole different animal.
"Off the field he is a funny guy," senior safety A.J. Howard said. "On the field he is a pretty hard matchup. It is definitely not an easy task when going up against him."
When Upshaw is running the ball, he runs aggressively and hard. His mindset is to not give up when he gets hit and to bulldoze over defenders to guarantee an extra yard or two.
"His mindset is to get every inch he can," Howard said. "Try to fall forward, lower his shoulder and get as many yards as possible."
There is no question Upshaw is an important part to the Appalachian State offense. He provides a balance between himself and Moore. Having Upshaw to split the carries with Moore makes an impact on the offensive gameplan.
"It really just comes down to balancing the reps so one guy doesn't get too fatigued," Holt said. "It is nice to have a different skill set from each other. We just try to manage the reps to keep the guys fresh who are in there."
Upshaw has learned from his time off and has grown from his experience. With a fresh start that was used to improve himself personally and physically, Upshaw will continue to be a key asset for Appalachian State football team in his final season.
Story By: Eric Jackson, Intern Sports Reporter 
Photos By: Lindsasy Vaughn and Stephanie Lee