buildings, police car vandalized over inauguration weekend
Several buildings in Boone were spray painted with Black Lives Matter and anti-Trump slogans, on Saturday.
Both businesses and academic buildings were targeted. A police car was also vandalized.
Boone Chief of Police Dana Crawford issued a statement that said the department is prioritizing this case and that damaging innocent people's property is not an acceptable way to protest.
Boone police have released video of the four suspects on Jan. 22. Police said in a press release on Jan. 21 that they were allowing the suspects in the video time to come forward. As of press time no charges or arrests have been made in connection to the tags.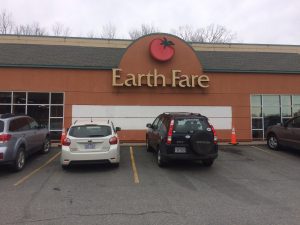 A reward is being offered for information that leads to arrests.
Most of the graffiti was removed by Saturday afternoon. Crime Stoppers said in a statement that damage was estimated at $5,000.
Images released by Crime Stoppers shows a Boone police car parked at the town's public works facility with "Black Lives Matter" spray-painted on it.
A statement from the chancellor's office released Monday morning said ASUPD is working with Boone police to find the culprits.
Chancellor Sheri Everts said in the statement that vandalism as a means to express one's opinion is illegal and runs counter to the university's values.
Story by: Shaun Howell, A&E Reporter