The Walker College of Business of Appalachian State University hosted the 55th Harlan E. Boyles Distinguished CEO Lecture at Holmes Convocation Center Wednesday morning.
John Osborn, president and CEO of BBDO New York, the second largest global advertising agency network, was the event's speaker. His lecture focused on the statement "built to serve," which he said fits into what the advertising industry strives to achieve.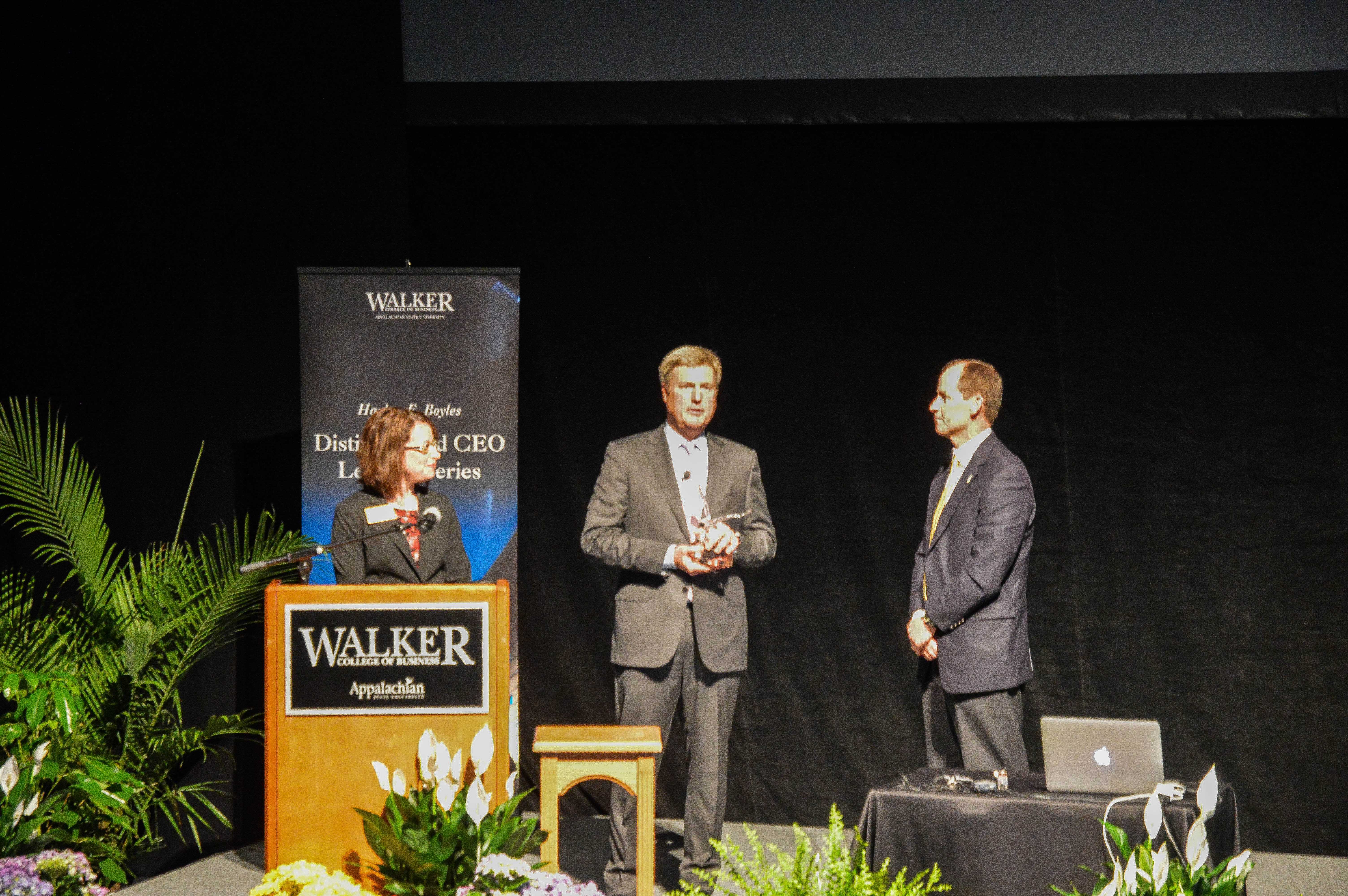 "If I had to reduce [my job] down to three simple words – sort of a tweet, if you will – that represents what I really believe in and what I stand for, it would be [built to serve,]" Osborn said.
A growing aspect of advertising is the technology boom and the numerous different channels that are available to target customers and clients. Osborn said it is very difficult for advertising agencies to make sense of this technology growth and continue to engage customers in what they are trying to tell.
In order to successfully serve clients, Osborn said advertising agencies like BBDO New York must continue using storytelling to grab customers' attention. What has changed is the way advertisers tell those stories.
"One thing we use that hasn't really changed is our stories," Osborn said. "Stories are still the most effective ways [to engage with customers.] They come in bite-sized content and they come in long form, but the basic art of storytelling is really the best chance we have, as advertisers, to really connect with them in powerful ways."
An x-factor in today's advertising, Osborn said, was connecting with customer's hearts instead of focusing on telling the differences between one product or another. By using that extra "oomph, which [Osborn] calls "the heart," advertising agencies can create separation between "a FedEx and a UPS; a Lowe's [Home Improvement] and another competitor."
Osborn said BBDO New York tries to reveal what a brand's purpose truly is by simplifying its message in order to amplify it.
"In this complex world of which we live, sometimes the best way to cut through all that clutter and all that chaos is with a very simple story role told," Osborn said.
Osborn was named to his leadership positions at BBDO New York in 2004. Since the agency has doubled its revenues, expanded its client base and diversified its workforce. BBDO New York has also expanded the agency's service offerings to include digital, design and healthcare marketing, according to the event's press release.
Some examples of BBDO New York's work that exemplified Osborn's key terms of being "built to serve," and adapting to technology were shown throughout the lecture, including advertisements and marketing strategies from Guinness, General Electric, AT&T, American Red Cross Association and Foot Locker, among others.
Osborn was introduced by Walker College of Business Dean Heather Norris and Chancellor Sheri N. Everts.
For nearly 28 years, the Boyles CEO Lecture Series has brought national leaders in various industries to Appalachian's campus. According to the event's press release, "a lecture is held each academic semester to provide an opportunity for students to learn firsthand from, and interact personally with, chief executive officers of successful businesses in North Carolina and beyond."
The lecture series was named in honor of Harlan Boyles, who served the state of North Carolina for 49 years, including six four-year teams as treasurer.
An invite-only executive luncheon was held afterward in conjunction with the lecture, which included university and college administrators, leaders of the business community, the Walker College's Business Advisory Council and select student groups.
Story & Photo: Gerrit Van Genderen, Managing Editor