Little did anybody know in 2014 that the App State football program would make the most successful transition from the Football Championship Subdivision to the Football Bowl Subdivision in college football history.
Winning three straight national championships from 2005-2007, the Mountaineers made the division switch in the 2014 season.
In the three seasons App State has been bowl-eligible, the Mountaineers have gone three for three in bowl eligibility. They finished with a winning record every year and won double digit games in 2015 and 2016. They also won both of their bowl appearances and won two Sun Belt Conference championships.
At the center of it all, has been senior quarterback Taylor Lamb, who has created a legacy that will be remembered at Appalachian State.
The Mountaineers opened up their first game as a FBS team against none other than the Michigan Wolverines, and a hidden gem was found early in the fourth quarter with the Mountaineers trailing 49-14.
One quarter remained in the game, and a redshirt freshman quarterback from Calhoun, Georgia, named Taylor Lamb replaced App State starter Kameron Bryant as the signal caller.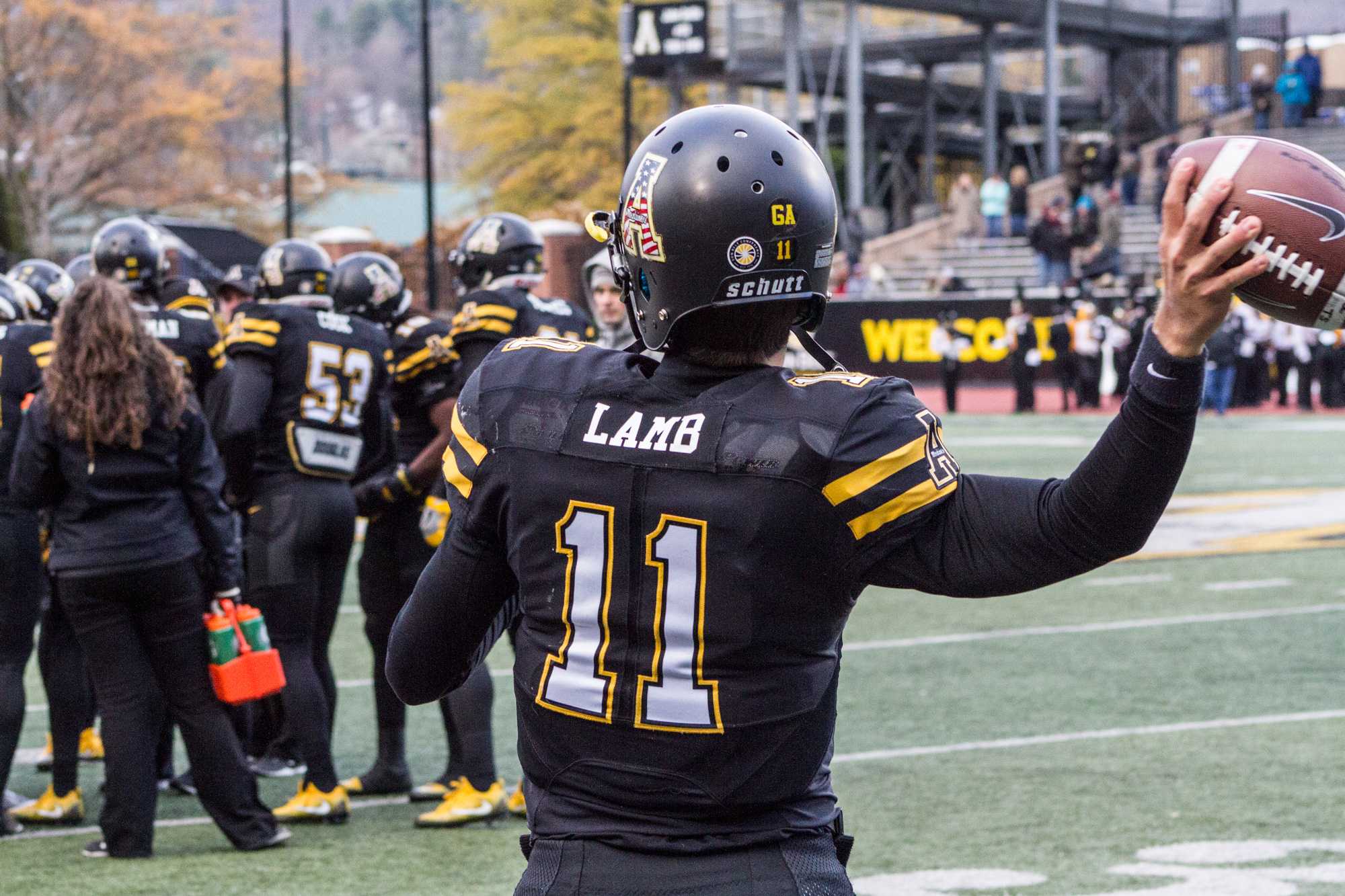 It was third down and eight yards, and Lamb's first pass was a 13-yard completion to Tacoi Sumler for the first down. From there, Lamb led the Mountaineers on a 19-play touchdown drive, completing five of his nine passes.
Two weeks later, Lamb was named the starting quarterback against Southern Miss in what would be the first of 49 straight starts.
Fast-forward three years, and that redshirt freshman is the all-time leading Mountaineer in touchdown passes, the all-time Sun Belt leader in touchdowns and holds the second most total offense in App State history and the second most wins ever by an App State quarterback.
"Coming to App State, at first you were trying to get your body better as a freshman, get better throwing the football and get acclimated to the college game," Lamb said. "Once you do that, you try to fight for a starting position. Then it's the process to win the job and stay in that job."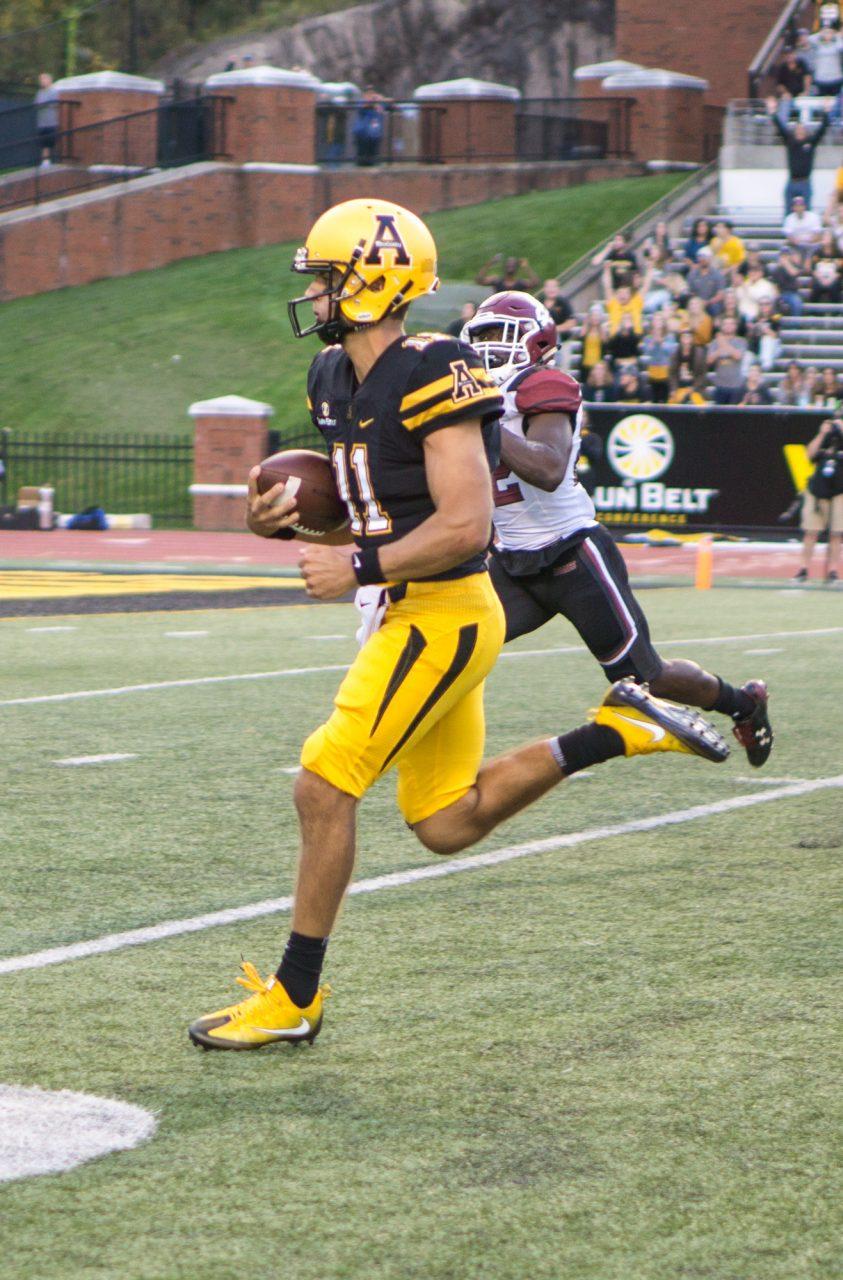 Since App State's 1-5 start in 2014, the Mountaineers have put together a stellar 34-9 record, the fifth best in the FBS over that time period. Lamb has started 49 straight games and played in 50, the most of all active FBS players.
"It speaks a lot about our culture and our program," Lamb said. "This place is built on winning. When we were losing my redshirt freshman year, we were 1-5. We didn't want to be there. Then we finished 7-5 and we knew what we could do and what we were capable of."
Lamb came from a football family. His father, Bobby Lamb, played quarterback and coached Furman and is now the head coach at Mercer University in Georgia. His grandfather, Ray Lamb, played quarterback at Tennessee Wesleyan and was a high school liaison for University of Georgia football. And his uncle, Hal Lamb, was his high school coach at Calhoun High School.
Even with such a prestigous pedigree, Lamb's path wasn't easy. Rated as a three-star prospect after leading Calhoun High School to two AA state titles, Lamb wasn't recruited by big Power Five schools, and had to prove he was capable of playing for a smaller Division 1 college.
After committing to App State in 2013, Lamb redshirted his first year, which he said helped him prepare for playing time and the transition from the FCS to the FBS.
"The past three years it's been crazy because I am getting recruited and get told that I can help lead us to the first bowl games ever, and first FBS Conference championships, and it's cool now because we have done that," Lamb said.
When "The Great One" Armanti Edwards graduated in 2009, the Mountaineers were looking for their next star quarterback. After becoming the first freshman since Edwards to become the primary quarterback, Lamb broke Edwards' freshman season passing yards record (2,381) and touchdown passes (17).
That was just the beginning for Lamb's App State career. During his sophomore year, Lamb set a single-season school record with 31 touchdown passes, breaking another Edwards record. He finished the season ranked third in the Sun Belt in passing yards and was named an honorable mention all-Sun Belt.
To cap it off, Lamb helped lead the Mountaineers to an 11-2 record and their first bowl victory in their first eligible season.
"We had hoped that he would be this good," head coach Scott Satterfield said. "Going back to his first drive against Michigan with a 96-yard drive in 19 plays and a touchdown, that's kind of been his journey. It's been a long journey, and he has scored a lot of TDs throughout and broken a lot of records and hopefully he breaks more. He will go out a winner."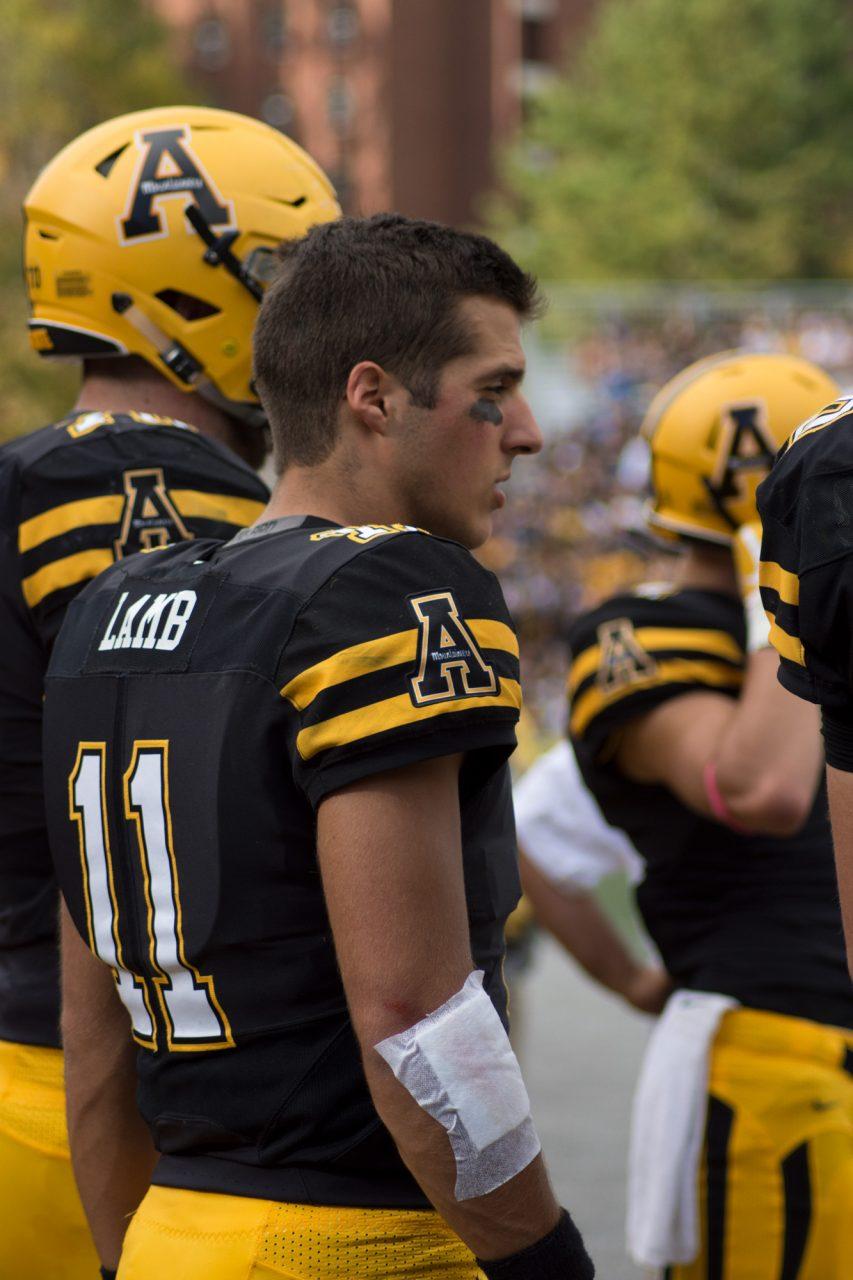 A year later in his junior season, Lamb helped the Mountaineers win their first Sun Belt Conference title, their second straight bowl victory, another double digit win season. He proved his worth on the ground as well, rushing for 505 yards.
Lamb quickly became a household name at App State. His mom, Allyson Lamb, also became a fan favorite as a team photographer.
With all of this, Lamb still had doubters. While he has never had any more than nine interceptions in a season and has the most wins in the FBS just behind Oklahoma quarterback and Heisman Trophy candidate Baker Mayfield, many fans still believed he was overrated.
Having a quiet demeanor on the field, a lot of the attention went to former running back Marcus Cox or the defensive side of the ball. Lamb would often and deservingly give credit of his success to the offensive line.
"Every time Taylor gets a chance, he gives us credit," senior offensive lineman and Lamb's roommate, Colby Gossett said. "We get to see what he is doing on the field, and we help him. We are breaking records of our own and that reflects to the way Taylor plays, and I appreciate the credit Taylor gives us."
This past season, Lamb made his senior year one to remember. On Oct. 21 against Coastal Carolina, Lamb threw an 83-yard touchdown pass, officially breaking Edwards' all-time record of 76 yards. A few weeks later, Lamb broke the Sun Belt all-time record of 81 yards.
On senior day against Louisiana, Lamb threw for four touchdowns, finishing his final regular season first in the Sun Belt in pass efficiency, second in touchdown passes and a 4:1 TD interception ratio.
Being a part of a memorable 19-player senior class, Lamb is one of the only few players to have spent all five years with Satterfield and has gone through every year of the FBS transition.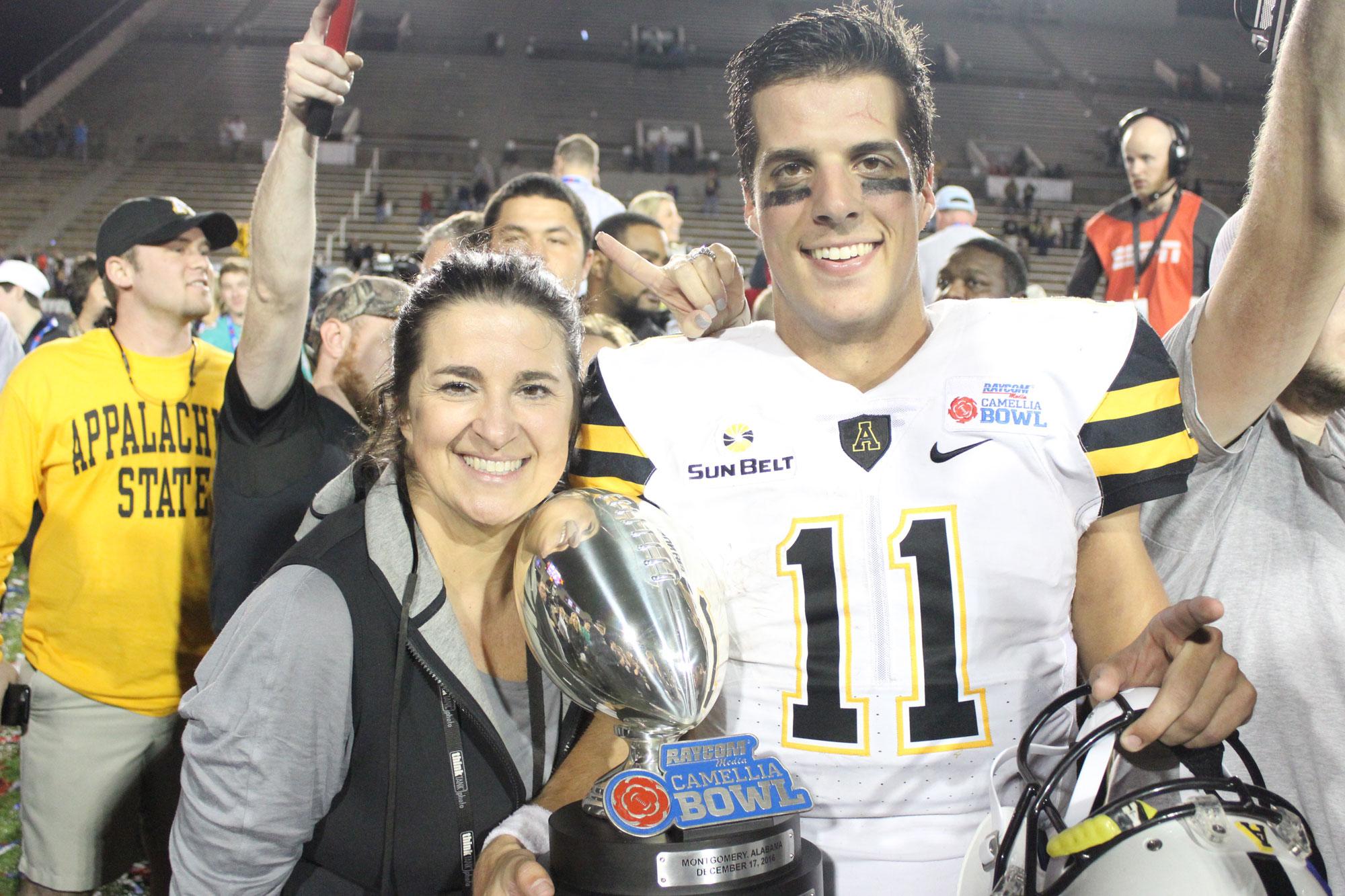 "What he has been able to do in his five years is incredible," Satterfield said. "A lot of those guys came in when I started, and for them to make that transition, to be a part of this team, to be a part of one of the most successful transitions, they'll be missed in this program."
Winning their second straight conference championship and having the opportunity to win one more bowl game against Toledo in the Dollar General Bowl on Dec. 23 caused Lamb not to realize that it was his final regular season game at Kidd Brewer Stadium.
"It's extremely special to do it with this group of guys," Lamb said. "You never think this would happen. You know you always kept your head down and worked hard, but you don't know the results will come, and they sure came. It's a good way to go out for the offense and a great game to end my career at The Rock."
Still having one more game to go, Lamb currently has 90 touchdowns, a 34-13 record, 9,413 passing yards, 1,876 rushing yards, 11,289 yards of total offense and a career that will cement his legacy at App State.
"With guys in our history like Armanti (Edwards) and Richie Williams, he (Lamb) will be right there," Satterfield said.
Whether he continues to play after college or fulfill one of his dreams in coaching like his father, Lamb helped usher App State football into a new era that will be remembered forever.
"It's wild. It probably won't hit me for a long time. I wouldn't trade it for the world," Lamb said. "This program is special to me. These guys are special to me. It's funny how it's grown from freshman to senior year, and now we are here and have rings on the way. It's been a good time."
Story by: Jason Huber, Sports Editor
Photos by: Lindsay Vaughn and File Photos