Transitioning from the FCS to the FBS only a few years ago, more than just the quality of football has changed at Appalachian State University. While the dust settles on the field after a matter of hours, another aspect of Mountaineer football takes more time to come to its welcomed conclusion.
Signing day has its distinctive nature in the college football forum, and even with all of its pageantry comes countless hours of scouting, interviewing and maintaining patience. Better known as "Rock Squad 2017," this new class of App State student-athletes all look to leave their mark on an evolving program.
Starting back in January 2016, head coach Scott Satterfield and recruiting coordinator Scot Sloan began looking to solidify this season's recruiting class, which ended up totalling 18 student-athletes.
"We are really excited about this class and the families associated with these student-athletes," Satterfield said. "We invest a lot of time in finding out about their families and their academics."
With over 13 months between the beginning stages of recruiting and signing day, there are many factors that come into accessing the right fit. For the Mountaineers, what they are looking for looms larger than the product on the football field.
Doing extensive research on each of their possible targets, coaches are looking for character and academics to live up to their talents between the hashes.
"If things come up on social media or their coaches raise a red flag, then we will move on," Satterfield said. "They may sign on to our competitor school, but we are not going to take them here."
Academically, this class has an average 3.47 GPA. Just this past season, the Mountaineers pulled out their highest ever average team GPA, which looks to continue to rise for years to come.
While academics in the classroom are important, athletes who excel in the classroom can also excel on the football field. Having players that are coachable and attentive is one of the key traits that App State coaches look at when recruiting a player.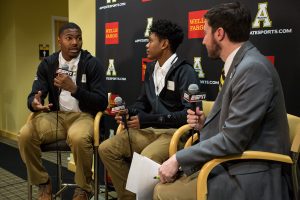 "What we have found is that the smarter players, usually play early and often," Satterfield said. "If you have those habits of studying and doing well in school, that means you're attentive, and you don't have to have me repeat [things] more than one time."
Transitioning to the FBS, the recruiting strategy the Mountaineers use has consistently relied on hitting the "bottom four states," which are South Carolina, Georgia, Florida and North Carolina. Occasionally, coaches will venture outside of these four states, such as into nearby Tennessee or even into Alabama.
From this year's class, six players came from South Carolina, four each from Georgia and Florida, three from North Carolina and only one from Tennessee. In total, 17 of the 18 recruits come from their four target states.
With players being so close geographically, it allows players to visit the high country multiple times, ensuring hard commitments as the recruiting trail sees the end of its journey.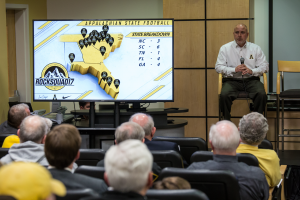 "Our footprint is a six to seven hour radius because our philosophy is to get them here multiple times," Sloan said. "The stronger the relationship then the better hold you have on them as it gets later in your commitment."
Getting the players here, however, is only part of selling players to the Mountaineer program. In order to get family support, coaches know to make parents feel like Boone can be a home not only to their sons, but also to them as well.
Building this bond, App State coaches have a parents only social during official recruiting visits as well as other activities to engage parents just as much as their intended student-athlete.
"When you're calling these guys and talking to moms and talking to dads, you want to keep them in the loop and then when you bring them up we're right there telling them the same thing we are telling their son," Satterfield said. "There are going to be some tough days and they will call home and say this is not for me, but we need mom and dad to say 'keep your butt there'."
As this recruiting season comes to a close, the process will begin once again, hunting down players to help continue the success that the App State football program has become accustomed to seeing each year.
"The fact that these guys chose App over the other options that they had makes us excited," Sloan said. "When they choose it on their own because they know it's the right fit, then regardless of their position group they're in they're going to help us continue our winning tradition."
Story By: Tyler Hotz, Sports Reporter