The first time Charles Austin-Zimmerman, known on stage as Charles Walker, remembers performing music live, he was 12 years old and playing guitar on a patio at his mother's friend's birthday party.
Since then, the now 19-year-old singer-songwriter has released a record that he made in his bedroom closet, gone on tour and is in the process of recording his second full-length album.
Austin-Zimmerman, a sophomore communication major at Appalachian State University, has always had music in his life. His grandmother is a classical pianist, and his mother was a musician in the '90s and early 2000s.
"So I sort of gravitated toward music naturally because it was everywhere," he said. "I started writing my own stuff when I was about 10, and playing piano and guitar, and I guess that's how I began, I was just constantly around music."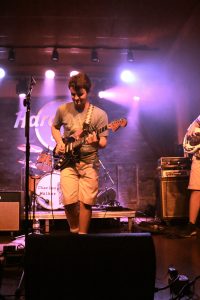 At 16 years old, Austin-Zimmerman recorded his first album, a stripped-down acoustic record called "Truth Be Told," in his soundproofed closet at his family's home near Charlotte, North Carolina. At that point, he was becoming serious about writing, recording and performing music.
"'Truth Be Told' was the transition from 'Music's fun' to 'I want to be doing this forever,'" Austin-Zimmerman said.
Austin-Zimmerman's original plan was to attend community college for two years and then move to Nashville to pursue his music career. But after a semester at South Piedmont Community College, he grew tired of the lack of campus life, opportunities to meet people and resources that bigger universities would have. Austin-Zimmerman always knew he wanted to come to Boone, and made the decision to transfer to Appalachian in January 2017.
Having not recorded anything since 2014, Austin-Zimmerman immediately wanted to work on an album when he got to Boone. And since his songwriting had developed a lot since he was 16, he said, he wanted to use a more professional studio rather than another budget recording in his closet. However, the recording studio in the Hayes School of Music is mainly reserved for the music industry program and artists with Split Rail Records.
"I got here and I was like, 'I gotta make a record this year, but I gotta figure out how, I have to make connections with the recording kids or something,'" Austin-Zimmerman said. "But then one night my friend texted me and said there's a studio I could use all the time. And I went to the studio that night for six and a half hours and tracked most of a song."
The studio Austin-Zimmerman uses now is actually the audio recording room in the lower level of Belk Library. Like his original "studio," the recording room is a closet-sized, soundproof room, but it is equipped with double-screened computer monitors, a keyboard, multi-track mixer and audio interface. In addition, students can connect their own instruments and check out a variety of microphones from the tech desk. All of these services are free for Appalachian students.
"The resources from Boone and App State are ridiculous," Austin-Zimmerman said. "Studio time normally costs so much, and it's ridiculous that I'm recording this much. I spend about 15 hours a week in the studio. For me to rent a studio anywhere else in the world would be impossible."
Austin-Zimmerman is working on his second album, which he plans to release this summer to coincide with a month-long tour. The first single, "Castles," will be released March 30.
Describing his music as "experimental folk," Austin-Zimmerman takes influence from artists such as Ben Folds, the Avett Brothers and Sufjan Stevens, but he also said hip-hop is his favorite genre and is inspired by experimental artists like Bjork.
Since releasing "Truth Be Told" when he was 16, Austin-Zimmerman said that his sound in the studio has greatly changed, getting "progressively heavier," with added instruments and musical styles. He calls the first album an Americana record, while the upcoming album has Americana songwriting with more rock instrumentation.
"I'm also trying to create something people haven't heard before with this new record," Austin-Zimmerman said. "I've just become a little jaded with the whole 'white dude playing a guitar' thing; there's synthesizers on the new record, there's weird vocal effects, and I'm just trying to break out of the whole folk-rock-dude mold."
That's where artists like Bjork offer inspiration, when they constantly reinvent themselves and their albums. Every time Bjork drops a record, Austin-Zimmerman said, it's the best record he's heard since her last, and every time it's something completely different than anything he's heard before.
"I want to take that kind of mindset, where I want to re-imagine it in as many ways as possible," he said. "I want to say who's influencing it, but the whole point is that I don't want it to sound like anyone."
Production-wise, that's what Austin-Zimmerman is currently trying to tackle: walking the fine line of making his songs sound different and creative in the studio, while keeping them true to their original selves and not forcing anything.
The songwriting aspect, though, has not changed much. Austin-Zimmerman is still rooted in folk songwriting, sitting down and writing a bare-bones folk song on guitar before eventually transforming it in the studio. However, he said his songwriting has reflected on him growing up, developing more complex themes compared to his earlier songs.
"I'd never been in love at the time, I'd never been through a breakup, never thought about world issues, there was just a lot of stuff I didn't have the mental capacity to think about back then," Austin-Zimmerman said. "So I was writing love songs, but I didn't even know what love was, so I was writing about what I thought it was."
Themes of love and religion are prevalent throughout his music, he said. "Castles," the upbeat first single from the new record, is about unrequited love and an ode to moving past hard times. Writing is his first instinct whenever he gets hit with a feeling or anything big happens in his life, whether it's something good or something painful, Austin-Zimmerman said.
"If you go through something hard and you can turn that pain into a productive thing, it feels like it wasn't for nothing," he said. "It feels like it wasn't just a bad day, it was worth it."
Right now, Austin-Zimmerman is in "recording mode," focusing on recording the songs he has already written rather than frequently writing new songs. He likes to get songs 90 percent finished in the studio and then let it sit for a month or so while he works on other songs. At the end, he will listen to all of the nearly-completed songs and fill them in together, so that he has a fresh perspective, the songs share elements and the record is cohesive.
Austin-Zimmerman tries to play everything he can in the studio; he always writes and produces the music and performs his own vocals, guitar and piano. For "Truth Be Told," he played everything except the instruments he knew nothing about, like trumpet and violin, but for the new record, he's let go of the idea of doing it all himself.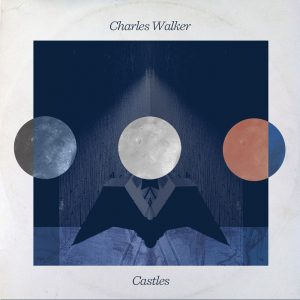 "I'm still playing most of it, but the idea of me playing drums and bass is ridiculous when I have friends who are incredible at them," he said. "The song deserves more, the song is only the sum of its parts and the more perspectives of musicians you can get on any music project, the better."
Friends from home and other musicians Austin-Zimmerman has known over the years are enlisted to play drums and bass on the album, and when he was seeking someone to play a horn line, he posted in the Facebook group App State Classifieds asking if anyone could do it. Sophomore music education major Emily Russell responded, and plays the two recorded horns for "Castles."
Austin-Zimmerman's tour this summer, which he plans to last about 30 days from mid-July to mid-August, will be his longest yet, and also his first time touring without a full band: he'll be joined only by his girlfriend, Katie Marshall, who has been singing harmony with him for years.
His first official tour was during the summer of 2015, a run of five shows in North Carolina, South Carolina and Georgia, while he and his four bandmates, calling themselves the Charles Walker Band, were still in high school. One member of the band was Timothy Emmerich, now a freshman at UNC Greensboro, who met Austin-Zimmerman in sixth grade and began to play music with him a couple years later. Emmerich was the bassist during the tour, and said that Austin-Zimmerman has always been dedicated to his music and success: made clear by the fact that he produced an album and single handedly booked two tours while they were still in high school.
His mother and grandmother even came along for the ride during the first tour.
"We thought we were like rock stars, it was very cool, but looking back it's just funny because we only played five shows and we lost money or whatever," Austin-Zimmerman said. "But it didn't matter. Just the idea of getting up in the morning, being in the car for five hours and then playing music that we loved, it was just fun."
The next summer, Austin-Zimmerman brought three bandmates, the only consistent members being himself and Marshall, on the road for nine shows in North Carolina, South Carolina, Georgia and Virginia. The highlight of that tour was headlining the Hard Rock Cafe in Atlanta, where they sold 115 tickets.
"Then a few days later, we played this diner in Charlottesville, Virginia, that was so tiny, our drummer had to sit at a booth and set his drums up there," Austin-Zimmerman said, laughing. "And our bassist crawled in the booth and hung upside down like a little kid would do. It was just fun, we loved it. That's how touring is, you just don't know what will happen."
This summer, Austin-Zimmerman is linking up with other artists during sections of the tour to perform shows on the same bill. Four of those shows will be with Jon Charles Dwyer, a musician now living in Richmond, Virginia, but who used to live and play music in Boone. The two met about a year ago when Austin-Zimmerman walked up to Dwyer and his former band, Junior In His Prime, at a rest stop and asked, "Hey, are you guys in a band?"
"I could tell he was fearless," Dwyer said. "He had no awkwardness about him and was excited from the get-go to simply meet other musicians. His ambition is fueled by his confidence and I'm very excited to be around that type of energy in the months to come."
His naturally outgoing nature makes Austin-Zimmerman a confident showman. Performing live has always been his favorite part, he said, and he has never felt shy or nervous about it, characteristics he says he got from his mom.
The upcoming record and tour are very Boone-centric, Austin-Zimmerman said. It was recorded in Boone, many of the other musicians on the album live in Boone and sections of the tour are joined by other Boone artists.
"App's been really receptive of my music in general," Austin-Zimmerman said. "I'm really glad to be here."
Charles Walker will be performing on March 31 at Reckless Arts and on April 21 at 3rd Place. His new single "Castles," other music and tour information is available on his website.
Story by: Adrienne Fouts, Associate A&E Editor
Courtesy photos