Chi Omega's Pi Kappa chapter at Appalachian State University will host its 4th annual Shrimp Boil fundraiser Saturday from 1 to 5 p.m. at Klondike Cafe.
All of the proceeds from the fundraiser will go to the Make-A-Wish Foundation.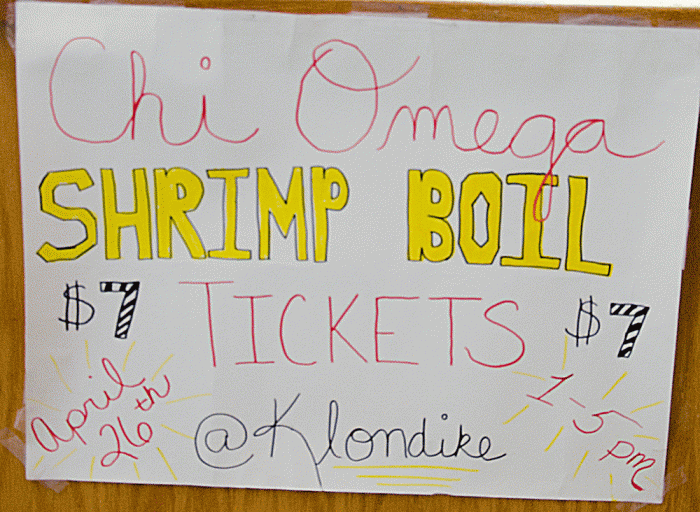 Last year, shrimp boil ticket sales raised $6,000 from ticket sales, but the goal this year is to raise $10,000, Chi Omega President Savannah Bower said.
The shrimp boil is Chi Omega's most popular fundraiser. Chi Omega expects ticket sales to increase this year because of the popularity of the event.
Tickets are $7 this week and can be purchased at Chi Omega's contact table in Plemmons Student Union and can also be bought at the event for $10.
"It's an enjoyable day for everyone," Elizabeth Hartsock, Chi Omega philanthropy chair, said. "Along with raising funds for Make-A-Wish, we are also happy that we are able to put on an event to bring the community together."
Several parent volunteers, along with members of Chi Omega, cook and prepare the food. Guests will be served shrimp, potatoes, corn and sausage.
There will also be corn hole games and live music.
"This is our biggest fundraiser of the year," Hartsock said. "It definitely takes a lot of time and effort to put on such a big event, but it is well worth it."
Make-A-Wish Foundation is Chi Omega's national philanthropy. The foundation grants the wishes of children diagnosed with life-threatening medical conditions.
"The shrimp boil has been very successful in the past and is a lot of fun," Hartsock said. "We look forward to continuing this fundraiser for the years to come."
Story: Jessica Eley, Intern News Reporter
Photo: Morgan Cook, Staff Photographer