Most students are eager to get schoolwork over and done with as soon as possible. For Corbin Lenard and several of his fellow students, however, one class assignment evolved into something that consumed their lives.
Lenard, a senior music industry studies major, is the bassist and lead vocalist for local ska-punk band Vanilla Envelope. The band was a result of a recording project in September 2015 for one of Lenard's music industry classes, in which he got some friends from the music school together to record a few songs.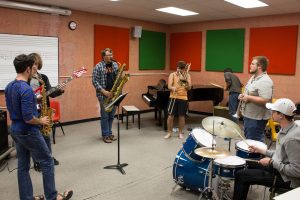 "I made a joke to our bari sax player Bradley and said, 'Hey man, let's do a ska-punk cover of 'Mrs. Robinson,'" Lenard said. "Then we said that to each other again, but not as a joke, like oh, this is actually a good idea."
After doing some more recordings for the class, and coming up with the name Vanilla Envelope (the phrase "manila envelope" was misheard by the drummer), the band played its first live show at 3rd Place.
Although 3rd Place had a fire code of about 47 people, sophomore music education major Charlie Smith said more than 100 people were crammed in the venue to see them perform.
"I didn't really know what to do when we were done playing," Lenard said. "So I just took my bass off and stared at the crowd and they just parted for me. That's still one of the best moments of my entire life."
Vanilla Envelope is made of seven members: Lenard on bass and lead vocals; Smith on trumpet; Bradley Mitchell on baritone saxophone; Kyler Rabe on guitar; Justin Austenfeld on trombone; Logan Smith on alto saxophone; and Will Whitehurst on drums. All seven members are in the Hayes School of Music as either music industry or music education majors.
"It puts us all in the same building every day, which is awesome," Smith said. "It also makes us better connected as a group and as a band. If we were scattered throughout the school, we'd probably just be bandmates, but we're all really good friends."
The band calls its genre ska-punk because they modeled their horn line after the ska-punk band Streetlight Manifesto, Smith said, but the music they play is "the loosest definition of ska-punk there is."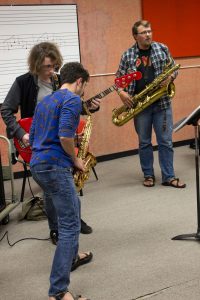 A couple of Vanilla Envelope's songs have ska origins, Smith said, but the band dives into other styles of music such as reggae, jazz and metal.
"The kind of music we play is drastically different than most of the bands in the Boone scene," Mitchell, junior music industry studies major, said. "You know, usually you got your indie rock or indie folk bands, whereas we are very left field from that."
"When we go to shows, the first thing people do is go 'Oh my God! Horns!'" Austenfeld, senior music education major, said.
The band has gone through several lineup changes over the past year; the only members who remain from the original recording project are Lenard, Smith and Mitchell.
The changes to Vanilla Envelope's lineup weren't due to disagreements within the band, Smith said, but simply because many of the old members did not have the time to commit to the band.
"We wanted to be serious and take the band places, start touring and traveling, and that's why we had to go separate ways," Smith said.
Another advantage of being in the school of music, Lenard said, is that it wasn't hard to find replacements for the members who left.
"It's also useful to have so many people who used to be in the band, because they all still remember the songs," Lenard said. "So if we ever need someone to fill in for a show, they can do it."
Despite Vanilla Envelope's dedication and closeness among its members, and the willingness of old bandmates to fill in when needed, having a band made up of seven full-time college students isn't easy. Several gigs have had to be thrown away, Mitchell said, because part of the band was unable to make it.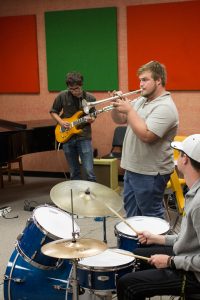 The band still squeezes time for practicing, recording and playing as many shows as they can into their busy schedules, however. The day of the Appalachian State vs. Miami football game, the horn line of Vanilla Envelope was in the marching band, and left at halftime to rush to a gig in Raleigh, which they barely made in time.
"They ran in during sound check, just as we were supposed to start playing, having tuned in the car on the way there," Lenard said. "The sound engineer was like 'Can we get some horns?' and I turn and see their empty spots beside me and go, 'They're not here– oh wait, there they are!'"
The band will definitely play together for the rest of their college careers, Lenard said, and they want it to continue after college as well. They have recorded an EP, "The G.O.A.T." and have recently added their music on Spotify.
Lenard said that Vanilla Envelope is his main focus, the thing he puts the most time and energy into; at some times it even takes precedent over classes.
"Going out to all these different places, sitting in a car with these guys for six hours, playing these shows for a bunch of drunk people," Mitchell said. "I mean, there is a reason why we do it. It's just fun."
Story by: Adrienne Fouts, Senior A&E Reporter