College students are not necessarily known for having perfect diets. When you consider popular stereotypes surrounding college kids and food, what might come to mind is ramen noodles, fast food and the looming freshman 15.
Clean Eatz, a cafe and meal prep service on Boone Heights Drive, is trying to offer a solution for busy App State students concerned about their health.
Clean Eatz is a multi-outlet cafe that started in Wilmington, North Carolina. So far, 32 Clean Eatz restaurants have been opened across the country; the Boone location is number 24.
The cafe serves customers in a number of ways. People can eat made-to-order appetizers, meals and protein shakes in the cafe Monday through Saturday; they can also order food to-go at any time. If they intend to eat their food later, customers can also drop in and choose a meal from the cafe's grab-and-go freezer, which is stocked with frozen meals that usually take around 3 minutes to microwave.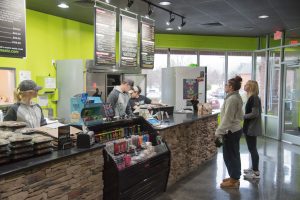 The bulk of Clean Eatz's business, however, comes from the cafe's meal prep plans. Customers can select meals in advance Thursday through Sunday and come in Monday morning to pick up their meals for the week.
"The menu always changes," cafe owner Ben Harmon said. "It's always something new, and it's not the same as this cafe, which is nice. Right now we're doing 900, almost 1000, meals in a week. They're individually sized and people can take them home for the whole week."
The meal plans start at 5 meals for $38, which balances to $7.60 a meal, but the meals become cheaper as customers select larger plans.
Harmon said one feature that makes Clean Eatz so appealing is how customizable its meals are. Meals can be made vegetarian, vegan and gluten-free, and the nutritional complex of the meals can be adjusted to no carb, half-carb or extra protein to accommodate more specific diets.
The easy, customizable nature of Clean Eatz meals draws a variety of customers to the cafe's meal plans, Harmon said. Students, athletes and older individuals who live alone are among some of the cafe's most frequent patrons.
To push the cafe's message that their meals can meet every customer's unique needs, Clean Eatz recently started the "Everybody Fits" program, which is a gain, lose or maintain program designed to help customers reach and maintain their ideal body image goals.
"We cater to people all over the board," Harmon said. "We have people who have lost 35 or 40 pounds, and then we have people who are trying to gain weight, too, to play football or whatever it may be."
Harmon began renovating the location, formerly a hibachi grill, in February 2017, and the restaurant opened in July.
After graduating from App State in 2014 with a degree in exercise science, Harmon moved back to Raleigh to begin school as a physician assistant. Harmon started working 12-hour shifts as an emergency room technician at UNC Rex Healthcare, and he soon found himself with no time to prep and cook meals of his own.
A Clean Eatz cafe had recently opened near his parents' house, and once he started taking their grab-and-go frozen meals to work, his colleagues followed suit. Harmon said he recalled finding the freezer at work stocked with his peers' Clean Eatz meals.
Harmon eventually wanted to start a Clean Eatz of his own, and he realized the college town of Boone was the perfect place to do it.
"Convenience for college kids is definitely a big thing," Harmon said. "I wish I had this in school because I found myself cooking, and it wasn't very good."
Working in the ER, Harmon said the amount of people he saw coming in with issues affected by poor diet encouraged him to educate others about healthy eating.
"I found one thing from working in the ER is that people were killing themselves with the way they ate," Harmon said. "It all stemmed back to that, so I thought maybe if I could provide another option to people, maybe they'll have more longevity because of that."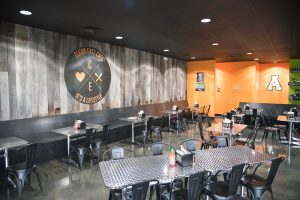 The food is not just convenient and healthy; Harmon said the food tastes good as well. Today, his favorite foods there are the protein shakes he makes each morning for breakfast and the ahi tuna bowl, steamed with brown rice, broccoli, snow peas, edamame and teriyaki.
"It's all steamed to order, and the tuna is killer, so I always steer people that way," Harmon said. "I don't like to be biased, but I'm always like, 'get the tuna.'"
Sophomore advertising major Gabby Owen has been working at Clean Eatz since August, and she recommends the food as well. Her current favorite is the Watch Your Waist wrap, made with chicken, guacamole, red onions, spinach, cheese and tzatziki sauce.
Owen said her favorite part of working at Clean Eatz is being able to educate others about how to eat simply and healthily.
"I'm kind of new at this, but I love it," Owen said. "My favorite part is definitely getting to talk to people about what we do. It's our mission just to get out the word about clean eating, because we are a healthy eating place, especially for college students. As college students, we go out on the weekends and eat junk because we're out with friends. This is a place where you can come get what you need and what's healthy, so it's good food, but you're getting it a good price."
Junior child development major Ashley Funderud said her favorite meal at Clean Eatz so far is the grilled goat cheese sandwich, made with squash, tomato and spinach remoulade. Funderud has eaten at the restaurant only a few times, but she summed up her experience eating at the cafe succinctly.
"Their prices are pretty reasonable and their food is good," Funderud said.
Story by: Ashley Goodman, A&E Editor
Photos by: Halle Keighton, Photo Editor
Featured Photo Caption: Prepped meals laid out on the counter of Clean Eatz.