Coaches vs. Cancer
The Sun Belt Conference has shown its support for App State women's basketball head coach Angel Elderkin and her fight with endometrial cancer.
During the month of February, each member of the Sun Belt will participate in the 2017 3-Point Challenge through Coaches vs. Cancer. For every 3-pointer made, the schools will donate to the American Cancer Society. At the end of the month, a Sun Belt champion will be announced as well as entered into a national competition.
"The last few months have been extremely challenging, but with every challenge is an opportunity," Elderkin said in a teleconference when the challenge was announced. "I can't speak about the season without just recognizing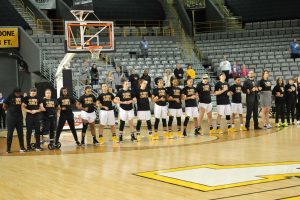 PH
the support of the Sun Belt Conference."
Several weeks ago, the Sun Belt announced their partnership with the ACS as well as Coaches vs. Cancer for the event Suits and Sneakers. The event was held the week of Jan. 28 to raise both awareness and donations for research.
"It's been really great with the support not only from the Sun Belt conference offices but the other Sun Belt coaches," Elderkin said. "They have really wrapped their arms around me just texting, calling and making sure I am okay and talking with my assistants on the road."
When Elderkin was diagnosed with endometrial cancer last June, it felt like another ride down the same bad road for her and her family.
"My mom had a different struggle in terms of having lung cancer and when she was diagnosed, hers was inoperable," Elderkin recalled. "For me, when I was first diagnosed, as a family, we had a really tough time with the diagnosis…kind of like 'Here we go again.'"
While her mother lost her fight, it was still very inspiring and a place from which Elderkin could draw strength.
"With every treatment, my family, they didn't understand, my treatment was for the cure. We were talking about something that I was going to go through for the win," Elderkin said. "That took a little bit to wrap our brains around, but luckily for me, having a role model like my mom and watching her fight [was very helpful]."
Throughout her treatments, which ended in November, Elderkin did not miss a single practice or game. She attributes this to her work being extremely therapeutic.
"It was like my job was the cure," Elderkin said. "It wasn't the chemo, it wasn't the radiation, it was being around my team and being able to do what I love."
The Mountaineers showed their support before their games against Texas State and UT Arlington, donning special black and peach-colored shirts during warm ups. Peach is the support color for endometrial cancer.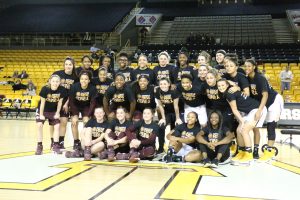 Both teams circled center court to show their support for the cause and to represent that the Sun Belt Conference is a family.
In December, Elderkin was honored with the Pat Summitt Most Courageous Award because of her dedication to her team.
Elderkin was a part of Summitt's staff at Tennessee from 2005-07.
"Everyday, every moment, Coach Summit continues to speak to those that were blessed with her influence," Elderkin said. "And for those that weren't, it's my job to make sure that every team and every player that comes through this program at Appalachian gets a piece of Coach Summit."
To her players, the challenge and Elderkin's drive continues to be motivation.
"Whenever you think 'Oh, I'm having a bad day', and you have any sort of self-pity, you're like 'Well, look at this woman. Look at all she's been through'," junior guard Madi Story said. "She's not just surviving it, you know. We say 'Don't survive, thrive', and I think she really embodied that."
Now being able to contribute in finding a cure, Elderkin can enjoy watching her players fight for the 3-point title in the challenge.
One of App State's best chances to come away with the title is current 3-point field goal percentage leader Amber Driver, a redshirt junior guard.
"[Assistant] Coach Emily [Roberts], she always told me to take shots in rhythm, making sure that I'm on balance, so I just try to take the best shot," Driver said about her 3-point shot. "If I'm in rhythm, I shoot it. If not, then I look for another shot."
The challenge will start Feb. 1 and run through the month. App State will play their next game on Thursday at Little Rock.
"I'm just completely humbled that they will take a game and use that game as an opportunity to not only celebrate the journey I have been through but raise awareness," Elderkin said."
Story By: Brooks Maynard, Sports Reporter