Cold Weather, Hot Bat
Coming to the end of a cold Boone winter, App State baseball junior left fielder Tyler Stroup was able to catch fire, having a career season this year putting up big numbers.
At the surface, Stroup is batting .274 this season, with 29 hits on 106 at-bats, good for second on the team behind senior teammate Matt Vernon. He is leading the team in slugging percentage at .529 and is tied for third in on-base percentage with .360.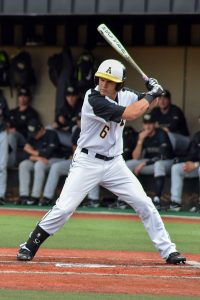 Despite the dazzling numbers he is churning out at this stage of the season, Stroup got off to a less than stellar start.
In the team's first nine games of the season, Stroup was only able to garner five hits on 32 at-bats, a .156 batting average. In their March 4 contest against Western Carolina, a game they won 7-3, Stroup would get going with his first multi-hit game of the season, going 2 for 4 with an RBI and a run scored.
"I'm doing the same stuff every day," Stroup said. "Just trying to get into a routine more and practice the same and not overthink things."
During two outings this season, App has faced a team where at least eight pitchers have been used. It's hard to get comfortable when you see a new guy each inning, but not for Stroup.
"I'm seeing the ball pretty good right now," Stroup said. "Working on picking up the arm slots going to be and try and put the ball into to play."
There was also a change in skipper this season with Kermit Smith entering as the new head coach and Britt Johnson coming in as the new hitting coach. The new workout programs before the season could have contributed to Stroup's success. He has surpassed his home run record of five from last season already with six this year.
"One thing we talk about a lot is power," Johnson said. "Part of swinging hard and being on time to your pitch in a powerful position is going to cause that. We're trying to hammer baseballs, and if you hit it well where you miss hit it underneath, it's still going to go a long way. It's a byproduct of our process."
At the start of the season, Stroup started off batting leadoff for the Mountaineers. He was not used to doing this and found himself in a new spot. After the first couple of games, teammate Calev Grubbs matured and the staff moved him into the leadoff and Stroup back to cleanup spot due to his better in-game power.
The hitting woes continued, so a decision was made to push Stroup further back in the lineup to get him going at the plate.
"Early on he struggled, so we decided if we moved him down in the lineup maybe we can get him some fastballs," Johnson said. "We've moved him to the eight hole and now it doesn't matter what you throw him, he's absolutely hammering the baseball."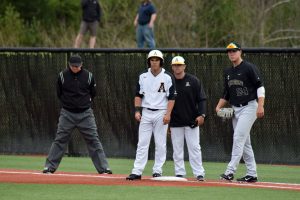 Now midway through the season, Stroup is moving up and down in the lineup from fourth spot to the eighth, but he is still producing.
Next came something that has only happened one other time in the team's last fourteen seasons. On March 21 in a game against Radford at home, Stroup would hit 4 for 5 and hit for the cycle. Current Mountaineer Colin Schmid is the last player to do it in 2016.
Stroup hit for the cycle in order as well, singling then getting a double, triple and a homerun. To make it more interesting, the home run turned out to be inside the park, which sealed the victory in the game 13-9 for the Apps.
"I didn't really think about it at first until I got my triple," Stroup said. "I was on deck and thought, if I hit a homerun here I might get the cycle, but whenever I got in there I didn't think about it."
That game described his season thus far with a variety of hits with RBIs, leading the team to a victory. It was a game where Stroup and the team faced eight pitchers as well.
Not to be overlooked is the work Stroup puts in on defense. This season he has a perfect fielding percentage at 1.000, and no errors with 40 putouts. He has started all 28 games in left field this season and 50 of 52 games in last season.
"We don't want anything to drop," Stroup said. "We don't want to make errors, keep the ball in front of us and we don't want anything over our heads and catch the ball every time it comes to us."
With half the season remaining, Stroup is looking to keep battling and put up these big numbers to help him and the Mountaineers achieve their goal of winning the Sun Belt Conference.
Stroup will be back in action at home this weekend against UT Arlington April 7 at Beaver Field.
Story By: Taylor Story, Sports Reporter
Photos by: Lindsay Vaughn, Staff Photographer