Confidence to fuel men's soccer
The annual Black and Gold scrimmage has been played and the 2016 Men's soccer season is right around the corner for Appalachian State. The Mountaineers, after winning seven regular season games last year, are feeling very confident heading into the year.
One of the reasons is because of new head coach Jason O'Keefe, who has taken the reins this year after previously serving as an assistant coach at North Carolina. O'Keefe is bringing along with him a slew of freshmen and transfer students to the team, 13 in total, to try and get the ball rolling.
Jordan Melia, senior and former defender, described their new head coach as "a realist and a winner. I think he tries instilling that into us every single day."
When O'Keefe arrived, one of the first moves he made was bringing Melia from the back to center stage at mid-field.
"It's a learning process but I'm enjoying it," O'Keefe said. "I learn off of people like [Stephen Chapman], [Cooper Coughlin] and the rest of the forwards."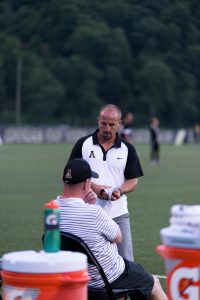 Senior forward Stephen Chapman and sophomore goalkeeper Jake Chasteen are also looking to capitalize on their own success as well as the teams this year. Chapman, who led the team in five offensive categories last year and was named to the Sun Belt conference all first team, simply hopes to build off of last year's success and work as a team to score more throughout the year.
Chasteen is coming off of an impressive freshman year, only allowing three goals in eight games last season.
"It's good but it comes from my backline as well. We have to play tight and disciplined as a team," Chasteen said. "We're going for as many shutouts and the least amount of goals I can give up, the better."
This Mountaineer squad isn't brand new, but a lot of new faces have been introduced and look to bring a lot of talent to the team.
"We have a few big personalities on the team and everyone is mixing really well," Melia said. "The freshman have come in and Coach O'Keefe has certain standards that we're all pushing each other to. The transfers have come in and it's like they've been here for three years so I'm really excited for this season."
Chasteen commented on the new coach saying he is "big on blending the people we have and making a cohesive team." He went on to say that O'Keefe is big on focusing on the details both on and off the field.
The black and gold have a tough five-match road trip to open up the 2016 season before returning home Sep. 13 to face off against USC Upstate. Chapman said they needed to "stay mentally strong and go out to try and win every game."
"Away games will stem from our home performances," Melia said. "We need to pick up momentum here and I'm confident we can get some big results on the road."
The Mountaineers will face off against former Southern Conference rival Wofford Tuesday night at 6 p.m. for an exhibition match before their long road journey.
Story By: Noah Gerringer, Sports Reporter