On Tuesday, the Hispanic Student Association and the Appalachian Popular Programming Society came together to coordinate the annual Hispanic Heritage Festival. The event featured three speakers, all from different Hispanic and Latino backgrounds.
"Since there are a lot of us here, I think it's important for Appalachian to have a festival like this to celebrate that we're here, our culture and see what makes us special," Gaby Romero, a freshman political science major and Hispanic Student Association representative, said.
Vanessa Leon, a Costa Rican journalist for Spectrum News in Charlotte, spoke about her role as a Latina reporter and her effect on the Hispanic and Latino community as well as her journey of becoming a citizen of the United States.
The second featured speaker, Francisco Afanador, is a Colombian graphic designer as well as a published children's book author and illustrator.
The keynote speaker, Elizabeth Acevedo, is an internationally renowned spoken word poet. For over 12 years, Acevedo has been gaining experience through her performances and has been featured on BET and Mun2. She has also performed on stages such as the Lincoln Center, Madison Square Garden, the Kennedy Center of the Performing Arts and South Africa's State Theatre, and has given several TED Talks.
The event, which expected over 150 guests, represented and celebrated cultures from across the Hispanic and Latino spectrum while educating others. Cynthia Medina is a sophomore industrial design major who was born in Mexico and lived in Chile before moving to the United States.
"I honestly think these sorts of events help raise awareness about the differences between our cultures," Medina said. "It's also very important to know that we all come from different backgrounds, so just being aware of our different histories can help us relate to each other a little. It humanizes who were are."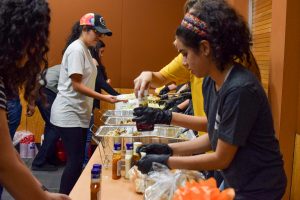 Because the festival was determined to spread awareness about Hispanic and Latino culture, the invited speakers chose to educate the audience on their personal experiences and their roles in their own communities.
Vanessa Leon, a University of North Carolina alumna and the only Latina woman in her field at Spectrum News in Charlotte, shared with the audience the challenges and the advantages of being a female Latina reporter, as well as her parent's dedication toward her education. Leon, who was born in Costa Rica, had to claw her way to success whether she was applying for colleges or obtaining her career.
"I'm the only Latina at work," Leon said. "Guess who pitches the Hispanic stories because I know what they're going through."
Leon stressed the point that only individual members of a culture know what others in their culture are going through and their challenges. Leon encouraged the audience to be vocal about their adversities and to educate others.
The second featured speaker, Francisco Afanador, who is Colombian, spoke about becoming his own client through the cultivation of an idea that was sparked by his wife. Afanador, author of the children's book, "Columbia Se Escribe Con Condor: De la A a la Z por Columbia a Vuelo de Parjaro," writes about the beauties of his country through the various flavors, people and places throughout Colombia. Kids are able to follow a condor through Afanador's illustrations and uncover the beauties of his luscious country whether they are Hispanic or not. Afanador, like the other invited speakers, asked the audience to celebrate their cultures and acknowledge the beauty in all of their differences.
"It builds a sense of community and confidence, that there are people still here for Hispanics and Latin Americans," Elijah Richardson, a senior psychology major, said.
Acevedo, the keynote speaker for the night's event, moved the audience with her powerful and unapologetic art. She spoke about the challenges that come with writing from her perspective as an Afro-Latina, as well as the indifference and denial toward her heritage and culture at an early age. Through her poetry, she celebrates Hispanic and Latino culture and challenges preconceived notions of what is "valid" art as a metaphor to describe the challenges minorities face in today's "white-washed" society.
Acevedo tells her stories as well as the stories that have been told by those before her as an act of "love and survival" in the hopes that the stories she tells will not die with her, but instead spark something in another person so that they can continue to challenge social and racial norms.   
"An event like this brings us together it, it unites us. It was inspiring to hear three walks of life and to hear how we can learn from them and their experiences," Edgar Straube, who works with Samaritan's Purse and came to the event with his wife and kids, said.
When asked by he brought his children, Straube responded, "We are always making sure that they are impacted by the community, by people who are rising up and making a positive influence in their lives. They love people. The color doesn't matter. So we come to these events to get filled too."
Story By: Savannah Nguyen, Intern A&E Reporter
Photos By: Adrienne Fouts, A&E Editor
Video by: Dom Rivera, Intern Videographer