It was a Thursday night, the lights were on and the Mountaineers were on the road at Georgia Southern for their biggest rivalry game of the year.
The Eagles jumped out to an early 10-point lead and midway through the second quarter, Appalachian State had yet to get anything going on offense. Then that changed.
Junior quarterback Taylor Lamb got the snap on first down near midfield and rolled out to his left feeling pressure. Lamb lofted a pass down the left sideline and as the ball floated through the air, the Mountaineer receiver fought for position with his defender. At the perfect moment, the receiver jumped over the Eagle defender, caught the ball over the defender's helmet and dragged his left foot inbounds.
The announcers couldn't believe it. The fans couldn't believe it. But the receiver could. The receiver was junior Shaedon Meadors.
Leading to the first score of the day, that would lead to 34 unanswered points by the end of the game, with App State pulling off the 34-10 victory.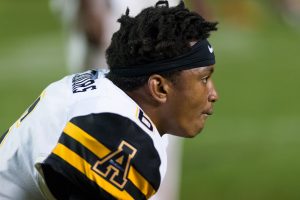 Throughout the game, the Eagles challenged Meadors to beat one-on-one coverage, and he did so, catching three jump-balls over three different defenders. Meadors finished the game with six receptions for 126 yards, his third straight game with over 100 yards receiving.
"Georgia Southern challenged him one-on-one and we took advantage of it," Lamb said. "That's where legends are made. Georgia Southern vs. App State. His [legacy] was obviously born last game in that rivalry."
Overshadowed by former Mountaineer wide receivers, Malachi Jones and Simms McElfresh, who recently graduated and a nagging injury, Meadors has shown drastic improvement throughout the season.
"If you see it on film, the progression from the Tennessee game to now, his progression has just been amazing," Lamb said. "On film, if he's one-on-one, you like the matchup. He always open. That's a great feeling to have."
Lamb and Meadors have worked together to build trust and confidence, and that has carried over into the season, especially in one-on-one scenarios.
"He trusts me that when he puts it in the air, I'll go get it," Meadors said. "I trust him that he'll get it to me. I love one-on-one. It gives me a chance to beat the guy. Just me and him."
Another factor that has led to Meadors' growth is his increased coachability. Wide receivers coach Justin Watts said that Meadors has learned to enjoy being coached.
"When he first got here, he maybe thought he did no wrong," Watts said. "He's learned that he's got a lot to learn and if he'll come with an open mind every day, he's got a high ceiling."
While Meadors appreciates the game, he also isn't afraid to have fun, cracking jokes with his teammates and keeping the mood light.
"Why be so serious?" Meadors said. "You gotta have fun with it. I could be at home. I could be studying or working. I get to play football. That's free. It's not that bad."
While off the field Meadors likes to keep things light, on the field he likes to win. Meadors won state championships in high school and has already added a bowl ring to his collection at App State, and has plans for more with his eyes on winning the Sun Belt this year and another bowl win.
As he continues to grow as a football player, Meadors looks up to Houston Texans' wide receiver DeAndre Hopkins, calling him a mentor.
Meadors got in contact with Hopkins when he played at Clemson, with Meadors' godfather being offensive coordinator at the university. Meadors said that they talk often and over time, they have built a bond.
After Meadors' breakout game against Georgia Southern, the two receivers texted a bit about it, with Hopkins saying, "You're alright. Keep working." Meadors said that he thinks Hopkins sends messages like that to continue to motivate him.
Whether it be texts from a mentor or advice from coaches, Meadors has used these words to grow and develop into the Mountaineer's number one receiving threat. Nine games into his junior season, Meadors has tallied 36 receptions, 561 yards and a touchdown.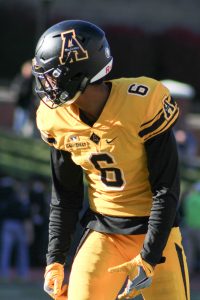 "He loves the game atmosphere," Watts said. "Sometimes you have to push him in practice, but, once it becomes game time, he knows, 'Hey coach, throw me the ball. I'll make a play.'"
Meadors looks to get many more opportunities for one-on-one coverage throughout the rest of his career at App State. The Mountaineers are unapologetically a running football team, with stars like senior Marcus Cox and sophomore Jalin Moore in the backfield. This leads to the defense loading the box to stop the run, and it gives Meadors one-on-one matchups on the outside.
Meadors is confident he'll often win those matchups.
"I never put myself as the underdog against anybody, no matter who I'm going against," Meadors said. "I always pick myself to win."
Story By: Colin Tate, Sports Reporter