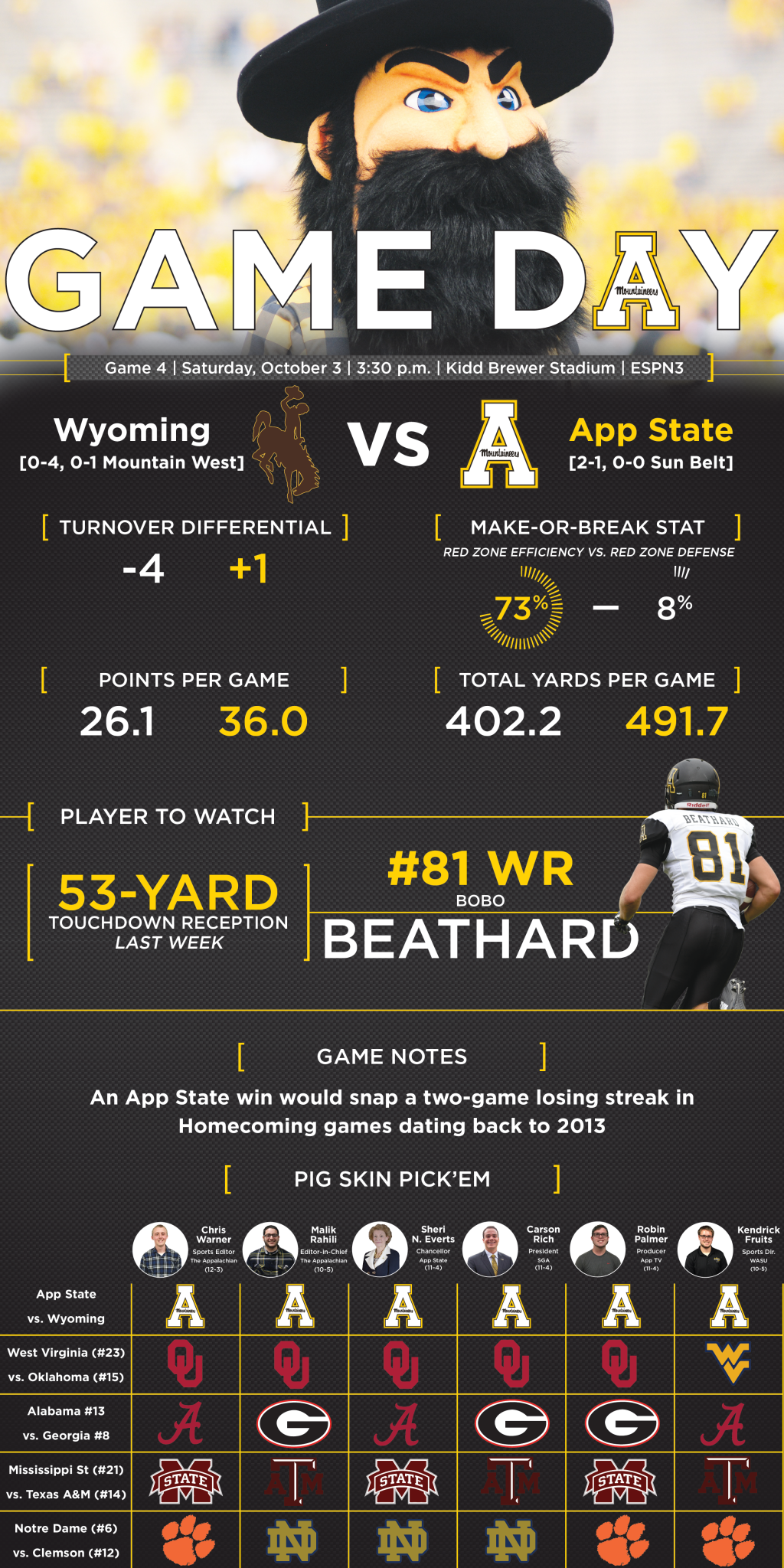 No-fly zone
Wyoming quarterback Cameron Coffman missed the first game of the Cowboys season, but has rebounded well, throwing for 944 yards and eight touchdowns in three games, despite the 0-3 record as a starter.
Having been sacked eight times already this season in only three games, I expect to see the Mountaineers defense blitz Coffman early and often, which should create a feeding frenzy for the secondary.
App State must pay special attention to wide receiver Tanner Gentry, who has accumulated 439 yards and three touchdowns on 26 receptions, including a 92-yard touchdown reception against North Dakota in the opener. He'll likely be covered by lockdown cornerback Latrell Gibbs, who is tied for fourth in the nation with three interceptions.
Dominate the tempo
When facing a team that can move the ball like Wyoming, who averages over 400 yards per game in total offense, it's best to control the trenches.
In what looks to be a rainy day at Kidd Brewer, I expect to see the Mountaineers stick to the game plan that worked in similar conditions against Old Dominion: Run the ball to keep drives alive and open up the play action.
The Mountaineers are first in the Sun Belt in time of possession, averaging 34:23 per game. If they can continue this trend against Wyoming, Coffman will have limited opportunities to make plays and will have to do so against a fresh App State defense, who is currently ranked fifth in the nation, allowing a mere 246.3 yards per game (including the beat down by Clemson).
Get to the red zone
App State has been unstoppable in the red zone this season, scoring on eight of 11 trips. Surprisingly, that number should be higher, as two of the "missed" opportunities in the red zone came in the end of blowout victories against Howard (49-0) and Old Dominion (49-0) when the Mountaineers ran out the clock to end the game.
On the other side of the ball, Wyoming has been abysmal defending in the red zone.They've allowed opponents to score on 11 of 12 red zone opportunities this season, an 8 percent success rate.
If the Apps can just get to the red zone, good things will happen.
Story by: Chris Warner, Sports Editor