App State men's basketball ultimately fell short 86-74 in a hard-fought battle against Davidson College in their first game of the season despite leading a majority of the way.
Being the first game between the two teams since leaving the Southern Conference three years ago and highlighting Fox's return after being an assistant coach at Davidson for 13 years, the Wildcats (1-0) recovered from a shaky first half with a 20-8 second half run led by forward Peyton Aldridge's 31 points and guard Rusty Reigel to defeat App State (0-1).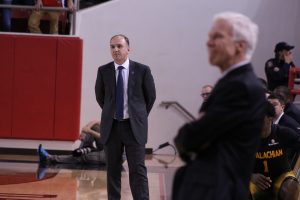 Four Mountaineers scored in double digits including junior forward Griffin Kinney's near double-double 10 points and eight rebounds effort. App saw five newcomers make an immediate impact donning the black and gold for the first time.
"App State played with great discipline and great toughness, which was no surprise to me," Davidson head coach Bob McKillop said. "They made it very tough in the first half [because they] outrebounded us, having us struggle to dribble the ball and leading us to turnovers. Fortunately we righted the ship and we rebounded better and attacked in the paint significantly better in the second half."
With both teams having key new freshman and transfers, knowing each other's strengths and weaknesses were hard to know heading into the game.
"We didn't really know much," Reigel said. "We knew what they would be running because of Fox, but personally we didn't know what to expect and they proved that they are a very solid and very good basketball team."
Without one of the nation's leading scorers, guard Jack Gibbs, Davidson struggled to find an offensive rhythm allowing the Mountaineers to take an early 10-4 lead.
"I think their control of the glass was very pivotal and they got kick out threes which we call 'daggers,'" McKillop said. "They had a number of daggers and those are back breakers."
Continuing to make an effort to come back, App used a strong defensive effort and second chance points to take a 23-14 lead halfway through the first.
Losing key seniors from last season, App State relied on solid contributions from redshirt transfers Jake Wilson and Craig Hinton, and freshmen Isaac Johnson, Kelvin Robinson and Patrick Good. The five players combined for 24 points and 14 rebounds.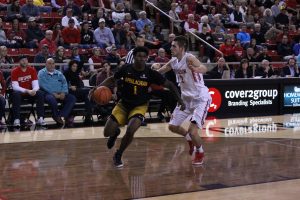 "We don't really have many choices. We only have one senior, two juniors and the rest are all young," Fox said. "They have done well in practice and the young guys made plays, but they also made mistakes like everyone including myself. We will get better from that and I am proud of all our guys."
Entering the half leading 37-33 and leading second half chance points 14-4, Davidson knew they were still within reach for a comeback.
"Through their flow of the offense there were just little wrinkles different from us but they really worked the high-low through their bigs which hurt at the beginning," Aldridge said. "But we worked well in the second half catching on to the defense they kept switching in the first half."
Davidson would open up the second half with 7-2 run, five points being from Reigel, and take their second lead of the night 40-39.
After taking the lead, the two teams would switch leads eight times in the next three minutes.
"We were right there, with the young team that we have, learning how to win. There is an execution culture and Davidson executes," Fox said. "They executed coming down the stretch."
After taking the lead again with 15 minutes to play, App stayed ahead for four minutes before Aldridge, who finished the night with 31 points, hit a big 3-pointer and two-point basket flip flopping the leads again.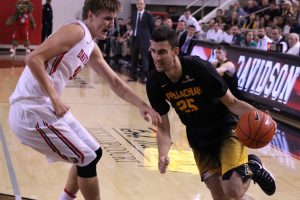 "You have to do something to react to him [Aldridge] and what he is doing. He goes 4/6 from three but he is also scoring in post," Fox said.
Not only did Aldridge hit key shots for the Wildcats, but also Reigel chipped in 13 points on 4/5 shooting in key moments including a big and one foul which proved to be a momentum changer.
"He makes big shots and big plays whether it is a steal, deflection or rebound," Fox said. "Rusty [Reigel] is a typical Davidson leader where he just makes plays and that is what he did."
Tied at 66 with 7:53 to play, the Mountaineers fight fell through allowing Davidson to go on a 20-8 run and pull out a 12-point win.
"We just didn't execute down the stretch whether it was missed layups, free throws or guarding assignments," Fox said. "Just little things like that, which we will learn and get there if we bring that effort everyday."
Leading second-chance points 16-8, bench points 26-21 and rebounds 39-38, App State had every right to feel good after the game.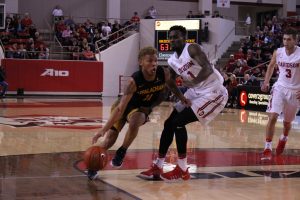 "Our guys know our goal is to get better," Fox said. "We are in the Sun Belt conference and we have to be playing our best in February and March. We will use this game to get better tomorrow and everyday. We just have to execute, and if we do that, we will be pretty good."
App State has a quick turnaround traveling to Knoxville on Tuesday to face the Tennessee Volunteers in their second game of the season.
Story By: Jason Huber, Sports Editor
Photos By: Braxton Critcher, Photographer