Kelsey Lynch sits down in one of the practice rooms and holds her cello like the instrument is an extension of her body. She places her fingers on the instrument and plays a piece silently in her head.
"The classes are hard because you have to take classes like music theory and music history," Lynch, a music performance major with a concentration in cello, said. "I'm a music major because music has always been a part of my life since I could talk. I honestly do not really know what else I would do because I have always been a really artistic person."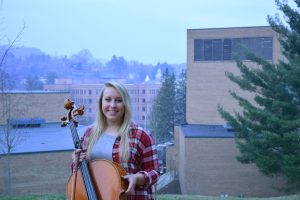 Lynch, like many other music students, spends most of her days in the Hayes School of Music with few breaks.
For many music majors, days are filled with practice, lessons, classes and meetings. On top of it all, there is still homework to finish.
"My time here at Appalachian has been really helpful and it has helped me grow as a musician and as a person," Lynch said.
Another music student, Maya Brown, is a double major in child development and music education with a concentration in instrumental music.
"Basically if you are on time, you are behind because you just have so much to do in both majors," Brown said.
Brown is taking 22 credit hours this semester, which she said is fairly common for a music major. Because Brown is a double major, she said she will not graduate in four years.
Her day starts by working in the child development center. After work, she goes to her physics of sound class and then on to performance seminar.
"Performance seminar is basically an hour where we get to listen to our other colleagues," Brown said. "Sometimes music education majors have breakout, in which we play our secondary instrument or we have speakers come in and talk to us."
After performance seminar, she has an hour of coaching by a professor for her quartet group. Then, she plays for a few hours with no breaks.
"I like to sit down and practice when everything is fresh on my mind," Brown said.
Students in the Hayes School of Music form a close-knit family and enjoy socializing with each other in the little free time that they have.
"We are studying our instrument. We are studying the repertoire. We are studying our orchestra music, the theory behind it and the history," Brown said.
Brown said with all the time spent in the school of music, the community naturally becomes close.
"You end up getting close just because you guys are all here and you are all going through
the same things," she said. "You guys are all pretty much taking the same classes together. We play together so much. In order to successfully play, you have to bond with the other people."
Andres Orench, a music education major with a concentration in instrumental music, has a different perspective as a music major, because this semester he is student teaching at Asheville Middle School.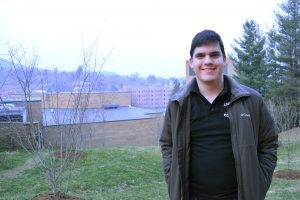 Orench arrives at Asheville Middle School at a quarter till eight in the morning to set-up the band room. The children are allowed to come practice in the morning before class officially starts and Orench is there every morning giving students help.
"The one-on-one time is really good for them," Orench said.
After classes officially begin, Orench has the seventh grade class. The class is preparing for contest, where the band prepares three pieces that they play in front of a panel of judges and receive a score.
"It's a huge deal. It's the biggest event that happens for them in the spring semester," Orench said.
Right after seventh grade band, he teaches a seventh grade jazz band next.
"The teachers have been kind enough to let me completely take over that class," Orench said.
After that class, Orench has a lunch break, which he said is one of the few moments to take a break during the day.
"It is very busy. It is something you learn the first time you step foot in a school having to teach," Orench said. "It is nonstop and constant. You do not even have a moment to be bored. There is constantly stuff going on."
After seventh grade jazz band, Orench teaches sixth grade students.
"These are the most interesting ones because they have been playing for only a few months," Orench said. "They started back in August on new instruments. Some of them do not even have any musical background at all, which is fine. That is how most people start in band."
Orench spends all day at the middle school. Occasionally, he comes back to Boone for college meetings. He feels that Appalachian State has provided him with the instruction, opportunities and atmosphere he needs to be successful in the professional world.
"The most rewarding thing is when the students struggle with music at first," Orench said. "You help them out and they work really hard. Then, they finally get it. Their faces just light up when it finally makes sense. They pass that test and go onto the next level in their music. That is the best thing for me."
Students in the Hayes School of Music, like Lynch, Orench and Brown, all have had similar experiences during their time at Appalachian.
"Music is a universal language and you can connect with anybody," Lynch said. "I just want to make people happy."
Story by: Julianne Blaylock, A&E Reporter
Photos courtesy of Jamie Patel