Defending champs' uphill battle
The Appalachian State women's cross country team made school history last season. In the program's 50th season, the Mountaineers took home the first Sun Belt Conference championship for App State.
Led by senior Tristin Van Ord for the entirety of the season, Van Ord finished the race in 17:37.50 and came in second place. Emily Fedders, now a junior, finished in eighth place crossing the finishing line with a personal record of 18:24.30 and the rest of the Black and Gold following closely behind. The Mountaineers managed to tally 43 points beating out second place Coastal Carolina by 13 points and defending champs South Alabama by 36 points.
That was last season. A new season has already begun, but this time the defending champs look a lot different. Van Ord and fellow senior Torre Moser have graduated and the Mountaineers can no longer count on their lead. In fact, they may find it hard to count on any type of lead this year.
App State has had three meets so far this season and has placed second in every one. Starting the season off at home in their first meet, Fedders finished eighth and senior Phylissa Greeley finished ninth. The two have led the Mountaineers in every race so far and have taken it upon themselves to make up for the loss in Van Ord and Moser.
"It just means that all of us have to step it up multiple steps," Greeley said. "We have some big shoes to fill with both of them gone. We're just all trying our best to fill what was left behind."
Greeley has been the frontrunner for the Mountaineers in the last two meets finishing fifth and sixth respectively. Fedders has been her tail end finishing eighth and ninth.
Fedders said the feeling has been different than in seasons past. With Van Ord gone and the leadership now falling on the shoulders of Greeley and herself, Fedders said they have to take the season head on the best they can.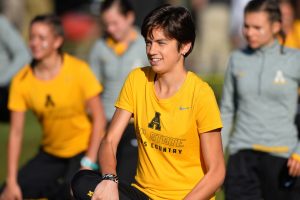 "It's definitely different," Fedders said. "We still have a strong pack but we don't have that one person that we know is always going to be out front. We just need to stay focused on doing what [we] need to do because it's going to take all of us."
Greeley knows a thing or two about what it's like when that "different" feeling sets in. Greeley was not recruited to run at Appalachian State. In fact, she thought her career had ended after high school. Greeley said for her entire freshman year she missed the feeling of being on a team. She went to talk to head coach Michael Curcio and he told her if she could run the time they had set then she could join the team.
"That's my biggest motivator, is knowing I wasn't recruited and having to prove that I deserve a spot on the team," Greeley said.
Her sophomore season, she said, was not her finest year. However, since then, Greeley has not only improved personally, but has also become a leader on the team.
"I was ready for it," Greeley said.
In only the second meet this season, Greeley broke her own record in the 5K, finally breaking the 18 minute mark that stands in the way of so many, finishing in 17:54. Fedders was close behind with a personal record of her own, finishing in 18:03. Not only that, but all seven of the Mountaineers top finishers that race posted a personal best.
"Everybody's really stepping up and doing what they're supposed to be doing," Greeley said.
Fedders echoed Greeley saying that she has seen a lot of hard work put in by everybody on the team.
Although not as vocal as her counterpart, Fedders still serves as a leader and motivator on the team.
"I try to be encouraging but I'm more of an introvert," Fedders said. "I just do my thing and hope that encourages people to do theirs."
If that isn't what motivates the rest of the team then it is unknown what is. Since Fedders and Greeley have led the Mountaineers through each meet, several others have managed to set personal records in the 5K themselves. Seniors Kerry Leonard (18:21), Hana Ratcliffe (18:25) and Natalie Kile (18:31) all set personal records at the Mountains to Sea meet in September.
On top of that, App State had their entire top seven runners in the top 20 of the field in their last meet.
Fedders and Greeley cannot replace or duplicate what they lost in Van Ord. She has graduated and moved on. What they do have the ability to duplicate is another Sun Belt Conference Championship. In just three meets, the leadership and talent from the two combined have produced the best results out of several Mountaineers.
Curcio said he is extremely optimistic about what he has seen so far.
"I am very excited about the outcomes," Curcio said. "We have seen our top five do a great job of competing and they have shown good fitness. We are starting to see some younger ladies have some breakthroughs and we have very good depth. Some of the freshman who are running very well have improved a lot and are gaining valuable experience without much pressure."
The team agrees that although the pressure doesn't get to them, they do recognize the nature of having won conference last season.
"We are capable of winning conference again but we also have a target on our back," Fedders said. "The combo of winning conference but not doing great at regionals gave good motivation coming into this season."
Fedders continued by saying they still have a long way to go before they are anywhere close to being the team that they were last year.
"We still have work to do, a lot of workouts and a lot of training ahead of us but we're looking forward to it," Greeley said.
Curcio listed young runners that have all improved as the season has moved on.
"They have all found ways to close the time gap with our fifth runner. It's only a matter of time before we all have a big race together," Curcio said.
The Mountaineers' next meet is in Kernersville, North Carolina at the HPU Veltklasse XC Open on Oct. 13 at 4 p.m.
Story By: Noah Gerringer, Sports Reporter
Photos courtesy of Tim Cowie, App State Athletics