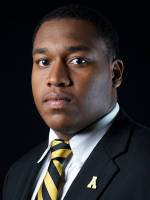 An Appalachian State football player was arrested early Friday morning on a charge relating to alcohol consumption.
Junior defensive lineman Ronald Blair was arrested on a charge for driving after consuming alcohol underage after he was pulled over for speeding on Rivers Street near Stadium Drive just before 3 a.m. by ASU Police, according to a Sept. 17 article in The Watauga Democrat. The officer smelled alcohol as he approached the vehicle and it was later determined that Blair's blood alcohol content was 0.04.
Blair, 20, was also arrested on a charge for driving without a license and is set to appear in court Nov. 19, according to the article.
"We're aware of and disappointed about the situation involving Ronald Blair," head football coach Scott Satterfield said in a statement. "We are currently in the process of gathering facts and details. We want to be sure that we have all of the facts surrounding the situation before moving forward with any determination regarding Ronald's playing status."
Wide receiver Sean Price is currently serving a suspension from the team he earned after an incident Aug. 18. Price was arrested for disruptive and intoxicated behavior and was suspended from the team, according to an Aug. 22 article in The Appalachian.
Blair started all 12 games for the Mountaineers in 2012, and was named first-team all-Southern Conference by the league media and second-team all-conference by the conference coaches. So far this season, Blair has one solo tackle and 6 assists, according to appstatesports.com.
The Appalachian will have more information as it is made available.
Story: STAFF REPORTS
Photo courtesy of appstatesports.com