*Editor's Correction: In a previous version of this story, players A.J Howard and Devan Stringer were listed as seniors but they have been corrected to juniors 
Being a true freshman on a winning team is never easy. Many freshmen have the luxury of using their newcomer title as an excuse when they mess up.
Graduating high school early in December and arriving to App State, a team that had been coming off of a Camellia Bowl win not even a month earlier, true freshman cornerback Clifton Duck took notice very early that being a freshman will not give him any excuses.
Making his first start as a freshman on a veteran defense against Tennessee in week one and hauling in his first career interception against Old Dominion last week, Duck has wasted little time making his presence known to fans and the team.
"It wasn't difficult coming to a winning team, but it lets you know from the jump that they are coming to work," Duck said. "I was a freshman but you don't get that excuse and everything you do has to be to their expectations. They call it the gold standard and if not they will let you know."
Duck is no stranger to playing for winning teams. As a four year starter at North Carolina 4-AA powerhouse Butler High School in Charlotte, Duck helped lead the Bull Dogs to double-digit wins all four years including a perfect season and a state championship win his freshman year.
When it came time for Duck to decide where he would play in college, winning wasn't on his mind, but knowing App State's very strong tradition led him to choosing the Mountaineers over Toledo after a satellite camp in Charlotte.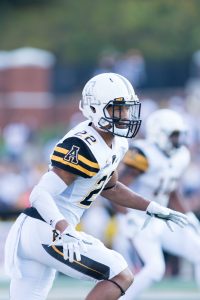 "I didn't want to leave too far from home, but we talked and I performed well and when they offered me my mind was already made," Duck said. "The tradition is amazing and there are high expectations on the field and off the field."
Earning a scholarship at camp in the winter, Duck had the opportunity to learn early and polish up his game quicker than a normal freshman would arriving in the summer.
"He came here in January and is a little bit ahead than a normal freshman because he did all winter and spring workouts and did all OTA's," secondary coach Scot Sloan said. "He is almost like a second year player but he is just that ahead of the game."
Being on such a veteran team, App State players never make it complicated for a new guy to fit in because they know that being at App in the first place just means they wanted to be there.
"The thing with all our guys is the chemistry and the way the guys welcome each other in," Sloan said. "It is a close knit group and when they show up its not like they need to earn their way in because they chose us over how many else schools offered them scholarships and our older guys acknowledge that and know they want to be here because they chose us."
Duck is not the first to join the team early with key defensive players such as junior cornerback A.J Howard and junior linebacker Devan Stringer also having the experience of graduating and coming to Boone early.
"My message to Duck was that I came in early and that it helps you get physically strong in ways we run the playbook and we will help you all the way through," Howard said.
Having the extra time to practice and get to know his teammates, Duck soon become just one of the guys whether it were on the field or playing an intense game of "Madden."
"I'm a really great gamer. Any video game you put in, I can beat you," Duck said as he jokingly stared down senior linebacker John Law. "We have a group of us that have a 'Madden' league and we have a lot of fun."
With the academic ineligibility loss of last season's starting cornerback Latrell Gibbs, a starting defensive back spot opened up and Duck saw the opportunity to earn the starting spot after just wanting to make the rotation as a freshman.
Duck was named a starting cornerback a week before App traveled to Tennessee for their first game.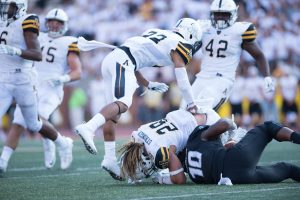 "To me it was huge because my coaches trusted me to be out there in a big game like that on a national level," Duck said. "All our captains were telling me that they trust what I can do and to do what I do in practice and I'll be fine."
Despite allowing a long touchdown pass in the game against the Vols, Duck broke up two passes at Tennessee with four solo tackles in just his first game.
"It was huge to have a freshman come in and help right away and learn all the plays," Howard said. "He went out there and did pretty well."
Playing on such a veteran defense, Duck has the opportunity to learn from decorated players and continue building up his own name.
"The way he just shows up to work every day proves he has a blue-collar mentality," Sloan said. "When you get that mentality and all those check boxes, you got a guy who can be a special player."
Even though he said he is still adjusting to college life and attending all his tutoring sessions and classes off the field, he has already begun to solidify his name in the locker room.
"They always tell me to keep my head up and just make plays. You are not too young to make plays," Duck said. "The guys tell me that it is not 'true freshman' Clifton Duck, but it is 'defensive back player' Clifton Duck."
Story By: Jason Huber, Sports Editor
Photos By: Dallas Linger, Photo Editor