Ear Candy's 10th anniversary celebration
Every Thursday and Sunday night, you can find the 22 women of the a cappella group Ear Candy huddled into circles, listening to their parts and singing them back to one another.
Ear Candy, one of Appalachian State's all-female a cappella groups, learns its musical repertoire entirely aurally. There is no sheet music, so people from all backgrounds can learn at the same pace. Instead, members split up into groups based on voice parts, such as soprano and alto, and listen to their parts over and over, singing to themselves and one another until the music clicks.
The women of Ear Candy are rehearsing for their 10th anniversary concert, titled "And I Know A Place With You." President and senior electronic media broadcasting major Jillian Sykes describes the concert as Ear Candy's 10th birthday party.
Their performance is intended to celebrate the history of the group, the group's success and their friendship thus far. The current members have invited Ear Candy's alumnae from as far back as the group's initial creation in 2007. The alumnae can attend Ear Candy's concert for free and are invited to an afterparty at 10 High Country Lanes.
Sykes said she is excited about the opportunity to connect with alumnae Ear Candy members.
"When our alumnae come back, and I get to meet them, it's so refreshing because Ear Candy still holds the same values and morals, and the same passion for music and each other, that we did 10 years ago, from the beginning until now," Sykes said.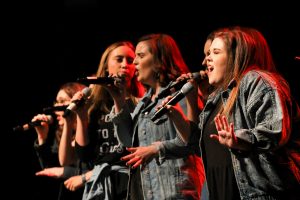 What solidifies their connection, Sykes said, is the group's alumnae song, "Love, Where Is Your Fire?" by Brooke Fraser. The song is the first piece new members learn upon joining Ear Candy and is performed at every concert. They always invite alumnae in the audience to perform the alumnae song onstage, but Sykes expects a much larger alumnae turnout at this special celebration show.
This concert's title, "And I Know A Place With You," comes from a line of the group's alumnae song. The song, Sykes said, captures the support and unending connection Ear Candy seeks to provide to its members.
"Ear Candy is our home; it's our place," Sykes said. "It's within each other. We formed this place, and we all know it, and we all feel it."
Secretary and junior interdisciplinary studies major Michelle Taylor is also excited to invite the alumnae back on stage for the song.
"Although we've probably changed a good amount, we all know that song," Taylor said. "It's going to be such a cool feeling to sing with people I don't know, but still feel connected to."
While the anniversary concert will reminisce about Ear Candy's past, the celebration is also about the present and Ear Candy's future.
Taylor said that Ear Candy has become like a family. Taylor said coming to App was a difficult transition, and she said that she considered transferring or dropping out on multiple occasions. Her connections in Ear Candy kept her here.
"I genuinely don't know what I'd be doing if I wasn't in Ear Candy," Taylor said. "I wouldn't have the friends I have now, and I don't know if I'd be in the place I am now with my comfortability in college."
The women of Ear Candy put in long hours rehearsing and practicing to get their music just right, but they also make time for opportunities to have fun and support each other. At least once a semester Ear Candy has a special "bonding rehearsal" to maintain morale and develop deeper connections within the group. This year, Taylor said, the women rented out 3rd Place and had a sleepover-style event, complete with a pillow fort and snacks.
This semester, the group will be saying goodbye to two singers, senior electronic broadcasting major Paula Mandarino and senior English secondary education major Tierney Shipley. To these women, this concert is a bittersweet farewell to their time with Ear Candy.
Mandarino has been with Ear Candy for seven semesters. She was once the vice president, but this year she works as a choreographer, designing moves and placements for shows like Acappellageddon. Her time with Ear Candy, she said, has given her valuable skills to take into her career in television and film.
"I love performing; I love creating content, and this just felt to me like something where that all comes together," Mandarino said. "Being able to perform here has increased my confidence as a performer so much."
Ear Candy has also given her hands-on experience with audio recording. Ear Candy recently recorded an EP, and Mandarino and her father played important roles in putting the album together.
As a senior, Mandarino chose a "senior song" to perform at their anniversary concert. Mandarino arranged her song, Daniel Caesar's "Japanese Denim," by herself, the first time she has independently arranged a piece. Since then, Mandarino has spent the last few weeks teaching the song to her peers, awaiting the night they'll perform her song together at her last concert.
Mandarino chose the song for its jazzy tone, which comfortably complements her voice, and the underlying message she found in the lyrics.
"It just makes me think about changes in life, and how those things are okay," Mandarino said.
"You'll lose some things, but you'll win some things."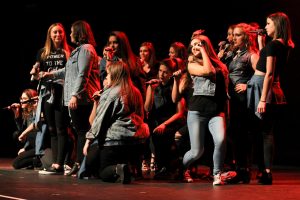 Shipley, the other senior leaving Ear Candy this semester, is in her fifth semester with Ear Candy. Unlike Mandarino, Shipley is not graduating, but she is leaving to begin student teaching in Raleigh.
Shipley transferred to App State from a community college, where she said it was much harder to find the music outlet she found with Ear Candy.
Luckily, she found Ear Candy soon after coming to App, and they readily welcomed her into the group.
"For the first year that I was in Ear Candy, I was still like, 'How am I even here?' because all the girls here are amazing," Shipley said.
Over the course of her first year in Ear Candy, Shipley said the group's members helped her grow from the shy girl who began at Ear Candy to the outspoken woman she feels she is today.
"It has been such an honor to be in this group that having spent three years in it is amazing to me," Shipley said. "It's just exciting that I ever got to be in it."
Like Mandarino, Shipley said she feels that Ear Candy has imbued her with skills that will help her as she begins her career of teaching. To teach, she said, you have to be confident as a leader, and her time with Ear Candy has helped her confidence blossom through performing.
For her senior song, Shipley chose Ed Sheeran's "I See Fire." The song, she said, shows off her nerdier interests and has a deeper meaning without becoming too sad.
To Shipley, the song is significant because she originally auditioned for Ear Candy with an Ed Sheeran song. Shipley said she feels that beginning and ending her Ear Candy career with an Ed Sheeran song brings her time with the group full circle. Plus, Shipley said the line, "I hope that you remember me," moves her every time.
For their final concert, the women will sing a repertoire that will include the two seniors' goodbye songs, everything the group has performed this semester and their Acappellageddon setlist, which won them best all-female group and best soloist earlier this semester.
Ear Candy's final concert will be held at the Harvest House Church on Dec. 9 at 6 p.m. Tickets are $3 for students and $5 for general admission.
Story by: Ashley Goodman, Associate A&E Editor
Photos by: Christian Bocchino, Intern Photographer
Featured Photo Caption: Ear Candy performing at Acappellageddon on Saturday, November 11.