Division I is the highest level for college athletes. Many strive for this level and many will fail. Along the way, lots of players can lose something. Some lose sight of what's important in life, and others lose a part of themselves. 
App State Field Hockey head coach Emily Dinsmore works with her players on and off the field to make sure that they understand supporting each other and working together is crucial for any Division I team to function properly. As she takes the helm in her first season for the Moutnaineers, Dinsmore's eye is on the true prize of any team: the people.
"I think that is really special to see a student athlete from freshman year to senior year and to see the growth and development and to journey with them in those hill and valley moments," Dinsmore said.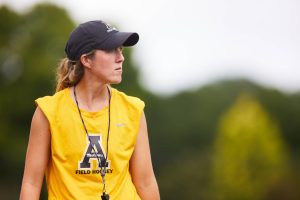 Players appreciate this level of attention and the constant care Dinsmore has given them as seen by graduate student forward Rachel Fleig.
"She has been a consistent person to unify the team and I think that as she's grown into the head coach position it's just been evident in our team culture as she's been unifying everybody all together," Fleig said.
Dinsmore started playing field hockey in sixth grade after her two cousins introduced her to the sport. There was an instant love when she started playing, she said. 
"Field hockey and lacrosse were a new challenge to me," Dinsmore said.
When the time came for Dinsmore to leave home and go to college, she wanted to keep sports a big part of her life. The love of the game kept her playing, acting as a driving force when coaching.
"I've always loved the environment of being a part of a team," Dinsmore said. 
After playing at Liberty University, Dinsmore teached for two years after graduating. During this time, she coached for a high school and assisted with coaching at Liberty. 
Through Dinsmore's playing career she saw the energy and time coaches poured into her and wanted to do the same for other girls in field hockey. 
"Whoa, I could do this full time and coaching is teaching, it's just teaching outside,"  Dinsmore said. 
After Dinsmore decided to pursue coaching as a career, she began at Stevenson University and was a graduate assistant coach for two years. While at Stevenson, Dinsmore coached for Freedom Club. This is where she met club director Sarah Dawson, sister of Meg Dawson, the former head coach of the Black and Gold's field hockey team. 
After her graduate assistant coaching position ended, Dinsmore looked for a full-time position at a Division I school. Sarah Dawson told Dinsmore her sister was looking for a new assistant coach, and Dinsmore applied. 
"I came down here for my interview, and was able to talk with Meg and some of the players on the team, and just felt a lot of peace about this is where the Lord is leading me for my next steps in my coaching career," Dinsmore said. 
This care for the team is evident to all her players and influenced the team dynamic as well. Grace Ball, a senior defender, watched Dinsmore progress from an assistant coach to the head coach and remain a caring leader, while still demanding excellence from the team. 
"She has a great balance of being a tough leader and also caring about her players," Ball said. "It has been cool to see her develop and myself grow with her."
The other coaches on the staff love working with Dinsmore, because she never puts any of the players or coaches in a situation she herself would not go into.
"Dinsmore as a coach is a servant leader and she does everything she can to take care of her players and coach them the best way," said assistant coach Azure Fernsler.
For Fernsler, she sees Dinsmore as both a players' coach and a coach's coach. 
"She cares about the girls individually outside of field hockey and then of course in field hockey," Fernsler said. "I think her heart in the process is a huge thing that leads her coaching style."
As Fernsler worked with Dinsmore, she's seen she truly cares about the players, in who they are as people and who they are as players.
"She'll never ask the team to do something that she wouldn't do first," Fernsler said. "The heart behind the jersey is what matters."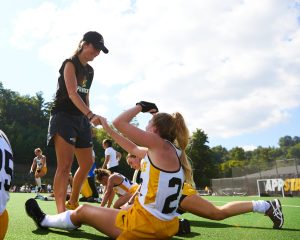 For Dinsmore, it is more than just being a good coach, role model and representing the Black and Gold field hockey team. She has found a family in Boone.
Every day when she works in the athletics building or drives 10 minutes for practice. Dinsmore is happy to work and be with the girls on and off the field.
"I love the girls and I love the team, and I'm stealing this quote from another coaching friend but 'at the end of the day you win with people,'" Dinsmore said.
When she moved to Boone, it was the furthest Dinsmore had been from home, but she quickly developed relationships with other coaches, found a church and discovered a community.
"For me it's the people that have kept me here, and the girls as well as the community that I am surrounded by," Dinsmore said. "App has really become home for me." 
Looking toward the future, Dinsmore and the team see a lot of future success. Their season goal is to climb back into championship games and bring home the glory for the Black and Gold. 
"I feel like we have all the pieces to be able to year in and year out compete in championships and go on to NCAA's," Dinsmore said.
Dinsmore knows she always needs to learn and grow as a coach with her players. She learns on the fly, and is always looking to learn and grow from other coaches. 
She strives to equip players with the skills needed in life and on the field. She wants them to think individually as players, but work together as a team. 
"She was made for this position," Fernsler said. 
Dinsmore, being a humble leader, takes everything one day at a time and focuses on how she can help her players get better.
"It's been such a gift and a blessing to watch this team grow and develop from 2017 to now," Dinsmore said.
As the team grows and Dinsmore works with all her players, they've grown as people and players alike. She is certain of one thing: she is here to stay. 
"I hope that this is where I get to stay for all the rest of my coaching time," Dinsmore said.
At the end of the day, rain or shine, win or lose, for coach Dinsmore the team is not just players running around on the field or honing their skills in scrimmages. This team, here in Boone with all the students, is her family; one she never intends to leave. 
"They are truly my family," Dinsmore said. "I wouldn't want to work honestly with anyone else, it has just been the best."