Lil Wayne, the Avett Brothers, Dave Matthews and James Taylor: these and many more big-name artists have visited Appalachian State's campus, and one man played a huge role in making these events happen.
"Thirty-one years went by too fast," Randy Kelly said, "but it had to come some time, and I never wanted to quit."
Kelly is getting ready to retire from his roles as program advisor in the Department of Student Engagement & Leadership, advisor for the music councils in the Appalachian Popular Programming Society and manager of Legends. Since the 1980s, Kelly has been bringing national acts to Appalachian's relatively small campus. He had a knack for bringing artists on the verge of making it big: names such as Jimmy Fallon, John Mayer and even one of Boone's own local bands, Rainbow Kitten Surprise, were able to make waves in the entertainment industry after performing at Appalachian.
Before working at Appalachian, Kelly was the manager of P.B. Scott's in Blowing Rock, North Carolina, a nightclub famous for scheduling national acts in a space that could hold 700 people. While at P.B. Scott's, Kelly quickly moved up the ranks, becoming the club's booking agent. With his instruction, the club soon became famous and another location was opened in Charlotte; the new venue could hold more than three times as many people as the location in Blowing Rock. In addition to a great venue, Kelly had an intuitive and professionally-trained staff.
"We had six shows a week, so you would see the result of something we planned weeks, even months ago, so there was a lot of self-assessment, 'What did we do right' or 'What did we do wrong' and we got good," Kelly said. "I had a professional staff who could read my mind, they could anticipate my next step."
However, P.B. Scott's eventually shut down, and due to the lack of nightlife in Boone, which was a dry town at the time, and Blowing Rock, Kelly recalled when students began to rapidly leave campus.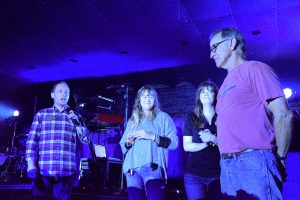 "We had residence halls being built, we had professors on tenure and people were leaving instead of coming," Kelly said. "This was before we had any national championships."
Therefore, Boone desperately needed a venue for nightlife. This venue happened to be a vacant Winn-Dixie, which was remodeled into a nightclub called H'Appy's in 1986 and soon turned into the Legends that students all know and love.
Now that Boone finally had its own nightclub, it needed entertainment and who better for the job than Kelly, 36 at the time. Kelly did not hesitate to join the Appalachian State team and he began booking bands for Legends based on his reputation and connections built from working with artists at P.B. Scott's.
Kelly was also asked to take over the position of advisor for the Appalachian Popular Programming Society, which was founded by Dave Robertson. Kelly transitioned from being surrounded by a well-trained and experienced staff to teaching students who had no insight into the realm of entertainment. Kelly took the opportunity and looked at his situation through an optimistic lens, seeing this as an exciting opportunity to work with students.
The collaboration between APPS and Legends allowed Appalachian State to become the first and only college campus to have its own nightclub: it was truly nightlife designed by students, for students.
"My job has been to give these kids the confidence to lead," Kelly said. "Developing students into leaders was the biggest reward."
Through APPS and with Kelly's mentoring, many current and former students are now working in the entertainment industry themselves. Rachael McKinney, an Appalachian State and APPS alum, is the tour manager for Rainbow Kitten Surprise. Another graduate, Zach Britt, is an agent assistant at Paradigm, one of the highest talent agencies in the country, in New York. Sierra Forchheimer, a senior public relations major, has had the opportunity to intern at Paradigm in California.
Emma Forbes, the Concerts Council Chairperson for APPS and a junior public relations major, said that Kelly's mentoring style can be exemplified by one of his many mottos: "When the going gets weird, the weird turn pro." Through the experience that APPS provides, students, whether they want pursue careers in the entertainment industry or not, have learned lessons that will lead them to success no matter which field they choose.
Merrick Marquie, who used to be a member of APPS, remembered Kelly through his dedication to encouragement. "Randy was always encouraging growth, he would always say, 'You can do this, you can grow into this position, I believe in you.'"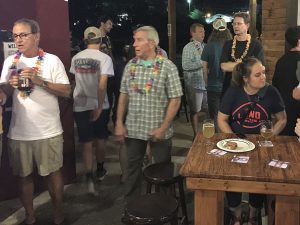 In the entertainment industry, not everything will go as planned, and behind the scenes, a show can be quite hectic. Kelly, as a teacher, wanted his students to know this reality, Marquie said.
"APPS had so many challenges and the audience would never know, while everything was clean and shiny on the outside, we would be behind the scenes saying, 'Wow, this is a nightmare,'" Marquie said.
Understanding the challenges that working in entertainment can bring, Kelly was known for teaching his students its harsh realities, such as calming a crowd. Billy Maupin, who has known Kelly for 28 years, beginning as his student, remembered a moment exactly like that.
"We had a big concert in the gym, the Spin Doctors were performing, there were thousands of people in the gym and there was a barricade that wasn't going to hold," Maupin said. "Then the concert went into intermission and Randy said, 'You should totally go up in front of everyone and tell them to calm down.'" Maupin was promptly booed and clearly remembered Kelly's reaction. "He was laughing hysterically when I came off stage!"
However, Maupin admitted that he learned an enormous amount during that concert, and he is now the General Manager of Yep Roc Records Records in Hillsborough, North Carolina.
Kelly could not help but glow when he spoke about his students. "I owe these kids everything, and they are my sons and daughters," he said, and joked, "I'd do the job for free if I had an outside income!"
Britt, who joined APPS as an opportunity to learn about the music industry, remembered fondly the hours he would spend weekly with Kelly, whether they were planning for meetings or sharing stories about Kelly's earlier years.
"I didn't expect to become so close with my advisor," Britt said. "Those hours became some of my most anticipated times of the week: going into Randy's office with full expectation of hearing some immaculate story about his time booking and operating P.B. Scott's or adventuring across the United States and the rest of the world. He taught me so much about the industry, but much more so about myself and how I identify as both a leader and an individual."
As Tyler Peterson, an Appalachian State alumnus who participated in APPS, eloquently put it, "There's not much to say about Randy, besides, he's the man."
Kelly celebrated his last show at Appalachian, country artist Chase Rice, on Sept. 14. It will also be the last show at Legends for the semester, as the venue is about to be renovated. When asked if he preferred for Legends to stay true to its roots, Kelly responded, "I've thought about that a lot. There's a philosophy, don't fix it if it ain't broke. But I never want to be one of those Luddites who says change is bad. The freshmen who are here now won't know how great Legends was, they won't understand the history, they won't know its soul, or all of the previous leaders who gave their all to make Legends what it is. But Legends will continue on."
After 31 years, Kelly made the decision to retire and Appalachian State is losing one of its own legends. But as Kelly said, "It's been a hell of a ride."
Story By: Savannah Nguyen, Intern A&E Reporter
Photos By: Halle Keighton, Photo Editor; and courtesy of Haley Halkidis