Following a giant, handmade paper mache fox, almost 200 Watauga residents marched through downtown Boone on Jan. 23 in the Peaceful People's Parade. The attendees gathered together despite gray and rainy weather to walk in honor of climate and social issues and to bring attention to their concerns in the face of the changing political atmosphere.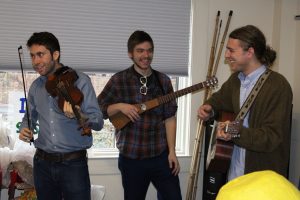 The parade was organized by Boone Rising, a local grassroots community organized to push water and environmental conservation movements. Originally fostered in support of Standing Rock water protectors, Boone Rising organizes events in the area to create conversation and solidarity.
The Peaceful People's Parade was coordinated as a response to a call to action from the People's Climate Movement. This call to action was to orchestrate 100 "actions" in the first 100 hours of the new administration, including parades, marches and teach-ins. This parade was joined by nine other actions in the state of North Carolina alone.
The event involved handmade art, posters and paper mache, along with performances from local bluegrass group, The Major Sevens and a call to action delivered by Boone Rising organizer, Sarah Kellogg.
Participants donned costumes and carried handpainted posters while chanting and singing through Boone before returning to Watauga Public Library to take an oath to, "honor the web of life, practice values of compassion, equity and inclusion, and to stand for justice, particularly for those who have been most harmed," Kellogg said.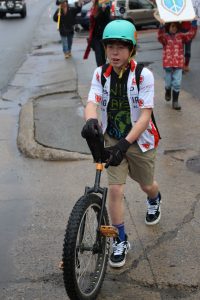 People of all ages and backgrounds took part in the festivities, from toddlers to seniors, students to farmers. Among App State students were activist organization members and local artists who came together to celebrate social justice and stand up against climate denial. One such attendee was Boone resident, Mark Henson.
Henson heard of the organizations putting the event together but only found out about the parade the morning of and said he went solely because he believed in the cause.
Henson has done his own part in the way of environmental activism by living his life with as little of a carbon footprint as possible. He uses clean solar energy to power his home, and has picked up earth friendly habits and hobbies of composting, beekeeping and urban farming.
"We all have to do something. Even if this is all you do, we all have to do something," Henson said.
The parade goer used the march to voice his concerns about Boone's natural environment, especially as affected by climate change. As many know, the droughts in Pigeon Forge and Blowing Rock have recently led to d
evastating forest fires in Watauga County and have become a topic of trepidation for many Boone residents due to the proximity. Such close to home threats make discussion of climate change all the more real to Watauga citizens such as Henson.
Parade organizer Ricki Draper discussed the message of the event more universally and said, "This is about justice. It's about racial justice, economic justice, social justice. We're here to proclaim all of those things and lift up the art and the creativity of our community."
A member of Boone Rising, Draper hoped the event would help to unify the social justice community within Boone.
"We're filling this niche in Boone, there are all these amazing community organizations. We see it as being a grassroots social justice organizing group, budding community power. Definitely hosting events like this is important, but so is organizing long term transformative change," Draper said.
Boone Rising hopes to incite deeper social justice analysis, recognizing and reminding the community of those peoples who are disproportionately affected by the current political climate and environmental injustices. The group also plans to push the town of Boone to consider environmental injustice and climate change as they invest in different alternative energies in the future.
Working with Boone Rising in urging divestment from fossil fuels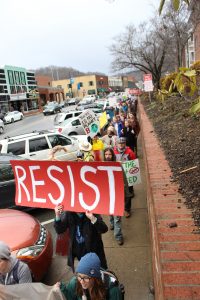 is the Divestment Students' Network, or DSN. Earlier the day of the parade, the DSN held a walkout on Appalachian State campus in which students met on Sanford Mall to advocate for divestment, marched across campus and into the administration building, where they presented ASU with a letter encouraging the university to divest from fossil fuels.
As an intern for Appalachian's Office of Sustainability, DSN member Samantha Smyth, a sophomore studying hospitality and tourism management, knows both the triumphs and shortcomings of the university's clean energy efforts. Smyth lamented the chasm between the sustainable, green energy App State claims to strive for on its campus and the fact that the university is still participating in and investing millions of dollars in the fossil fuel industry. She went on to say that the DSN seeks to ask App and other universities to "stand up for us in this very turbulent time."
"Today has been the largest national day of action in [DSN's] time of being a movement. There have been 50 universities across the United States and Canada that have put on protests just like ours," Smyth said.
This community activism seems especially louder within today's political climate. Draper says that Boone Rising has been coordinating these events before President Trump's inauguration, noting that his election is only a symptom of current societal issues rather than the problem. She said, however, that Trump is "introducing unprecedented destructive policies" and that the increase in activism and discussion as a result of his election is "a response to capitalism and what it has done to people."
"There's so much more at stake than ever before. Trump and his cabinet of climate deniers are putting so much at risk and chipping away at the social justice and moral feats that we've made, that the climate movement as a whole has been built upon," Smyth said.
In a time of great political unrest and revolt, public discussion is louder than ever. The week following President Trump's inauguration has been filled with protests, marches, and speeches in response to social issues faced by the country's citizens. With events like the Peaceful People's Parade, organizations like Boone Rising and the DSN are working to do their part in inciting conversation and activism in the community.
Boone Rising will hold an interest meeting on Sunday, Feb. 5 to further expand the group and discuss events for the future. The meeting will take place at 171 Grand Boulevard at 5 p.m.
Photos By: Braxton Critcher, Staff Photographer