Coming into its third year, Equity in Action is a student run social justice conference on campus discussing diversity and equality, and how to combat the injustices that affect the lives of marginalized groups of people. This year, Equity in Action is taking place on April 1-2 in the Plemmons Student Union.
The event attracts students interested in speaking openly on the issues that affect them based on their identity as minorities, and how they can better educate those around them on these issues as well.
"What got me initially interested in Equity in Action was the focus on LGBT issues," Kate Rawson, senior psychology major said.  "But, it has developed over the years to include all types of social justice."
Mathematical science graduate student Huy Tu noted that his participation in the conference stemmed from the inclusion of many identity groups. As a person of many marginalized groups, Tu said he is constantly battling how he is accepted and never feels fully accepted in all areas.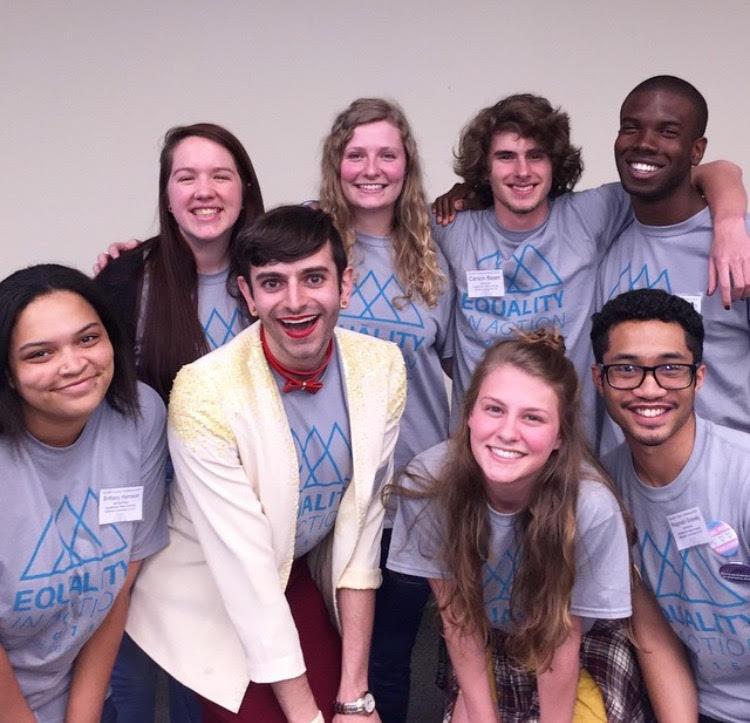 "Equity in Action is important to me because it is central to the social justice movement," Tu said. "Going to conferences and learning about other identities and how I can be helping makes me included and appreciated."
Intersectionality is a term used as the central focus of many different social justice movements. It refers to the analysis of oppression that explores many different identities and how they interact with one another. The understanding of this concept is imperative in combating the issues that affect minorities, Tu emphasized.
Another word that is essential to social movements is "equity," Tu said.
"We use the term 'equity' instead of 'equality' because equity gives marginalized people what they need to succeed," Tu said. "Equity is what you need to really get everyone on the same level. It shifts the focus to the needs of minority groups and how to truly level the playing field."
Topics to be discussed and workshopped at Equity in Action include Black feminist theory, domestic violence across identities, the whitewashing of LGBT issues, animated diversity, asexuality, disability and ableism, health disparities among LGBT populations, and disrupting masculinity and patriarchy.
The keynote speakers this year will be Sandra Kim, founder of Everyday Feminism, which is an online media outlet she created to provide intersectional analyses regarding LGBT issues, race, sex religion, disability, privilege and violence, as well as Bindu Kolli Jane of the Office of Equity, Diversity and Compliance.
Kim will be giving a speech entitled "Applying a Radically Inclusive Leadership Approach to Work and Organizations" as well a conducting a special workshop called "Self-Care for Social Justice Activists," while Jane will be speaking on intersectionality. Last year, Jacob Tobia provided the keynote speech. Tobia is an advocate, speaker and writer who focuses on issues that affect the LGBT community.
While  Appalachian State University has initiatives to promote diversity and inclusiveness on campus, such as a bias incident response process and formal mentoring programs, there are notions from concerned students that this might not be quite enough.
"We have a diversity initiative, but we don't help these students to truly be able to succeed in college, and that hurts them," Tu said. "It's important to make students, staff and faculty more aware of discrimination in the classroom, in residence halls, in the workspace, around school and around the county area so they can be an active bystander and supporter to speak with them instead of for them."
Students like Tu and Rawson, that have participated in the past, praise the conference and the safe space it provides.
"My favorite part of participating is having the space to talk about difficult, meaningful dialogue and to question what is wrong with our institution locally and globally,"  Tu said. "It's tough to think critically about these issues and we avoid talking about it classrooms. It's nice to be appreciated for my input instead of being told, 'Let's not talk about it right now.'"
A goal of many social justice movements is to educate the majority so that privilege can be used for power and change, Rawson said.
"At a campus like Appalachian, where it is a predominantly white institution and a lot of people don't know about these issues, it is important for us to have that dialogue so others can feel comfortable in their own space," Rawson said.
Calah Faircloth, a junior sociology student and member of the Equity in Action board, expressed her passion for a learning environment, such as Equity in Action, that is open and available to everyone.
"We don't have a lot of diversity and knowledge on these topics on campus and I've seen first-hand people being unintentionally harmful to one another because of this," Faircloth said. "There needs to be more education. Since I'm on the board this year, I've loved getting different workshops together and seeing the variety of things people are interested in."
Faircloth said that by educating one another through on-campus events like Equity in Action, faculty and students can feel safe to open up conversation about these important topics both in and out of the classroom.While working to encourage the inclusion of minority groups at Appalachian State.
Story by: Leah Wingenroth, A&E Reporter