Expressions, a local business which has been in Boone for more than 30 years, recently has been bought out by High Life, a fellow smoke shop company. Expressions was a smoke shop and piercing studio that sold pipes, incense, posters, tapestries, studs and gauges of all kinds. According to their website, it was Boone's largest selection of body jewelry and smoking accessories.  
It was started and owned by Kenneth Gottfried, former CEO and Boone native. He started Expressions in March of 1988 owner Kenneth Gottfried said, as a $400 investment, which he then turned into a multi-million-dollar corporation. It grew from the small store on Howard street to the now location of his second business venture Go Postal inc, located on New Market Center.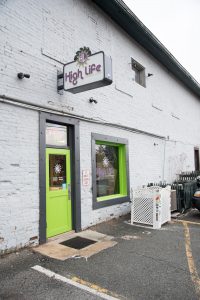 Gottfried expanded his territory with an addition of six stores. The stores contained a number of products from pipes to sex toys.
"With the change from Expressions to High Life, the more frivolous items were replaced with a more professional group of products," Nicole Kinnamon, Manager of Speakeasy Tattoo shop and close friend of Gottfried's said.
High Life now offers vaporizers and glass pieces that were not a part of the old franchise.
"Not only was it a smoke shop, it was a lifestyle store", Donnie Lee, former manager of Expressions and current manager of High life, said.
Lee has been involved with Expressions since 2007 and remembers the store at the height of its success.
"Expressions had new and returning clients come in all the time. The old clients love the new change and many have said they don't even notice the difference," he said.
With the entrance of the new Boone location there is now a total of 21 stores, the largest chain of smoke shops  in the south east.
"I grew up with it man, I got my very first piercing at Expressions," Lee said. "I've been shopping longer than working here. To lose its name and connotation was kind of sad, but everything that has been replaced has been extra positive."
When High Life took over, Lee became the new manager and said he loved the changes. Other locals are saying the same thing.
"Boone changes over the years and I feel this is a positive change," Kinnamon said. "The only thing I don't like is the color scheme. It feels too 1990s."
Many residents of Boone haven't even noticed the change and accepts High Life as though it's been there forever she goes on to say, Kinnamon said.
"Business is going strong. So far there's been nothing but praise. Prices went down, policies got better and products got more broad," Lee said.
Some residents of Boone were sad to hear about the departure of Expressions.
"Expressions was a part of the community, it's been here forever. It was sad to see it go," Jack Hertzfeld, a junior environmental science major and Boone local, said.
But to Lee nothing really has changed beside new ownership. High Life will stay, have its own piercing studio and still offer the smoking accessories Boone residents love.
Photos By: Halle Keighton, Photo Editor